Introduction
Welcome to Cash Tile, the thrilling tile-matching game on Android that offers a unique twist – the chance to win real money rewards! Tap and arrange three identical tiles to clear them from the screen and earn coins and virtual cash. But be strategic and careful with your moves, as the display bar can only hold seven tiles. As you progress through levels, the excitement increases, and so do the rewards. Exchange your virtual balance for real rewards, with the exchange rate dependent on your level.
Will you climb high enough to cash out 100% and unlock all 30 themes for a chance to win an iPhone 14? Download Cash Tile and dive into the fun-filled world of tile-matching and real money rewards!
What is Cash Tile?
Cash Tile is a free tile-matching game available on Android, where players arrange three identical tiles in boxes to clear them from the screen. Clearing tiles rewards players with cash or coins that can be redeemed for real money. Collecting 30 game themes also offers a chance to win an iPhone 14. However, despite its popularity, with over 50k installations, Cash Tile remains in Early Access. This may raise concerns about the developer's transparency and the legitimacy of its payouts.
How Does Cash Tile Work?
Cash Tile is accessible on the Play Store, ensuring you don't need to spend any money to enjoy it.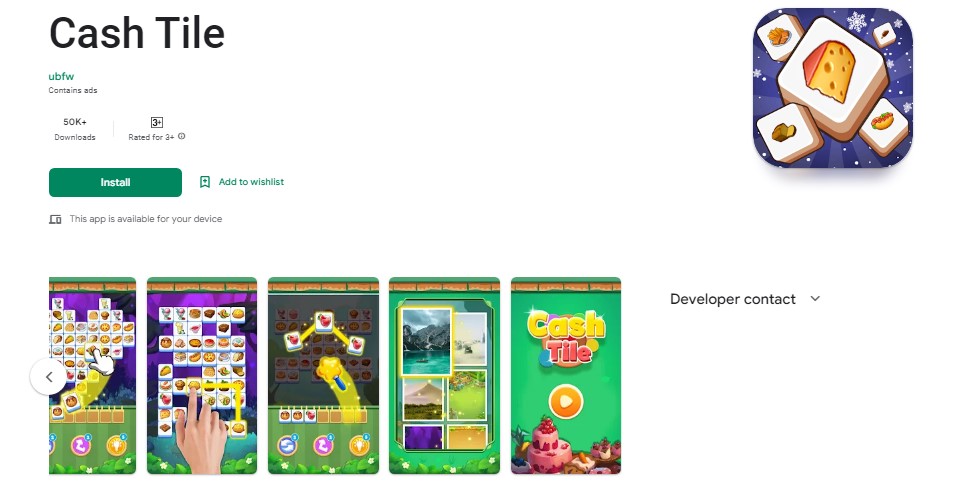 The game features a simple tutorial demonstrating its mechanics, which involves clicking and transferring squares to the display bar. Each square contains a delightful food image, and by aligning three tiles with the same idea, they disappear, granting players coins and virtual cash rewards. It's a fun and rewarding experience without any financial risk.
How Do You Play Cash Tile And Earn Rewards?
Cash Tile's gameplay involves tapping the "get" button to reveal rewards and the option to multiply them up to 5 times by watching an advertisement.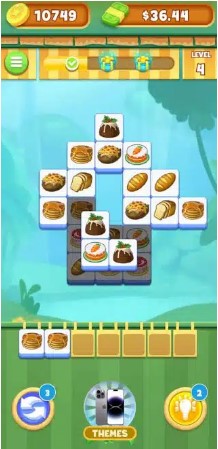 The goal is to strategically clear all tiles on each level, as the display bar can only fit seven tiles. Running out of space results in level failure, but players can watch a video to continue without losing their earnings. The game offers numerous levels with increasing rewards and difficulty. Unlocking all 30 themes promises a chance to win an iPhone 14. Players can cash their rewards via PayPal, Visa, Gift Cards, or in-game currencies. The platform's viral popularity is evident, and it claims to help users generate an extra $10+ per day.
How To Cash Out from Cash Tile?
In Cash Tile, players can exchange their virtual cash and coin balance for real rewards, but the value of their balance does not directly translate to real currency. The player's level determines the exchange rate; at lower levels (1 to 49), the exchange rate is only 1%. For example, if a player has $100 in their balance, it is worth just $1 in real money.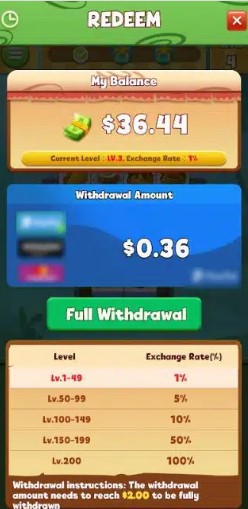 The game encourages players to continue playing and progress through more levels before cashing out, as the exchange rate gradually increases with higher levels. After reaching level 200, players can cash out 100% of their balance. This means that $100 in the game can be exchanged for the exact $100 in real currency.
The value of coins in the game also depends on the player's level. For instance, 10000 coins are worth $1 from level 1 to 49 and increase to $100 after reaching level 200.
The minimum cashout requirement is $2, and players can withdraw their earnings through popular payment platforms such as PayPal, Amazon, and Mastercard.
Cash Tile's reward system seems similar to Balls King, another game that offers virtual rewards exchangeable for real money. Players should be aware of the gradual increase in exchange rates and consider their gameplay strategy accordingly to optimize their earnings.
FAQs
Is Cash Tile available for free?

Cash Tile is entirely free to download and play on Android devices.

How do I redeem my rewards?

You can exchange your virtual cash and coin balance for real rewards. The exchange rate depends on your level and gradually increases as you progress through the levels.

Can I win an iPhone 14 by playing Cash Tile?

Yes, if you unlock all 30 themes in the game, you stand a chance to win an iPhone 14.

What are the cashout options and minimum requirements?

You can withdraw your earnings via popular payment platforms like PayPal, Amazon, and Mastercard. The minimum cashout requirement is $2.
See More:
Earn By Playing Crystal Pop Mania 100% Easy Vibrant Elimination Game
Cocoon MyData Rewards – Earn 100% Money By Sharing Your Data
Money Quiz – Earn By Playing 100% Easy Trivia Game