Introduction
Money Quiz – the thrilling Android game that combines knowledge and rewards! Challenge your brain, test your trivia skills, and win real money without spending a dime! You'll be entertained for hours with a wide range of topics and an impressive selection of quiz questions. Download now and embark on a journey of endless fun and cash rewards. It's like having a quiz show in your pocket! Join today and earn money with your trivia prowess—no in-app purchases are required. Get ready for excitement – get Money Quiz now!
What is Money Quiz?
Money Quiz is the ultimate Android trivia game that will put your knowledge to the test and challenge your brainpower!
With many topics, Money Quiz brings you an impressive collection of quiz questions that promise to keep you entertained and engaged. Fans of Star Quiz will find this game a familiar and enjoyable experience.
But here's the real kicker – Money Quiz offers an incredible opportunity to win actual cash rewards, and yes, you read that correctly – real money!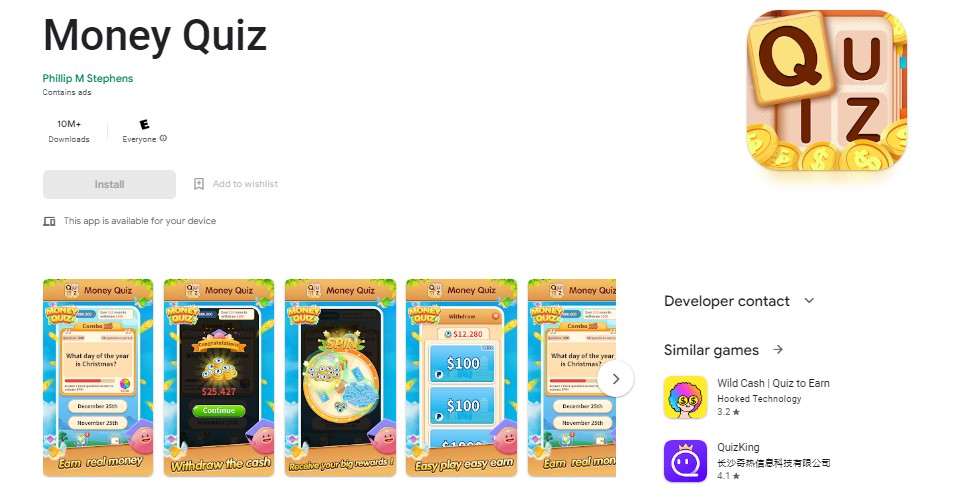 You can earn cash by answering trivia questions correctly without spending a single dime. It's like carrying a quiz show in your pocket, or better yet, a digital money-making machine! It's almost too good to believe!
The best part is that Money Quiz doesn't require any in-app purchases, making it accessible to everyone. Now you can participate in the fun without worrying about risking your hard-earned money on wrong answers.
So, what are you waiting for? Download the Money Quiz now and get ready to put your knowledge to the test while having the chance to win some exciting cash rewards! Happy quizzing!
How Does Money Quiz Work?
Money Quiz is readily available for get on the Play Store, and the best part is that you can start playing without any prerequisites.
The game makes an enticing promise – it can transform your trivia knowledge into real cash rewards once you reach the payout threshold of £1000. That's undoubtedly sweet motivation to put your brain to work!
However, we must address a concerning aspect of the app – the lack of data encryption.
This raises significant privacy and security concerns since your personal information and data could be vulnerable to threats like identity theft. Data encryption is crucial to safeguard sensitive information and prevent unauthorized access.
As a responsible user, it is essential to be cautious about sharing personal details on any platform that lacks proper security measures. If you are considering using Money Quiz or any other app, take the time to review its privacy policy and ensure that your data is adequately protected.
Protecting your personal information is of utmost importance in the digital age. If you have doubts about an app's security, it's best to err on the side of caution and explore alternatives with robust data protection measures in place.
Playing Money Quiz and Earn.
When you launch Money Quiz, you're immediately drawn in by the enticing "Start Making Money" button, promising to turn your trivia knowledge into virtual cash that can be cashed out through PayPal.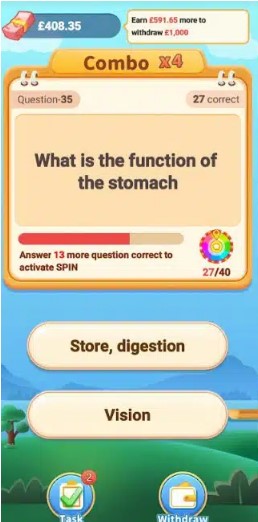 The concept is simple: answer trivia questions and accumulate virtual cash, which supposedly can be redeemed through PayPal. Each question presents two answer choices, giving you a 50% chance of being correct. If you answer multiple questions in succession, you earn excellent combo bonuses, adding to the excitement.
Don't worry if you get a question wrong; you can skip to the next question or watch a video to restore your combo.
At the top of the screen, your cash balance shows how much you've earned and how much more you need to reach the £1000 payout threshold.
Initially, the questions reward you with a modest sum, ranging from £2 to £5. However, the game allows you to claim 3x to 5x the cash reward by watching advertisements after answering questions. This tempting proposition appeals to those eager to quickly reach the £1000 goal.
However, knowing that this is precisely how the developer makes a profit is crucial. Each time you watch these videos, Money Quiz generates advertising revenue.
Furthermore, as you answer 20 questions correctly, you unlock the lucky spin feature, which allows you to win even more cash.
The task section of the game presents additional opportunities to claim cash by achieving specific milestones, such as correctly answering a few questions.
While the prospect of earning money by answering trivia questions is alluring, users should be mindful of the underlying monetization strategies and the need to watch advertisements to maximize earnings, as with any app that involves earning real rewards, staying informed and exercising caution while sharing personal information and engaging with the game's features is essential.
How to Payout From Money Quiz?
You can withdraw your earnings once you've accumulated £1000 in your Money Quiz wallet. To do this, you must enter your wallet section within the app. Look for the "withdraw now" button, and tap on it.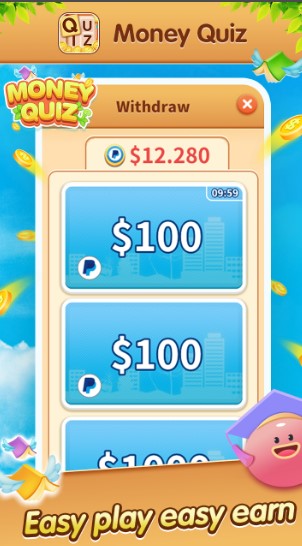 Please note that the exact steps and layout may vary depending on the app's updates and interface changes. Following the app's instructions carefully ensures a smooth withdrawal process.
Before initiating the withdrawal, double-check the payment method you've set up for cashing out. In most cases, Money Quiz allows you to cash out through PayPal, so ensure your account is linked to the app correctly.
After tapping on the "withdraw now" button, you might be prompted to confirm the withdrawal amount or provide additional verification to ensure the security of your funds.
Once the withdrawal process is completed, the money should be transferred to your designated payment account, and you should receive a notification or confirmation from the app.
Depending on the app's policies and payment processing times, the transaction may take some time to process.
If you encounter any issues during the withdrawal process or have any questions, it's best to refer to the app's support or help section for further assistance.
FAQs
How can I download the Money Quiz?

You can download Money Quiz from the Google Play Store. Search for "Money Quiz" in the Play Store app on your Android device, and then click on the "Install" button to download and install the game.

Is the Money Quiz free to play?

Yes, Money Quiz is free to play. You can download and start playing the game without any initial cost.

How can I earn real money with Money Quiz?

You accumulate virtual cash in the game by answering trivia questions correctly. Once you reach the payout threshold of £1000, you can withdraw your earnings through your designated payment method, such as PayPal.

How much money can I earn per question?

Initially, the questions may reward you with a modest sum ranging from £2 to £5. However, the game offers you the option to claim 3x to 5x the cash reward by watching advertisements after answering questions.

Is my data secure in Money Quiz?

Money Quiz's lack of data encryption has raised privacy and security concerns. It's essential to be cautious about sharing personal information on any platform that lacks proper security measures. Review the app's privacy policy and ensure your data is protected.
See More:
Mania Cube 2048 – Make Money By Playing Android Game
Chubby Garden – Earn By Playing 100% Easy Puzzle Game
Boomco App – Make Money While Learning with 2 Easy Ways