Introduction
Welcome to Mania Cube 2048, the addictive Android game combines puzzle-solving with the thrill of earning virtual rewards! Merge cubes of the same number to create higher-value cubes and aim for the elusive 2048 cube. Rack up virtual dollars as you play and explore various ways to collect coins through the Lucky Wheel, Scratch Cards, and daily tasks. With enticing cash-out options via PayPal, Meta Pay, Coinbase, and more, your journey to $1000 in earnings awaits! Get ready to shoot, merge, and claim victory in this captivating and rewarding gaming experience. Download now and embark on an adventure of cubes, coins, and countless fun!
What is Mania Cube 2048?
Mania Cube 2048 is an engaging Android game that offers a casual gaming experience with an exciting twist. The objective is strategically merging numbered cubes, leading to exponential growth and the coveted 2048 cubes. Starting with two 2s, they combine to form a 4, and the pattern continues with each merge.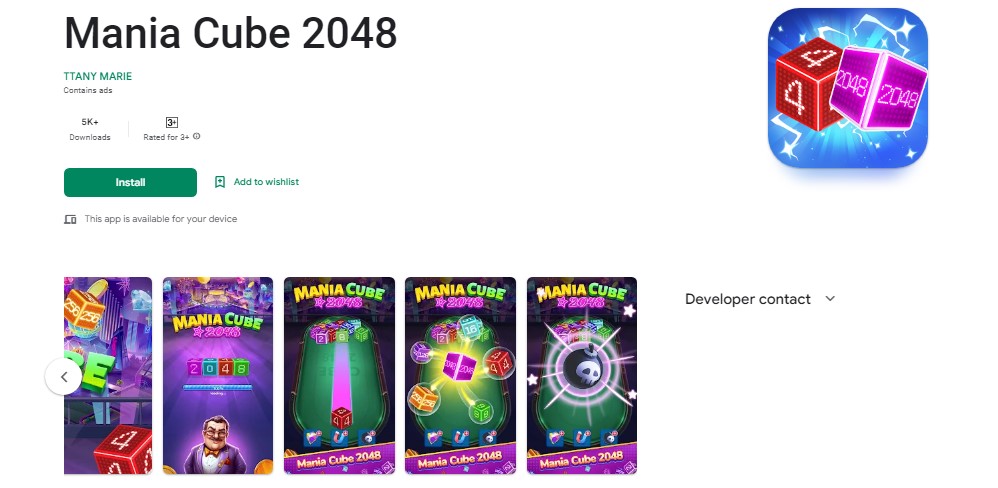 One of the intriguing aspects of the game is the virtual dollars you earn as you progress. These earnings can be cashed out through PayPal. The developers claim that players can withdraw their earnings once they accumulate an impressive $1000 balance in-game.
The allure of winning real money while enjoying the game has attracted many players, motivating them to spend hours immersed in the addictive world of Mania Cube 2048.
How Does Mania Cube 2048 Work?
Mania Cube 2048 is a global hit on the Play Store, and upon downloading, players are greeted with a delightful surprise. As a token of appreciation, the game presents a generous $10 welcome bonus, instantly boosting your in-game funds with just a simple tap of a button.
The excitement doesn't stop there. After receiving the initial bonus, another thrilling opportunity arises with a chance to win $100. However, to claim this enticing prize, players must watch an advertisement. It's a small trade-off for the potential reward.
The game's clever mix of free incentives and the potential to earn virtual dollars has undoubtedly captured the attention of players worldwide, making it an appealing choice for those seeking entertainment and the prospect of in-game rewards.
How to Play Mania Cube 2048 And Earn?
Playing Mania Cube 2048 is an enjoyable and straightforward process.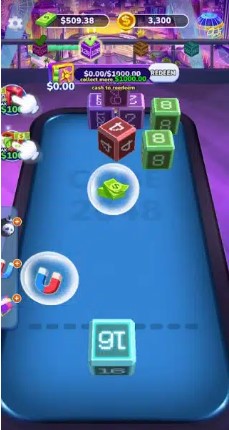 The gameplay involves tapping and aiming to shoot a cube at another cube with the same number. Upon collision, the two cubes merge, resulting in a higher-value cube. For instance, when two "8" cubes combine, they form a "16" cube, and this process continues with the potential for additional merges if the new cube hits another matching cube.
The continuous accumulation of virtual coins while you're busy merging cubes makes the game even more enticing. Amassing 980,000 coins unlocks an extraordinary reward of $100 gift cards. The selection of gift cards includes popular options like Amazon, Visa, Steam, Google Play, Xbox, and PlayStation.
Furthermore, keep an eye out for the intriguing "cash bubble" that appears on your screen. By skillfully colliding with this bubble, you can claim virtual dollars. The process requires tapping the "claim" button and watching a brief advertisement, after which the virtual dollars are added to your balance.
The game's blend of merging cubes and earning virtual rewards through gift cards and cash bubbles adds a layer of excitement, making Mania Cube 2048 an engaging and rewarding experience for players.
Earn More Rewards From Mania Cube 2048.
Within the "Todos" tab of Mania Cube 2048, players can discover additional avenues to accumulate more coins and virtual dollars, enhancing their gaming experience further.
Lucky Wheel: The Lucky Wheel presents a chance to try your luck and win various rewards. Spin the wheel and see what it lands on; it could be a substantial coin bonus or other exciting surprises.
Scratch Cards: Scratch cards offer an element of surprise and instant gratification. By scratching the card, players reveal hidden rewards, including valuable coins or virtual dollars.
Daily Tasks: Engaging in daily tasks allows players to earn rewards regularly. These tasks could involve achieving specific milestones within the game. Players can claim their rewards once a job is completed by tapping the "claim" button. Watching a short advertisement might be necessary to unlock these rewards, but the effort is rewarded with virtual dollars.
For example, completing milestones such as merging the 512 Cubes five times or watching five videos can earn additional virtual dollars to bolster your in-game balance.
These various methods of earning coins and virtual dollars provide an enjoyable incentive for players to explore different aspects of the game and enjoy the thrill of collecting rewards while progressing through the merging challenges.
How To Cash Out From Mania Cube 2048?
Once you've amassed a substantial balance of $1000 within the game, it's time to claim your earnings and withdraw them using various payment methods, such as Paypal, Meta Pay, Coinbase, and others.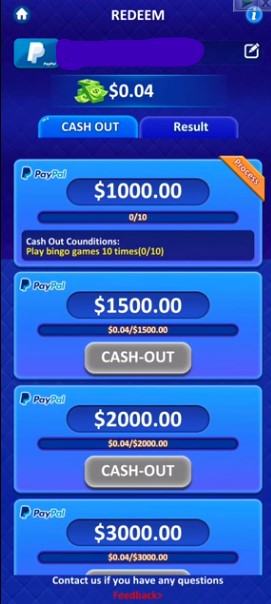 To initiate the cash-out process, you'll need to follow these steps:
Please provide your full name as it appears in your account details. This ensures the payment is correctly processed and sent to the right recipient.
Input the necessary account details based on the chosen payment method. For example, if you opt for Paypal, you must provide your Paypal email address. You may need to provide relevant account information for other payment methods like Meta Pay or Coinbase.
Once you've accurately filled in your name and account details, hit the "cash-out" button. By doing so, you formally request the transfer of your accumulated earnings to your designated payment account.
After initiating the cash-out process, the game's system should handle the transaction, and the funds will be transferred to your chosen payment account. Ensuring that the information provided is correct is important to avoid delays or complications during the cash-out procedure.
Remember to verify the legitimacy of the game and the cash-out process before providing any personal or financial information to ensure your security and protect against potential scams.
FAQs
How do I earn virtual dollars in the game?

As you merge cubes, the game rewards you with virtual dollars. You can collect more coins and virtual dollars through the Lucky Wheel, Scratch Cards, and daily tasks.

What can I do with virtual dollars?

Accumulate 980,000 coins to unlock an extraordinary $100 worth of gift cards. You can choose from various gift cards, including Amazon, Visa, Steam, Google Play, Xbox, and PlayStation.

How do I cash out my earnings?

You can cash out your earnings once you've reached $1000 in-game. Enter your full name, account details, and select your preferred payment method (e.g., PayPal, Meta Pay, Coinbase). Hit the "cash-out" button to initiate the withdrawal process.

Is Mania Cube 2048 free to play?

The game is free to download and play, offering exciting rewards and entertainment at no cost.

Is the game safe and legitimate?

While the game offers virtual rewards and cash-out options, it is essential to verify the legitimacy of the game and its payment methods. Be cautious and avoid providing personal or financial information to untrusted sources.
See More:
Chubby Garden – Earn By Playing 100% Easy Puzzle Game
Boomco App – Make Money While Learning with 2 Easy Ways
JOYit App – Earn By Playing Games With 4 Easy Ways
Capshort – Earn by learning & Playing Games With 4 Easy Ways