Introduction
Clicks Research is a global platform that allows individuals to participate in product testing and paid surveys. By signing up as a member, you can receive free trial samples of various products and provide valuable feedback. Additionally, completing paid surveys allows you to earn rewards through Click points. While the availability of opportunities may vary by country, Clicks Research welcomes members from around the world who are at least 18 years old. Join Clicks Research to engage in market research, share your opinions, and potentially receive exciting product trials."
What is Clicks Research?
Clicks Research is a platform that allows individuals to test and review new products before they are officially launched in the market. By joining Clicks Research, you can receive free products to test and share your feedback on them.
In addition to product testing, Clicks Research offers various other avenues for earning. These include participating in online surveys, where you can share your opinions and insights on various topics. You can earn rewards such as cash, gift cards, or other incentives by completing surveys.
Clicks Research also provides opportunities to participate in clinical trials, where you can contribute to developing new treatments and medications. These trials often offer compensation for your time and participation.
Overall, Clicks Research offers a range of opportunities for individuals to engage in market research, provide feedback, and earn rewards or compensation in return. It's a platform that values consumer opinions and allows individuals to contribute to the product development actively.
Make Money by Product Testing From Clicks Research.
Clicks Research allows you to test products and keep them after completing the trial. Once you register and log in to the site, completing your profile with accurate information is important. This information helps Clicks Research determine your eligibility for different trials.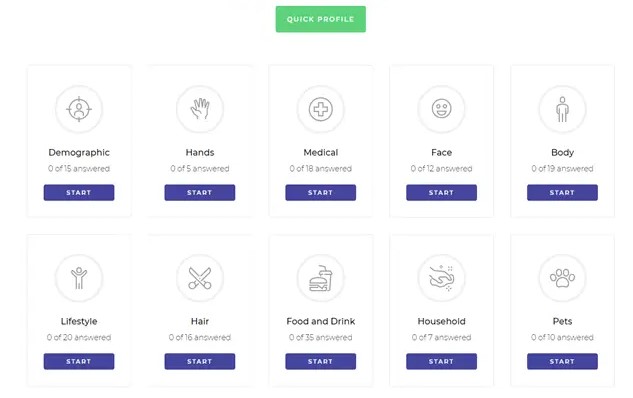 Clicks Research will invite you to participate if you qualify for a trial. If you accept the invitation, they will dispatch a free trial sample to the address you provided during registration.
Once you receive the sample, you will be asked to complete an online questionnaire designed to gather feedback about the product you tested. Answer the questionnaire, and you're done.
The best part is that you get to keep the sample you tested. The process is straightforward. However, it's important to note that trial availability is rare, so you should not expect to receive numerous trials.
The frequency of trial invitations may also depend on your location. If you reside in the US or UK, you may have a higher chance of receiving trial invitations than many other countries.
The typical products you can expect to test include ready-made meals, slimming products, shakes and food supplements, anti-aging products, cosmetics, and bath products.
Make Money By Paid Surveys From Clicks Research.
One of the advantages of Clicks Research is that even if there are no trial invitations available, you can still earn through paid surveys. If you have previous experience with survey sites, this opportunity will familiarise you.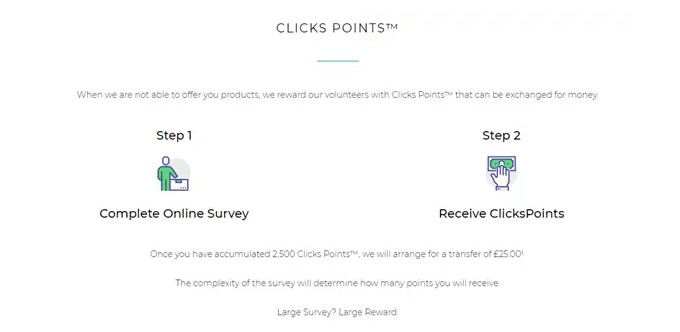 Periodically, Clicks Research will send you surveys for you to earn some cash. When a survey is available, click on it and answer the qualifying questions. Once you are determined to be eligible, you can proceed to answer the actual survey questions.
Upon completing the survey, you will receive the promised points as a reward. In cases where you don't qualify for a survey, you will receive compensation. You will be automatically entered into their monthly draw, where you can win £50 (the prize amount may vary depending on your country).
Each survey for which you don't qualify will count as one entry into the monthly draw, so it's not a complete loss if you don't qualify.
However, it's important to note that Clicks Research only offers a few surveys. If you enjoy taking paid surveys, joining other survey sites is recommended to increase your opportunities.
In summary, Clicks Research provides an additional earning avenue through paid surveys, but the number of available surveys may be limited. To maximize your earning potential, consider joining multiple survey sites.
How do you get paid From Clicks Research?
When testing products on Clicks Research, you do not receive monetary payment. Instead, your reward is the opportunity to keep the product they send you for testing.
Regarding paid surveys, each completed survey will earn you approximately 25 to 200 Click points.
Once you accumulate 2500 Click points, you can claim a reward worth £25. It's important to note that the claim button to request your reward will only be available once you reach the threshold. So, if you haven't reached the point threshold, you won't see the option to claim your reward yet.
Your £25 reward will be paid via a check, and it can take around four weeks or even longer for you to receive it through postal mail. Unfortunately, Clicks Research does not offer other payment methods such as PayPal, which can be inconvenient for some users.
I agree that waiting at least a month to receive your reward is lengthy. It would be more convenient if Clicks Research offered faster and electronic payment options like many other reward sites.
Additionally, it's important to consider that if your country does not use GBP, RMB, Euros, or Dollars, additional costs may be involved in exchanging the check into your local currency.
Clicks Research has mentioned on their website that they plan to introduce other payment methods as technology evolves. However, despite this statement being there for several years, they have yet to implement a more convenient payout method, which can be frustrating for users.
How to Join Clicks Research?
Clicks Research is a globally available platform, allowing individuals worldwide to sign up as members. However, you must be at least 18 years old to join.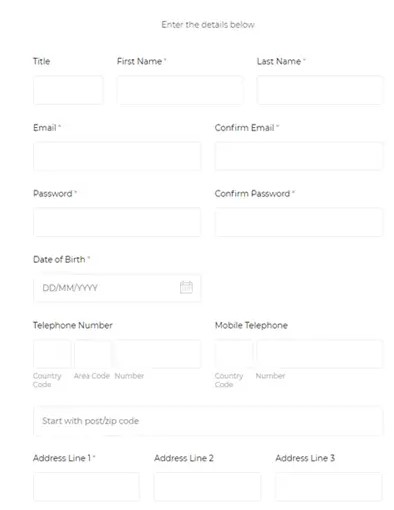 You will be required to provide your mailing address during the registration process. It's important to provide your genuine mailing address because this is where they will send your trial samples and reward checks.
If you are uncomfortable sharing your mailing address, joining this site may not suit you.
After completing the registration form, you will receive an activation link via email to activate your membership. Once activated, you can log in to the site and complete your profile.
Remember that the availability of opportunities may vary based on the country you reside in. Sites like Clicks Research tend to have more opportunities for individuals in countries such as the US, UK, or Canada.
Considering this factor is essential before deciding to sign up for the site.
FAQs
How do I earn through product testing?

Once you qualify for a product trial, Clicks Research will send you a sample to test. After testing the product, you must complete an online questionnaire providing feedback. As a reward, you get to keep the tested product.

How do I redeem my Click points for rewards?

Once you accumulate 2500 Click points, you can claim a reward worth £25. Once you reach the required threshold, the claim button will become available on the website. Rewards are paid via check and sent through postal mail.

Can I join Clicks Research from any country?

Yes, Clicks Research accepts members from around the world. However, the availability of opportunities may vary depending on your country. Opportunities are more abundant for members in countries like the US, UK, or Canada.

Can I use Clicks Research on my mobile device?

Yes, Clicks Research is accessible on mobile devices. You can access the website and complete surveys or manage your account using your smartphone or tablet.
See More:
FunShorts Apps – Earn By Watching Short videos (100% Easy Ways)
Wealth Words Review – Earn By Playing 100% Easy Word Puzzle Games
UpJoy App Review – Earn By Watching Videos With 3 Easy Ways
BetaTesting – Earn By Testing & Providing Feedback (100% Easy & Real)