Introduction
UpJoy App is an Android app that brings you engaging video entertainment and the opportunity to earn rewards. With no registration required, it's free and offers a 2,000 coin bonus. Accumulate coins by watching videos, and cash out through PayPal, Amazon, Cash App, or Google Play. Sponsored videos and games enhance the experience, while a Mystery Gift section offers a chance to win high-end items. Remember to research user reviews for insights into the app's rewards system. UpJoy combines captivating entertainment with the allure of earning rewards in a convenient and accessible package.
What is UpJoy App ?
UpJoy App is an Android app that claims to offer a unique video entertainment experience while also providing monetary rewards for watching girls dance. However, there are several reasons to approach such claims with skepticism.
Firstly, in the real world, the viewer typically pays to watch such performances rather than the other way around. This contradiction raises doubts about the legitimacy of UpJoy's promises.
Another point to consider is the app's current need for popularity. Despite the potential appeal of combining entertainment and financial incentives, UpJoy has only been installed around 5,000 times on the Play Store. This low number seems unusual if the app truly delivers on its claims.
Furthermore, UpJoy is still in its early access stage, which means no user reviews are available. This absence of feedback makes it challenging to determine whether other users have received the promised monetary rewards.
Considering these factors, it is reasonable to question the authenticity of UpJoy's claims. The developer may not want users to discover the truth behind the app's functionality and payment system. To make an informed decision, it is advisable to exercise caution and gather more information before engaging with the app.
How Does UpJoy App Work?
UpJoy is available on the Play Store worldwide and advertised as a free app. It claims to allow users to immediately dive into a video experience and earn "cash" without registering. The app even offers a bonus of 2,000 coins to entice users further.
To provide users with their earned rewards, UpJoy prompts them to select a preferred payout option such as PayPal, Amazon, Cash App, or Google Play. However, a minimum threshold of 5,000 coins must be collected before cashing out $500. Apps often employ this approach to keep users engaged for longer periods.
Users are asked to accept Google's terms of service when entering the video section to accumulate more coins. This indicates that the developer is utilizing Google's API to display short videos sourced from YouTube. Essentially, UpJoy is showcasing existing YouTube videos but adding the allure of virtual cash as an incentive.
However, it's important to note that using Google's API and the presence of YouTube videos does not imply that Google is sponsoring or endorsing UpJoy's cash reward system. UpJoy is likely leveraging the popularity of YouTube videos to attract users to its app, but the association with Google does not necessarily indicate any official partnership or endorsement.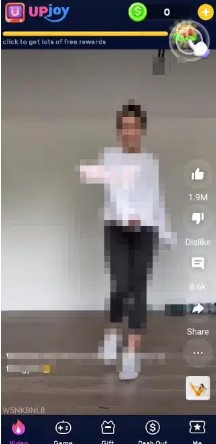 Considering these details, it is advisable to exercise caution and further evaluate the app's legitimacy and user experiences before fully engaging with UpJoy and its claims of earning substantial rewards.
How to Make Money From UpJoy App?
The developers of UpJoy likely generate revenue through a combination of methods. Let's explore how they may be making money:
1. Make Money From UpJoy App From Advertising Revenue.
UpJoy employs a strategy where users are encouraged to click on a treasure chest icon once the progress bar is full. This action triggers a reward that can only be obtained by watching an advertisement. The developers can generate revenue through advertising partnerships by incorporating these sponsored videos.
2. Make Money From UpJoy App From In-App Purchases
While the app is described as free, UpJoy may include optional in-app purchases.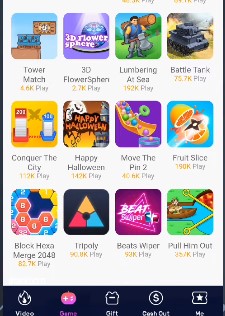 These purchases may offer additional features, boosts, or shortcuts to earn coins more quickly. Users who choose to make these purchases provide a source of revenue for the developers.
3. Make Money From UpJoy App From Mystery Gift Section
UpJoy includes a Mystery Gift section where users can open boxes after watching every two videos.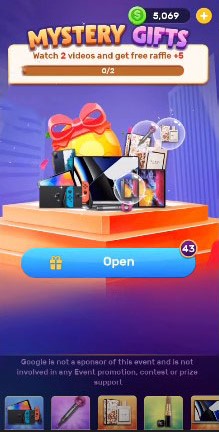 These boxes contain puzzle pieces, and if users collect a complete set, they can win high-end items such as iPhones, Playstations, or TVs. The developers may partner with sponsors or advertisers to provide these prizes, potentially generating revenue through such partnerships.
It's important to note that the above possibilities are speculative, based on common monetization strategies used by similar apps. With specific information from the developers of UpJoy, it is easier to provide precise details regarding their revenue model.
UpJoy App Payment Methods.
UpJoy offers users various payment methods to cash out their earned rewards. Some payment options include PayPal, Amazon gift cards, Cash App, and Google Play credits.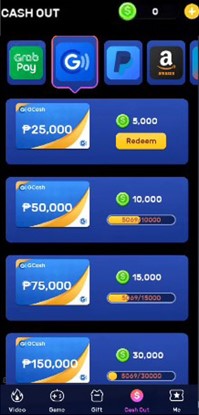 These options allow users to receive their earnings in different forms, such as direct transfers to a PayPal account, gift cards for shopping on Amazon, funds via Cash App, or credits for the Google Play Store. The specific availability of payment methods may vary depending on the user's location. For the most accurate and up-to-date information, it is advisable to refer to the UpJoy app or contact their support.
FAQs
Is UpJoy free to use?

Yes, UpJoy is available for free on the Play Store. However, please note that optional in-app purchases or features may require additional payments.

How can I earn rewards on UpJoy?

You can earn rewards on UpJoy by watching videos, completing tasks, or participating in games and activities within the app. Each action typically earns you virtual coins, which can later be redeemed for various rewards.

What are the payment options available on UpJoy?

UpJoy offers payment options such as PayPal, Amazon gift cards, Cash App, and Google Play credits. These options allow you to cash out your earned rewards in different forms, depending on your preferences.

Is UpJoy available worldwide?

Yes, UpJoy is available worldwide on the Play Store. However, the availability of certain features or payment options may vary depending on your location.
See More:
BetaTesting – Earn By Testing & Providing Feedback (100% Easy & Real)
Farmyard Garden App – Earn By Growing & Maintaining Your virtual farm
Sim Cash App – Earn By Selling Your Unused SMS (100% Easy Money)