Introduction
Party Shooting, an engaging and visually captivating 3D merging game that combines strategic gameplay with the allure of cash rewards. Tap, aim, and shoot cubes to merge them, watching as they transform into higher-numbered cubes. But here's the twist: as you progress, the game offers the chance to earn real cash through PayPal or Amazon gift cards. With the promise of accumulating significant amounts of money and the added excitement of unlocking powerful tools and additional rewards, Party Shooting presents a unique gaming experience that blends entertainment with the potential for financial gain.
What is Party Shooting?
Party Shooting is a captivating 3D merging game inspired by the popular 2048-style concept. In this visually appealing game, your objective is to shoot cubes and merge them with others of the same value. Witness the transformation of these little squares into larger ones with twice the numerical worth.
While the core gameplay may not introduce groundbreaking innovation, Party Shooting takes an intriguing twist. As you progress through the game, it presents you with unexpected cash rewards. Yes, you read that correctly—actual cash rewards within a cube-merging game.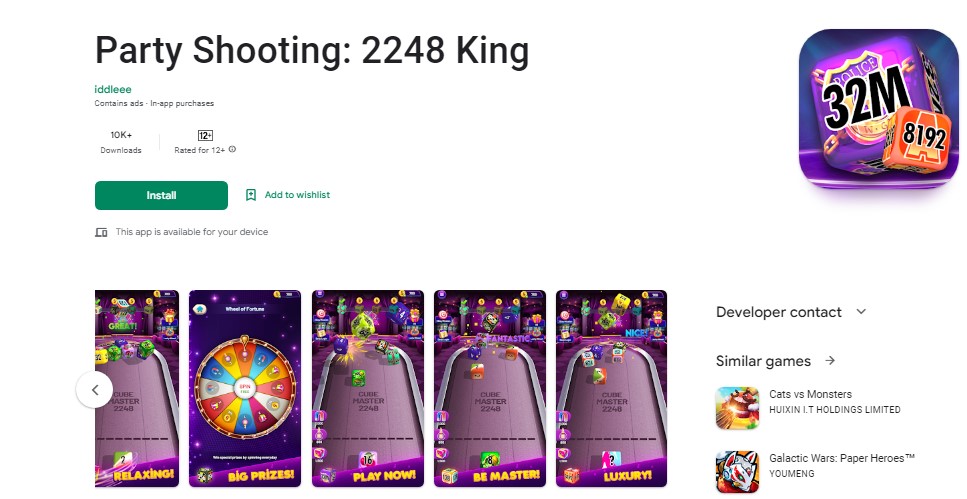 But here's where it becomes even more fascinating. These cash rewards can accumulate rapidly, allowing you to earn hundreds of dollars in just a matter of minutes. Once you reach an impressive milestone of $1000, you have the opportunity to withdraw the money through PayPal.
The notion of earning such a significant sum of money simply by shooting and merging cubes may sound astonishingly unbelievable. However, Party Shooting offers an extraordinary experience that combines entertainment with the potential for real-world financial gain.
How Does Party Shooting Work?
Party Shooting is available for free download on the Play Store, providing easy access without the hassle of registration or any cumbersome processes.
Typically, legitimate platforms offering cash rewards prioritize the security of your earnings and their system by requiring an account. Surprisingly, Party Shooting diverges from this norm.
The developers present an enticing proposition, suggesting that you can begin accumulating cash without any obligations. It certainly seems convenient, doesn't it?
Upon launching the app, an attention-grabbing message greets you, emphasizing an extraordinary "super sale deal." Brace yourself for this revelation, my friend—according to the game, you have the opportunity to withdraw any desired amount of cash to unlock the Amazon Discount Mall.
Yes, you read that correctly! Not only can you earn seemingly unrealistic sums of cash, but you will also indulge in the luxury of accessing Amazon discounts.
How to Play and Earn From Party Shooting?
Playing Party Shooting 2048 is incredibly simple and straightforward!
To begin, all you have to do is tap on the screen, aiming precisely at the cubes, and shoot them.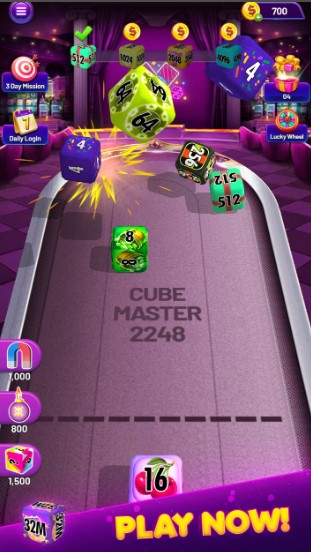 Your objective is to hit another cube with the same numerical value, causing them to merge into a higher-numbered cube.
The sequence follows a pattern: 2, 4, 8, 16, and so forth.
Once merged, the resulting cube will bounce around and can potentially merge with another cube already present on the board.
Now, let's delve into the intriguing aspect of cash rewards.
As you unlock cubes with higher numbers, you have the chance to win cash rewards. These rewards will appear on your screen, adorned with prominent PayPal or Amazon logos and a tempting "collect" button.
The game cleverly entices you to tap that button, prompting you to watch sponsored videos. These videos supposedly earn you virtual dollars that can be cashed out.
Undoubtedly, the promise of cash rewards serves as a strong motivator. It leads players to endure a continuous influx of advertisements. Without the allure of cash rewards, it's unlikely that players would willingly subject themselves to such an onslaught.
All the money you accumulate throughout the game will be added to either your PayPal or Amazon balance, depending on which logo graces your screen.
Moreover, "Party Shooting" generously provides tools to expedite your merging process, including bombs, magnets, and mystery cubes.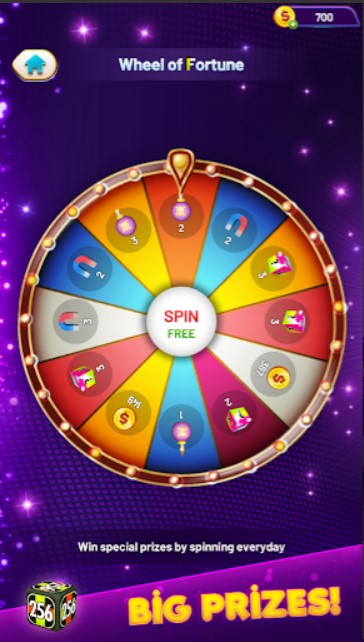 The possibilities for advancement are endless! And here's an exciting tidbit: you can trigger even more cash rewards by tapping on floating gifts, playing the lucky wheel, completing puzzle challenges, and more.
As long as you continue to watch those advertisements, your balance will grow exponentially. Isn't it splendid?
How Do You Cash Out From Party Shooting?
The claims made by Party Shooting regarding cash transfers and cashing out are certainly ambitious.
According to the game, tapping the PayPal wallet suggests that all the money you collect within a 24-hour period will be transferred to your account. Furthermore, if you manage to accumulate $1000, you can supposedly withdraw it immediately.
Similarly, the game claims that with Amazon gift cards, you'll have the opportunity to cash out an astonishing $10,000.
However, it's important to approach such promises with a healthy dose of skepticism. While Party Shooting may present these enticing opportunities, it's crucial to consider the feasibility and reliability of such claims.
Before fully accepting the game's ability to deliver on these promises, it would be prudent to thoroughly research user reviews, experiences, and any available information regarding the game's legitimacy.
FAQs
Is Party Shooting available on both Android and iOS devices?

As of now, Party Shooting is only available for Android devices. There is no official iOS version.

How do I earn cash rewards in Party Shooting?

To earn cash rewards, you need to play the game and merge cubes with higher numbers. Cash rewards may randomly appear on the screen, prompting you to watch sponsored videos. By watching these videos, you accumulate virtual dollars that can be cashed out via PayPal or converted into Amazon gift cards.

Can I really withdraw the cash rewards I earn in Party Shooting?

According to the game, you can withdraw the cash rewards you earn. However, it's important to approach these claims with caution and verify the legitimacy of the game and its payout system before proceeding.

Is Party Shooting a reliable source of earning money?

The reliability and legitimacy of Party Shooting as a source of earning money should be carefully evaluated. It's recommended to research user reviews and gather information about the game's payout history and reputation before considering it as a viable earning opportunity.
See More:
Clicks Research – Earn Easy Money By Testing Product
FunShorts Apps – Earn By Watching Short videos (100% Easy Ways)
Wealth Words Review – Earn By Playing 100% Easy Word Puzzle Games