Introduction
CoinLoot is a rewarding platform allowing users to earn cryptocurrencies without investing money. With its intuitive interface and diverse activities, CoinLoot provides a convenient way for anyone to start accumulating cryptocurrencies such as Bitcoin, Litecoin, Ethereum, Dogecoin, and Dash. By completing surveys, watching videos, and engaging with various offers, users can collect coins that can be redeemed for real cryptocurrencies. With a low minimum cash-out requirement and a user-friendly experience, CoinLoot opens the doors to cryptocurrency earnings.
What is CoinLoot?
CoinLoot is a platform allowing users to earn cryptocurrencies without investing money. Users can accumulate coins by participating in surveys, watching videos, and playing games, which can later be exchanged for cryptocurrencies, including Bitcoin and litecoins. CoinLoot boasts a user-friendly interface and a low minimum cash-out requirement, making it accessible for everyone to start earning cryptocurrencies quickly. The platform has gained popularity with over 100,000 installations and has received a rating of 4.3 stars on the Play Store. However, some users have expressed frustration with the platform despite its favorable rating.
CoinLoot Installation and Registration.
CoinLoot, available on the Play Store as an Android app, provides easy accessibility to users without cost. Upon launching the app, users are prompted to sign in using their Google account as the primary registration method.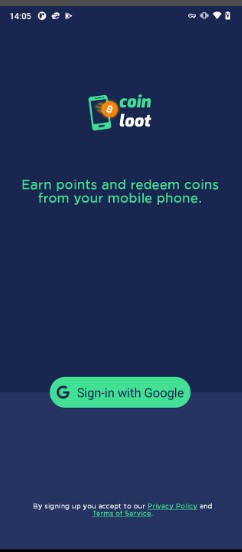 Other registration options are not currently available. Once signed in, users can earn coins through various activities and conveniently redeem them directly from their mobile phones.
How to Collect Coins From CoinLoot?
When you create an account with CoinLoot, you are rewarded with a welcome bonus of 75 coins as a gesture of appreciation. The platform offers various tasks to earn additional coins, as found in the Offer section. Within the Offer section are six tabs for users to choose from.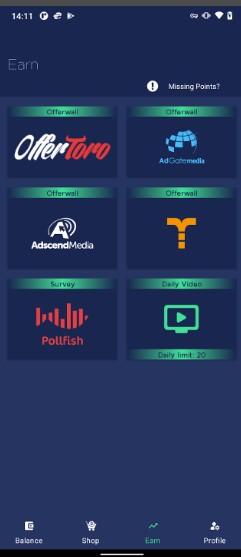 Four tabs correspond to popular Offer Walls: OfferToro, AdgateMedia, AdscendMedia, and AyeStudios. These Offer Walls provide various opportunities to earn coins by completing tasks such as surveys, downloading apps, or signing up for services.
In addition to the Offer Walls, there is a survey section where users can access surveys provided by a panel called Pollfish. These surveys offer an additional way to accumulate coins.
Another section within CoinLoot allows users to watch Daily videos, providing another avenue for earning coins.
Overall, CoinLoot offers multiple options within the Offer section, including popular Offer Walls, surveys through Pollfish, and Daily videos, enabling users to earn coins through various activities.
Earn coin by Offer Walls From CoinLoot.
CoinLoot provides access to various offers from third-party advertisers, which users can explore in exchange for coins. These offers encompass a range of activities, including installing new apps and creating accounts, playing games, answering surveys, completing quizzes, and more.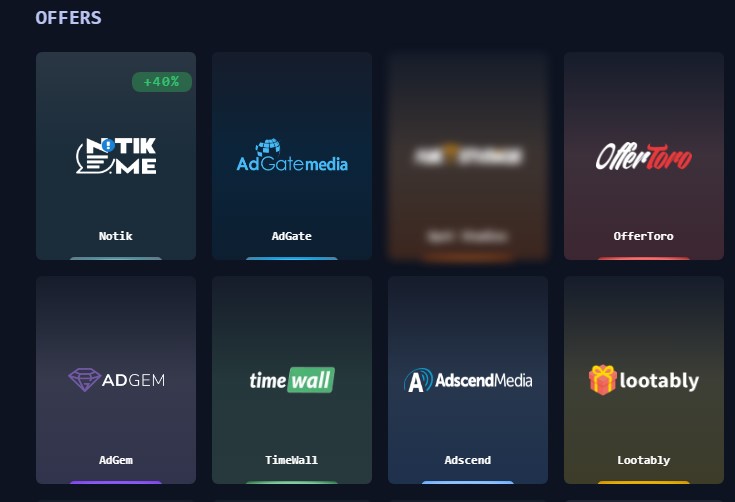 Users can choose offers based on their interests and the reward associated with each offer. While most offers are free to participate in, it's worth noting that some may require a purchase or deposit to qualify for the coins.
For instance, CoinLoot might offer 7150 coins as a reward for downloading and subscribing to the NordVPN app. Offers that require an investment of money tend to provide higher coin rewards, but it's essential to consider the expenses involved in these offers.
To ensure that the reward covers your costs, it is important to convert your accumulated coins to cash and evaluate whether the obtained reward justifies the investment made in completing the offers.
Earn coin by Surveys From CoinLoot.
CoinLoot offers another opportunity to earn coins through the survey provider, Pollfish. Users can engage in marketing research studies and receive coins based on the length and complexity of each survey.

It's important to note that disqualifications are common when taking surveys. Participants can be disqualified for various reasons, such as failing to meet the target demographic or providing accurate responses. These disqualifications are necessary as companies rely on high-quality, targeted data to make informed decisions.
However, the disqualification process can indeed be frustrating and time-consuming. This issue is not unique to CoinLoot but is a general challenge faced by survey platforms.
Most surveys on CoinLoot and other platforms typically pay less than $1 and take 5 to 15 minutes to complete. The pay rate can be relatively low, Considering potential disqualifications and multiple attempts to qualify.
If you are looking for alternative survey apps that offer a better experience or higher rewards, you can click here to explore a list of the top 10 survey apps.
It's worth mentioning that the availability and quality of survey apps may vary, so it's important to do your research and read reviews before trying out new platforms.
Earn coins by Watch Videos From CoinLoot.
CoinLoot allows users to earn 1 coin for each promotional video they watch on their phones. However, it's important to note that these videos primarily serve as advertisements for games like Crazy Drop, often associated with the promise of earning significant amounts of money.
It's crucial to exercise caution when encountering apps that make extravagant claims about earning substantial sums of money through playing games. Many apps may not deliver on their promises and could be misleading or fraudulent.
Before engaging with any app or game that claims to offer significant earnings, it's advisable to conduct thorough research, read reviews, and exercise skepticism. Remember to prioritize your online safety and be cautious of apps that appear too good to be true.
Converting Coins to Crypto From CoinLoot.
When using CoinLoot, it's important to know that the conversion rate is 1000 coins to 1 USD. This information helps in understanding the value of the earned coins.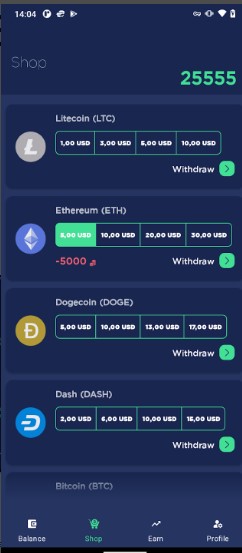 To withdraw cryptocurrency from CoinLoot, open the app and navigate to the "Redeem" page. On this page, you will find a list of five cryptocurrencies available for withdrawal: Litecoin, Ethereum, Dogecoin, Dash, and Bitcoin.
Each cryptocurrency has its minimum payout threshold, which indicates the minimum amount of coins required for withdrawal.
Here are the current minimum payout thresholds for each cryptocurrency:
Litecoin: 1 USD (1000 coins)
Ethereum: 50 USD
Dogecoin: 5 USD
Dash: 2 USD
Bitcoin: 25 USD
Once you have accumulated enough coins, select the desired amount and click the "withdraw" button. Follow the instructions on the screen, which may include entering your wallet address and any additional information required by the CoinLoot app.
It's worth noting that there are reports from users who received their cryptocurrency within an hour of withdrawal. However, the transfer process can sometimes take up to 24 hours.
keep in mind that Givvy, the developer of City Rush, may take up to 7 days to process and deposit your withdrawal into your account.
It's important to note that regardless of the currency displayed in your balance (such as USD), Givvy will pay you in EUR.
Please note that the availability of specific payment methods and their minimum withdrawal amounts may vary, and the details provided here are based on the information you provided in your previous message.
FAQs
Is CoinLoot free to use?

Yes, CoinLoot is completely free to use. You can download the app from the Play Store and sign in with your Google account to earn coins without any upfront investment.

How much are the coins worth?

The conversion rate for CoinLoot is 1000 coins to 1 USD. This allows you to understand the value of the coins you earn and plan your withdrawals accordingly.

How long does it take to receive the withdrawn cryptocurrency?

While some users have reported receiving their cryptocurrency within an hour, the transfer process can take up to 24 hours. Factors such as network congestion and transaction processing times can affect the duration.

Can I use CoinLoot on devices other than Android?

Currently, CoinLoot is available as an Android app on the Play Store. It is optimized for Android devices but may not be available for other operating systems such as iOS or Windows.
See More:
The Givvy City Rush – Hottest Earning Money App in 2023
Gummy Bubble Pop – Earn by Playing 100% Easy Games
Earn By Playing Ducky Crush Android Game in 2023