Introduction
Ducky Crush is An addictive Android game that combines colorful ball-tapping fun with the chance to earn cash rewards! Engage in simple yet challenging gameplay as you eliminate groups of matching colored balls to clear levels. With increasing difficulty and strategic planning required, Ducky Crush keeps you hooked as you progress. But here's the exciting part – completing levels rewards you with real cash prizes ranging from $1 to $4.
Watch out for bonus multipliers, timing your taps right, and additional rewards that can boost your earnings. And with the option to withdraw your funds to popular payment platforms like PayPal or Cash App, Ducky Crush offers a unique gaming experience with a potential side hustle twist. Download now and tap your way to victory and cash rewards in Ducky Crush!
What is Ducky Crush?
Ducky Crush is an engaging Android game that offers a simple yet addictive gameplay experience. In this elimination game, players are required to tap balls of the same color, while also having the opportunity to watch videos and collect amazing cash rewards.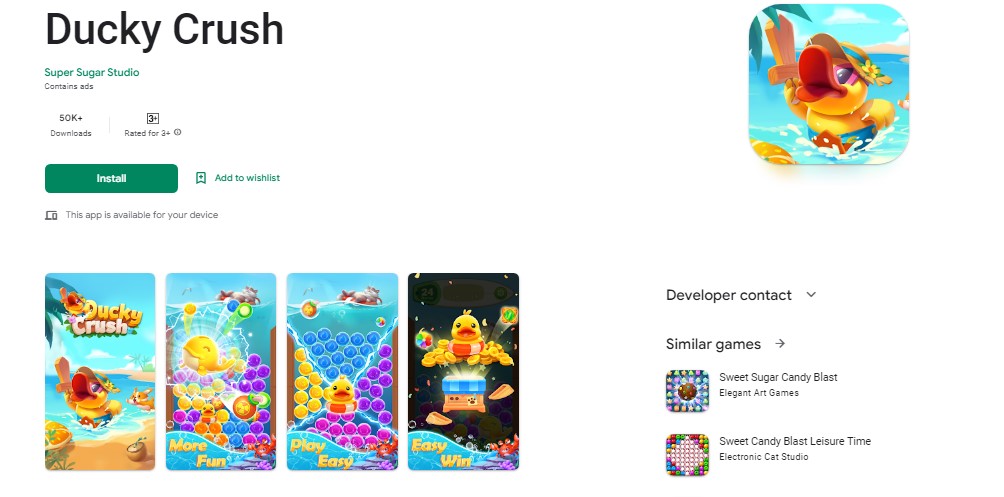 Despite its popularity, with over 10,000 installs from the Play Store, there is a notable aspect to be aware of – the game is currently in early access. This particular detail raises some concerns, as it allows the developer to evade critical reviews, thereby maintaining a positive reputation for the app.
As players progress through the levels, they are generously rewarded with virtual dollars, turning their gameplay into a potentially lucrative side hustle.
How Does Ducky Crush Work?
Ducky Crush is a free game on the Play Store that offers a seamless gaming experience without requiring registration. Once you launch the game, you'll be presented with two enticing steps:
Step 1: Play the game and have the chance to win cash.
Step 2: Withdraw your earnings to PayPal or the Cash app.
To proceed, the game prompts you to select a payment method and provide your account information.
Before you begin playing, you'll notice a cash balance feature that informs you about a bonus offer. Specifically, if you pass level 10, your balance will be doubled by 1.2 times.
Additionally, the game mentions that your entire balance becomes eligible for withdrawal once a 1-hour countdown expires.
Oh, and one more thing to note: Ducky Crush generously provides new users with a $10 welcome bonus to kickstart their gaming experience.
How to Play and Earn From Ducky Crush?
In Ducky Crush, the gameplay revolves around tapping on groups of balls with matching colors to eliminate them from the playing field. The main objective is to clear a specific number of balls to complete each level.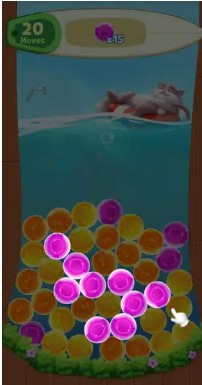 As you progress through the game, the challenges become more difficult, introducing different color combinations and obstacles that make achieving the goal trickier. Planning your moves carefully is important, as each level provides a limited number of moves to accomplish your objectives.
Upon completing a level, you will receive a decent cash prize between $1 and $4. Additionally, an indicator arrow oscillates below the prize amount between various multipliers like 2x, 3x, and 4x.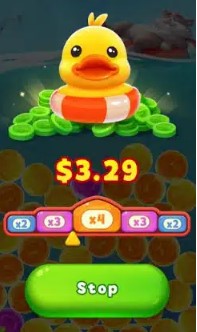 You can increase your prize through the bonus meter by tapping the "stop" button at the right moment. Timing it correctly can result in higher cash rewards. Moreover, eliminating a group of balls may also lead to extra cash rewards, which can be claimed by tapping the "claim" button and watching a quick video.
Furthermore, you can unlock even more prizes in Ducky Crush by tapping banknote bubbles or blasting the big dollar ball.
Now, onto the central question of whether Ducky Crush truly pays out the tempting cash rewards – that remains a subject for review and user experiences.
How to withdraw your funds From Ducky Crush?
To withdraw your funds in Ducky Crush. Open the game and ensure that you have accumulated a balance of cash.
Locate the withdrawal or cash-out option within the game's interface, typically in the settings, profile, or account section.
Choose your preferred payment method from the available options, such as PayPal or Cash App.
Provide the necessary account information for the chosen payment method, which may include your email address associated with PayPal or your Cash App username.
Enter the desired amount you wish to withdraw, considering that there might be a minimum withdrawal threshold.
Confirm the withdrawal request and wait for the processing to complete. The duration for receiving your funds can vary based on the game's policies and the chosen payment method.
Once the withdrawal is successfully processed, the funds will be transferred to your PayPal or Cash App account.
FAQs
Is Ducky Crush available for both Android and iOS devices?

Currently, Ducky Crush is only available for Android devices. There is no iOS version of the game.

Can I play Ducky Crush without an internet connection?

No, an internet connection is required to play Ducky Crush as it incorporates online features such as cash rewards, videos, and withdrawal options.

Is Ducky Crush free to play?

Yes, Ducky Crush is free to download and play. However, it offers in-app purchases for additional features or to speed up progress in the game.

Can I withdraw the cash rewards I earn in Ducky Crush?

Yes, Ducky Crush allows you to withdraw your cash rewards. You can choose popular payment methods like PayPal or Cash App to cash out your earnings.
See More:
Earn By Playing Mega Pinball 3D Flipper Easy Android Game
WinMax Reward App – Earn 100% Real Money by Playing Sponsored games
Earn by Playing Party Shooting Captivating 3D Merging Game