Introduction
Little Bat Slot a thrilling and engaging mobile game that combines elements of a free slot game and bingo. Available for download on the Play Store, this captivating game offers an exciting experience where you can spin the reels and collect rewards. With no registration hassles and a simple tap-to-play interface, you can jump right into the action.
Earn gold coins as you hit winning combinations and collect green diamonds for a chance to win real rewards, including cash prizes. Plus, with the opportunity to cash out any amount you accumulate and the possibility of redeeming Amazon gift cards, Little Bat Slot brings entertainment and potential rewards to your fingertips. Get ready to embark on a spin-filled adventure and see if luck is on your side in this unique slot game and bingo blend.
What is Little Bat Slot?
Little Bat Slot is a captivating fusion of a free slot game and bingo, delivering an exciting gaming experience. With its 5-reel machine, players can easily engage by tapping the spin button and eagerly anticipating the outcome. Notably, it shares many similarities with the popular game, Lucky Devil Slot.
The game introduces lucky diamonds, which are accumulated with every winning combination. These diamonds hold award fragments and valuable dollars, adding to the thrill of gameplay. The best part is that you can enjoy the game using gold coins, and the best news is that these coins are completely free and do not require any real deposits. This means you can spin the reels and collect cash rewards without concerns about financial risks.
Little Bat Slot assures players they can withdraw any amount they accumulate through their winnings. The platform offers withdrawal options, including popular methods like PayPal, Cash App, Paytm, and others. This wide range of options makes it convenient for players to receive their winnings hassle-free.
Get ready to immerse yourself in Little Bat Slot, where thrilling gameplay, valuable rewards, and flexible withdrawal options await!
How Does Little Bat Slot Work?
Little Bat Slot is easily accessible on the Play Store, offering a convenient way to download and play the game. The best part is that it is completely free to download and enjoy.
Unlike some games that require lengthy registrations or complex sign-up forms, Little Bat Slot allows you to dive straight into the action with a simple tap. This means you can start playing and experiencing the excitement without unnecessary hassles.
The game was developed using the popular Unity platform, a widely recognized and trusted game development engine. This ensures a seamless and engaging gaming experience for players.
Upon opening the game, you will be pleasantly surprised with your first daily bonus of 1000 coins. This bonus is a warm welcome and gives you a head start in your gameplay. Additionally, you can collect free coins every 5 minutes, ensuring that you always have chances to spin the reels and potentially win big.
So, get ready to download Little Bat Slot from the Play Store, embark on an adventure, and enjoy the thrill of spinning and winning with its user-friendly interface and generous bonuses.
How to Play and Earn From Little Bat Slot?
The game's focal point is the 5-reel machine, where the enchanting magic unfolds. You set the reels into motion by simply tapping the spin button, utilizing 3,000 coins from your balance.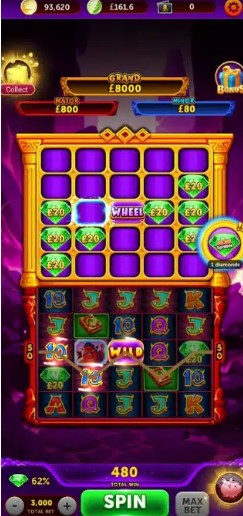 Now, let's delve into the nature of the coins in the game. These golden coins are exclusive to the game and cannot be withdrawn or exchanged for real currency. They act as the game's currency, enabling you to fuel your spins and maintain the exhilaration.
With every successful pay line you achieve, more gold coins find their way into your virtual piggy bank, increasing your balance and allowing you to continue playing.
However, the captivating green diamonds truly capture your interest, as they hold the potential to award you with actual US dollars within the game. These diamonds are prominently displayed on the bingo scorecard above the slot machine.
To unlock the exciting bingo feature, you must complete a line by aligning five green diamonds in a diagonal, horizontal, or vertical row. Once you achieve this remarkable feat, prepare for a delightful ka-ching moment, as you'll be rewarded with enticing cash prizes.
So, prepare yourself for an enchanting gaming experience in Little Bat Slot, where the 5-reel machine holds the allure, gold coins fuel your spins, and the elusive green diamonds hold the promise of rewarding cash rewards.
Earn From Wheel At Little Bat Slot.
In addition to the captivating features already mentioned, Little Bat Slot also includes the Wheel, which is triggered when you complete a line with the Wheel icon.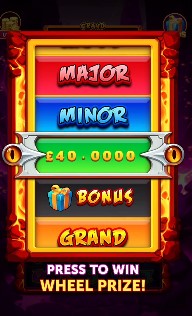 The Wheel introduces an extra layer of excitement to the game, allowing players to win even more prizes. The rewards you can obtain from the Wheel are distributed according to specific ratios, providing a diverse range of potential outcomes.
The specified ratios for winning each reward are as follows:
Grand win: 0.03%
Major win: 0.05%
Minor win: 0.7%
0.1 USD: 80%
The real reward gift box: 3.7%
These ratios indicate the likelihood of obtaining each reward, with the higher percentages corresponding to more common rewards, while the lower percentages signify rarer and more valuable rewards.
So, when you activate the Wheel feature in Little Bat Slot, get ready to spin the wheel of fortune and anticipate the thrilling prizes that await, ranging from grand wins to minor wins, and even the possibility of receiving real reward gift boxes or cash rewards.
How to Earn Amazon card puzzles from Little Bat Slot.
In addition to the exciting gameplay and potential cash rewards, Little Bat Slot also allows players to collect Amazon card puzzles.
Whenever you spin and land on diamonds, there's a chance for you to collect Amazon card puzzles. The probability of obtaining an Amazon card and diamonds is 8%. With each spin, you can unlock a piece of an Amazon card puzzle, adding an extra layer of intrigue to your gameplay.
Moreover, triggering the Lucky Wheel feature in the game presents another avenue to acquire an Amazon card. As you spin the Lucky Wheel, you can receive an Amazon card as one of the rewards. This further enhances the excitement and allows players to win valuable Amazon cards to enjoy various shopping benefits.
So, as you immerse yourself in the world of Little Bat Slot, keep an eye out for those diamonds and lucky spins that may lead you to collect Amazon card puzzles, opening up additional opportunities for rewards and bonuses.
Withdrawing Funds From Little Bat Slot.
One of the fantastic features of Little Bat Slot is the ability to cash out any amount you have accumulated. Unlike other reward apps that may have minimum withdrawal thresholds, this game allows you to cash out whenever you desire.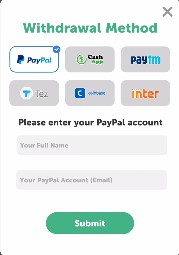 To initiate the cash-out process, collect the desired amount you wish to withdraw and press the "withdraw all" button. You won't have to worry about reaching a specific minimum requirement before being able to cash out your earnings.
Upon selecting the withdrawal option, you will be prompted to choose your preferred withdrawal method and provide your full name and email address. This ensures a secure and convenient process for redeeming your earnings.
Furthermore, if you aim to cash out an Amazon gift card from Little Bat Slot, you will need to collect 300 cards. Once you have reached this significant milestone, you will become eligible to redeem them for £240, providing a valuable reward for your dedication and gameplay.
With Little Bat Slot, you can accumulate and withdraw your earnings at your convenience, allowing you to enjoy the fruits of your gameplay without any restrictive thresholds.
FAQs
Is Little Bat Slot available for free?

Yes, Little Bat Slot is free to download and play. There are no charges or fees to access the game.

How can I download Little Bat Slot?

You can conveniently download Little Bat Slot from the Play Store. Search for the game, click the download button, and it will be installed on your device.

Do I need to register or sign up to play?

No, there are no registration requirements or lengthy sign-up forms. You can jump into the game and play with a simple tap.

How can I win real rewards or cash prizes?

Little Bat Slot offers the opportunity to win real rewards, including cash prizes. You increase your chances of winning enticing rewards by hitting winning pay lines, collecting green diamonds, and triggering the Wheel feature.

How can I cash out an Amazon gift card?

To cash out an Amazon gift card from Little Bat Slot, you need to collect 300 cards. Once you have reached this milestone, you will be eligible to redeem them for a £240 Amazon gift card.
See More:
CoinLoot – Earn Coin by Watching Videos & Get Paid 100% Easy Money
The Givvy City Rush – Hottest Earning Money App in 2023
Gummy Bubble Pop – Earn by Playing 100% Easy Games