Introduction
Embark on an exciting journey into the world of Daub Farm, where classic bingo meets modern gaming innovation. This free Android game offers a captivating farm-themed setting and a chance to win real money in thrilling matches against global opponents. Stay tuned as we explore the game's features, strategies, and unique opportunities for boosting your earnings. Get ready to daub, compete, and experience the joy of bingo like never before.
What is Daub Farm?
Daub Farm stands out as a timeless bingo experience, readily accessible on Android, enriched with a charming farm ambiance.
Competitive spirits come alive as you engage with real adversaries in riveting matches.
The game's mechanics involve swift daubing of numbers as they unpredictably resonate, the goal being to form triumphant horizontal, vertical, or diagonal alignments.
When achieved, a strategic tap on the bingo button propels you to a points bonanza.
The game's distinct allure lies in the prospect of securing cash rewards from the prize pool upon reaching commendable scores.
However, a nuanced caveat emerges: the withdrawal of earnings necessitates attaining a specified payout threshold.
The app ingeniously bolsters your journey by enticing exploration and involvement in diverse third-party gaming ventures.
With a remarkable track record, Daub Farm boasts over 10k installations on the Play Store, accompanied by an impressive 4.7-star average rating.
This metric aptly mirrors a considerable level of acclaim and player contentment.
How Does Daub Farm Work?
Daub Farm, a completely free bingo game on the Play Store, lets you win real money effortlessly, no registration required.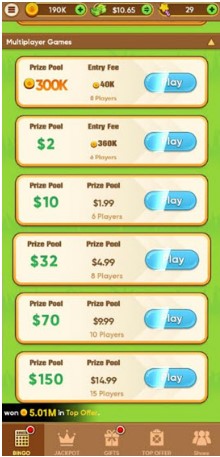 Connecting with your Google account is advised for added earnings security.
Initial setup seems complex, but a quick tutorial simplifies things.
Access the dashboard listing multiplayer games, each having a prize pool and entry fee.
No actual money needed; the entry fee comes from your virtual cash wallet, earned by playing and winning.
Choose prize pools with 6 to 15 players – higher prize means tougher contest.
Prizes shared among players based on ranking; e.g., $1.99 entry fee for $10 Prize pool, with chances to win from $4.50 to $0.50.
Low on virtual dollars? Use coin balance for 300k coin or $2 prize pools.
Boost earnings with Lucky Starfish, Big Beanstalk games, or via the Adjoe platform.
Explore sponsored games on Adjoe, a renowned advertiser platform in various reward apps.
How to Play Daub Farm.
Let's delve into the world of the bingo game itself within Daub Farm. This captivating experience links you with global adversaries, with the numbers announced at random.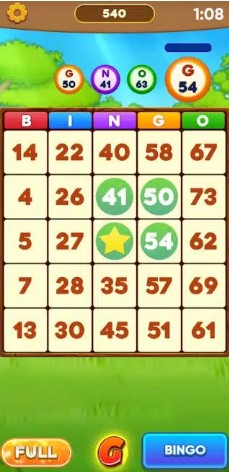 The pace of number-calling can be exhilaratingly swift, intensifying the game's excitement.
Your objective is to promptly hit "bingo" upon completing a horizontal, vertical, or diagonal sequence on your 25-number card.
With a mere 1 minute and 20 seconds countdown, swift reflexes are essential.
By daubing numbers and claiming bingos, your points will accumulate.
Securing at least the 4th spot ensures a slice of the prize pool.
As each match concludes, you have the option to watch an advertisement, which enables you to designate any remaining number on your card, thus elevating your final score.
How To Collect Extra Prizes From Daub Farm?
Daub Farm presents an array of avenues to bolster your virtual earnings, including:
Gift Section Enhancements: Explore tasks in the Gift section for lucrative gains.
Join Daub Farm on Telegram: Enlisting in their Telegram community unlocks extra cash rewards.
Watch Videos and Install Advertised Apps: Accumulate cash by viewing videos and installing advertised apps.
Check-in for 7 Consecutive Days: Logging in daily for a week garners loyalty-based cash rewards.
Login Bonus and Online Gift: Regular logins secure a login bonus, and remember to claim the online gift – these small actions compound over time.
Jackpot Excitement: A stimulating twist awaits in the Jackpot section.
Ad-watch and App Installation: View an advertisement and install an app to acquire two random numbers.
Jackpot Bonus Triumph: As the fortunate victor, the jackpot bonus becomes yours – a game of chance that could significantly enhance your earnings.
Make Money By Referral Bonuses From Daub Farm.
Let's explore the delightful avenue of inviting your friends to partake in the bingo excitement. Daub Farm introduces a concept of referral commissions, amplifying your rewards as you bring your pals onboard
Each installation of Daub Farm by your invited friend fetches you a rewarding $1.99.
As your invited friends reach a noteworthy $10 in their earnings, a substantial bounty of 500k coins is bestowed upon you.
Moreover, a gratifying 5% commission on the coins garnered by your friends from completing tasks in the Top Offer section becomes a shared boon. It's a mutually beneficial triumph for all participants involved.
How to Cash Out From Daub Farm.
The process of cashing out your earnings from Daub Farm is refreshingly simple.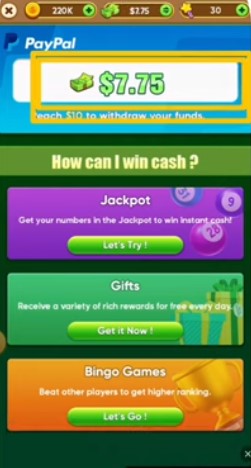 Upon amassing a minimum balance of $10 in your virtual wallet, you qualify for withdrawal.
However, it's worth noting that hitting the $10 threshold doesn't equate to an immediate full cash-out, as I'll elaborate further in the following section.
In accordance with the app's guidelines, the swiftest transfer duration ranges from 1 to 7 working days.
FAQs
Is Daub Farm available on platforms other than Android?

As of now, Daub Farm is specifically available on Android devices through the Play Store.

Can I invite friends to play Daub Farm?

Yes, Daub Farm offers a referral program where you can invite friends to install the game. You'll receive rewards for each friend who installs Daub Farm, and you can also earn additional coins from your friends' activities within the game.

What is the Jackpot section in Daub Farm?

The Jackpot section in Daub Farm offers a chance to win a jackpot bonus by watching an advert and installing an app to receive two random numbers. If you're the lucky winner, you'll receive the jackpot bonus.

Do I need to register to play Daub Farm?

No, registration is not required to play Daub Farm. However, signing in with your Google account is encouraged for added earnings security.
See More:
Money Train Review – Earn By Playing 100% Joyful Mobile Game
Cash Tile – Earn By Playing Tile-Matching 100% Joyful Android Game
Earn By Playing Crystal Pop Mania 100% Easy Vibrant Elimination Game
Cocoon MyData Rewards – Earn 100% Money By Sharing Your Data