Introduction.
You can make real money with your cell phone while you sleep how. I'll tell you right after this. Alright, guys, welcome back to another money-making app blog. The star of today's blog is AppTrailers. Suppose you want to make a little bit of passive cash, looking for an app. so I recommend App Trailers.
What is AppTrailers App?
AppTrailers are part of the perk family. If you don't know what the perk family is? You earn points and each of the apps by playing games, watching videos, taking surveys, and it adds all your points up. And you use those points to either buy gift cards directly or deposit money into your PayPal; Amazon gift cards out specifically are good for watching videos.
How to install AppTrailers on your device.
You can simply install it from Google Play Store or follow the step.
Search on Google app trailer APK or IOS, both are available.
install the AppTrailers on your android phone or iPhone.
Allow Third-Party apps on your device.
Go to Your File manager or browser location and install.
How to log in or sign up at AppTrailers?
You can sign up via Facebook or email, and it's straightforward. just click the signup button and connect with your Facebook or email and enjoy.
How do AppTrailers work?
You earn points by playing the quiz, watching videos, playing apps and trivia, and other games. You then turn those points into gift cards or PayPal cash. I preferably use it for PayPal cash.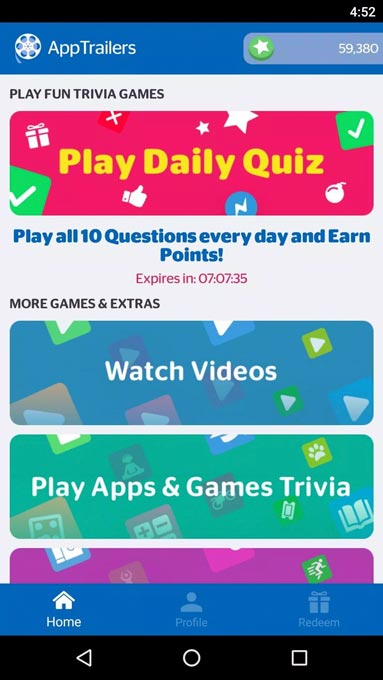 How to earn money from AppTrailers.
You can earn money by previewing Video Trailers of apps, celebrity gossip, DIY videos and get points that you can redeem with PayPal cash, Amazon gift codes, and many more with AppTrailers! you can also earn by playing games, watching videos, taking surveys, rewards, the daily quiz, and the referral system.
How to earn by watching videos at AppTrailers.
So let's do a watch videos example here for you guys. What do I feel like watching? Let's go to funny videos, and you will start from the top here. Click a video.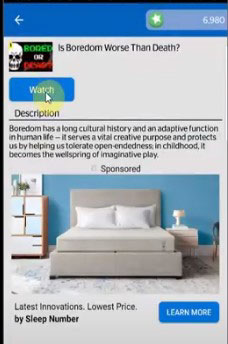 And then click watch, and then your phone goes into an ad. once this ad completes, you get credited four points. And those points get added into your total, so that's pretty much.
Earn by the daily quiz at AppTrailers.
There's a daily quiz every day. It expires in like five hours.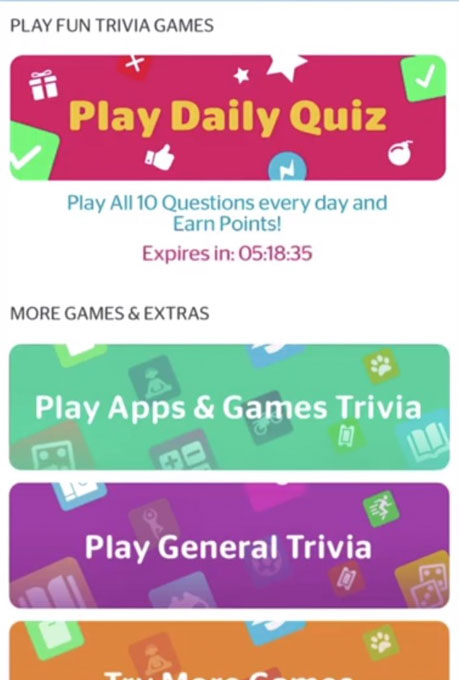 So, in five hours, another one will load up, and it's ten questions. so it's probably 7 points per question you get right. So potentially 70 points there if you know a lot about Beyoncé, and it will make us watch an ad.
Earn money by referral system at AppTrailers.
If you want to invite your friends, you can make more invite your friends and up to $10.00 per teammate when they make you gain. going down this list.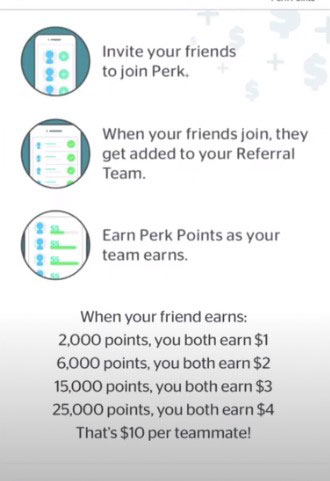 Earn money by playing games at AppTrailers,
There are more apps, or you can get "apps and play trivia." not going to do that right now.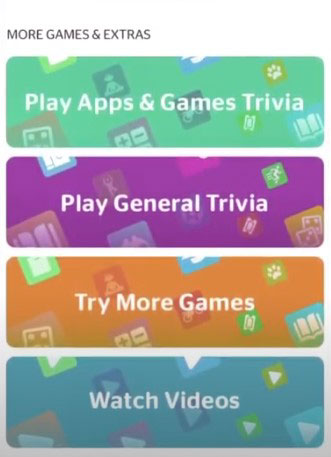 But if you're into trivia games, might as well make some money. While you're doing "general trivia, more questions, this is the same thing. try more games," they have games to be played here.
AppTrailers Pros and Cons.
Pros:
The user interface of the app is user-friendly.
The paying option is applaudable.
They have lots of videos on the platform that help you increase your earnings.
You don't need to pay any money to access this App Trailers.
Cons:
It takes a lot of time to earn the minimum payout points.
The income potential on this AppTrailers is actually very low.
You cannot fully take advantage of this App Trailers if you are an Outsider from the USA.
Is AppTrailers legit App?
You can install it through the App Store or the Play Store, where genuine apps can be installed, so you can consider this AppTrailers is a legit app. It also the dealing with companies like PayPal, Amazon, iTunes, and so on.
FAQ
How Do You Make AppTrailers Points?

1. You can make 5 points for each video.
2. You can make 50 points for signing up.
3. You can make 100 points for inviting a friend.


What Are the Minimum AppTrailers Points That You Can Rewards?

The Minimum AppTrailers Points That You Can Rewards is 500 Points.

How Much You Can make With AppTrailers in a Day?

Dependent on How Many tasks you complete in a day, but I see that some people earn up to $2 in a day.
See More:
14 Best Platform To Get Paid To Watch Videos Online in 2022
CreationsRewards.net Review | 6 Best Ways to Earn Money With CreationsRewards
How To Make Money by Watch Videos | Best Paid Video Viewing System
4 Best Way to Make Money Using FeaturePoints | FeaturePoints Review