Introduction
Welcome to Reel Adventures Fiesta, the ultimate 3-reel slot game designed to ignite your excitement with every spin. Developed using the Unity platform, this free-to-play mobile game promises sleek graphics, seamless gameplay, and the chance to win real-world rewards. Join the global community of players as you embark on a thrilling journey through the world of slots, matching symbols, accumulating virtual currency, and aiming for tantalizing prizes. Are you ready to dive into the heart-pounding action of Reel Adventures Fiesta? Let the reels spin, and the adventure begins!
What is Reel Adventures Fiesta?
Reel Adventures Fiesta is an alluring 3-reel slot game that promises excitement with each spin. Created using the Unity platform, this free-to-play game offers a polished visual experience and smooth gameplay. Players eagerly press the spin button, hoping to line up matching symbols and amass virtual currency, which can later be cashed out through PayPal.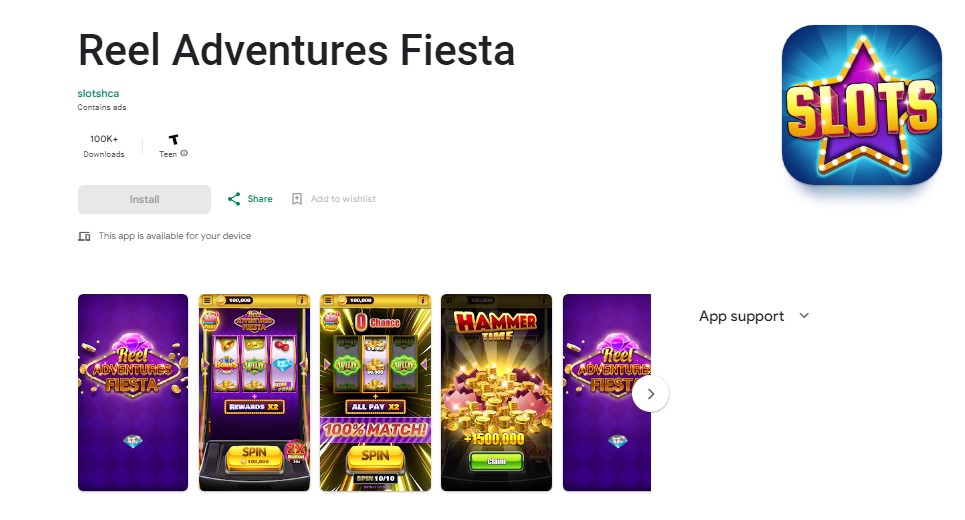 This enticing opportunity for real-world rewards has ignited a surge in the game's popularity, attracting a diverse and enthusiastic audience in search of effortless earnings., despite being labelled as "Early Access," something has already downloaded the app more than 100,000 times on the Play Store, even though it lacks any user reviews.
How Does Reel Adventures Fiesta Work?
Reel Adventures Fiesta is available for Android users globally and offers hassle-free access without registering. However, addressing a significant concern regarding its data security measures is crucial.
The app lacks data encryption, a fundamental security feature that safeguards your personal information from potential threats. Without data encryption, your data becomes vulnerable to hacking, identity theft, and unauthorized access, which raises serious privacy and security concerns.
How to Make Money by Playing Reel Adventures Fiesta Slot Game?
Once the game is fully loaded, you can jump straight into the action. The core of the experience revolves around the 3-reel slot machine, adorned with an array of symbols, including banknotes, coins, extra spins, wilds, and mystery items.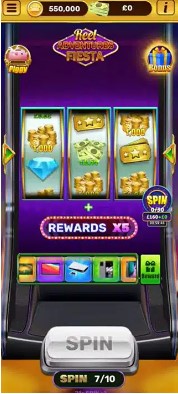 To test your luck, tap the spin button and watch as the reels spring to life. When you align three cash symbols, you'll be rewarded with cash prizes subject to random multipliers, adding an extra layer of excitement to the game.
Make money by Mystery Items and Prizes From Reel Adventures Fiesta.
The game also offers intriguing mystery items. Whenever you successfully match three items, you'll be rewarded with one of the captivating mystery items, including bells, diamonds, golden coupons, or even Amazon gift cards. Once you meet the requirements, we can redeem These items for gift cards.
For those looking for even bigger rewards, matching three gift boxes will grant you puzzle pieces. Accumulating ten matching puzzle pieces is the key to unlocking grand prizes like a PS5, iPad Pro, Samsung Galaxy S20, and many more. To claim your prize, collecting ten puzzle pieces corresponding to the specific reward you desire is essential.
Reel Adventures Fiesta Withdrawal Process.
As per the app's instructions, you have the flexibility to withdraw any amount you've earned. Alluring incentives exist for those who exercise patience and accumulate specific thresholds.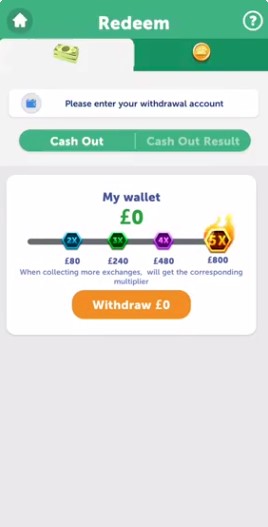 If you choose to cash out at £80, £240, £480, or £800, the app generously multiplies your reward by 2x, 3x, 4x, or 5x, respectively. This significant boost in rewards not only motivates players to stay engaged for extended periods but also serves as a strategy for the developer to generate more revenue through advertisements.
Conclusion
Reel Adventures Fiesta raises serious concerns as it appears to exploit players' hopes, capitalizing on their dreams for financial gain. The developers seem to create enticing illusions, ultimately leaving gamers with depleted wallets and crushed expectations. Given these circumstances, my recommendation is to uninstall the app promptly.
Instead, I encourage you to redirect your energy towards genuine and effective online pursuits. Consider exploring opportunities such as becoming a content creator. With the assistance of a comprehensive, step-by-step program, I found success in setting up a website and attracting a broad audience, even without prior experience. Thanks to this program, I achieved high rankings on Google, resulting in consistent monthly commissions exceeding $ 2,000.
Through dedication and commitment, my website transformed into a dependable source of income, covering all my living expenses. You, too, can work towards your financial goals and embrace a flexible, laptop-based lifestyle.
See More:
Scratch Blitz – Earn by Playing 100% Easy Scratchcard Games
Yuno Surveys – Sharing Your Opinions with 100% Easy Earning
LifePoints Panel – Earn by Testing Products With 3 Easy Ways
Make 100% Easy Money By Playing Hey! Billionaire Virtual Board Game!