Introduction
Surveys represent a popular and convenient method to generate income online. In this review, I'd like to introduce you to Surveytime, a survey platform that asserts itself as one of the leading options in terms of compensation.
In this comprehensive Survey time review, I will provide you with in-depth insights about the platform, covering essential aspects such as the registration process and various ways to earn money.
What is Surveytime?
SurveyTime is a well-known platform that compensates users for sharing valuable feedback and opinions. With its inception dating back to 2017, it boasts over three years of operational experience. Survey time prides itself on providing users with comprehensive information on its website, ensuring a seamless start to your earning journey.
Headquartered in the USA, SurveyTime is distinguished by its policy of instant payment to users upon survey completion.
Now, let's delve into how you can kickstart your journey with Survey Time.
How To Join Surveytime?
earning opportunities may vary depending on your geographic location.
SurveyTime is a globally accessible platform, welcoming members from around the world. It's worth noting that the availability of surveys and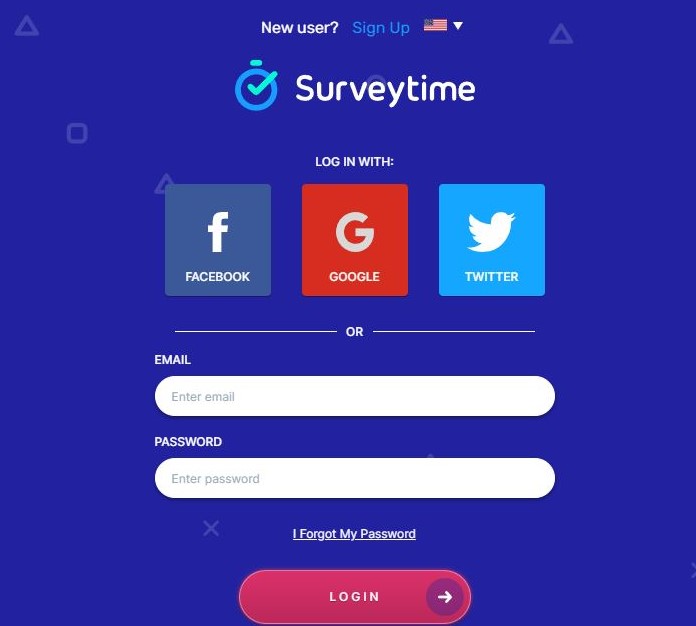 To start, visit the Survey Time website and start the registration process. Click on the sign-up button and complete the required personal information. Be sure to participate in the initial survey that focuses on your profile and demographic details. This step is crucial as it enables the platform to tailor survey offerings specifically to you, enhancing your chances of receiving surveys and maximizing your earning potential.
How to Make Money on Surveytime?
Make money from paid surveys From Surveytime.
SurveyTime's paid surveys typically follow a standard format. These surveys often inquire about your preferences regarding favourite brands, products, online activities, shopping habits, and similar topics.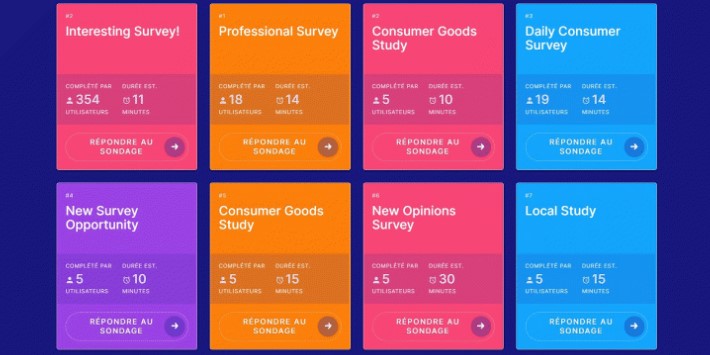 The platform provides valuable information about each survey, including the number of participants who have completed it and the average time required for completion. Generally, most surveys on SurveyTime take approximately 10–15 minutes to finish.
Make Money by Ambassador Program From Surveytime.
SurveyTime's Ambassador Program stands out as an exclusive affiliate and referral initiative. Unlike the referral programs offered by most survey sites, joining this program requires an application process.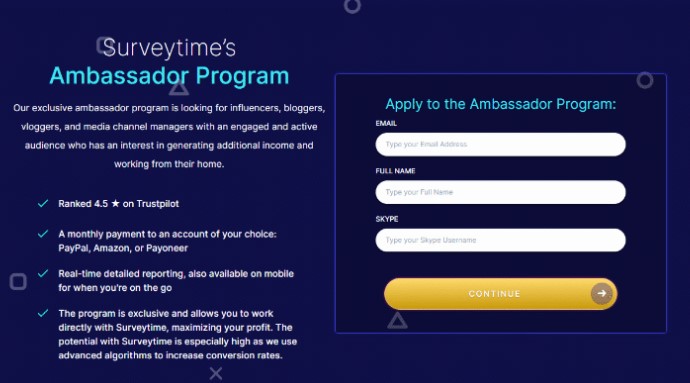 While anyone is welcome to apply, Survey Time primarily seeks individuals with an active and engaged following on platforms such as blogs, YouTube channels, or social media. If you intend to refer only a few friends, your chances of acceptance may be limited.
Once accepted into the Ambassador Program, you can earn $1 for each new user you introduce to Survey Time. To qualify as a referral, these users must register using your unique referral link and complete at least one paid survey.
Referral rewards are distributed monthly and can be received through PayPal, Payoneer, or an Amazon gift card.
How Do You Get Paid From Surveytime?
SurveyTime's payout system distinguishes itself from many other survey platforms in several ways. First and foremost, all surveys on Survey Time offer the same reward: $1. Sometimes, you may encounter surveys offering $0.50, but they will always inform you of this before you start the survey. The consistent $1 reward simplifies the process, making knowing what to expect for your time and effort easy.
This uniform payout structure means Survey Time can offer surveys with a higher reward-to-time ratio than many other survey sites. Whether you complete a 2-minute or a 7-minute survey, the reward remains the same.
Survey Time also provides various payout options based on your country. The most common options are PayPal and Bitcoin, which users widely accept and appreciate. In the US, you can receive gift cards to popular retailers like Amazon, Target, and Decathlon in addition to PayPal cash.
One notable feature of Survey Time is its immediate payout system. After completing a survey, you are prompted to select your preferred payout method. You may need to verify your phone number for the first payout, which is done via a code sent through text message. This verification process protects your rewards and is not used for other purposes.
The significant advantage here is that you receive your earnings immediately after completing a survey, unlike other sites where you might have to wait weeks for survey confirmations before cashing out. This instant payout feature sets Survey Time apart and appeals to users who prefer swift access to survey rewards.
See More:
Earn By Playing Reel Adventures Fiesta 100% Slot Game
Scratch Blitz – Earn by Playing 100% Easy Scratchcard Games
Yuno Surveys – Sharing Your Opinions with 100% Easy Earning
LifePoints Panel – Earn by Testing Products With 3 Easy Ways