Introduction
Welcome to Farmyard Garden App, a free-to-play idle game that brings the joys of farming to your fingertips. Grow beautiful flowers, complete level orders, and earn cash rewards. With the unique feature of potential real cash prizes, Farmyard Garden offers an exciting twist to the traditional farming experience. However, be aware of the increasing challenges and time requirements as you progress. Remember the game's data handling practices and the absence of user reviews due to being in Early Access. Enjoy cultivating your virtual farm and aiming for the cash-out opportunity while making informed decisions.
What is Farmyard Garden App?
Farmyard Garden App is a free-to-play idle game developed by Mar.Williams. dev, offering a captivating farming experience on your mobile device. The game boasts the unique feature of allowing players to earn real cash prizes through their virtual crops. Players can accumulate hundreds of dollars or the equivalent in their local currency within days.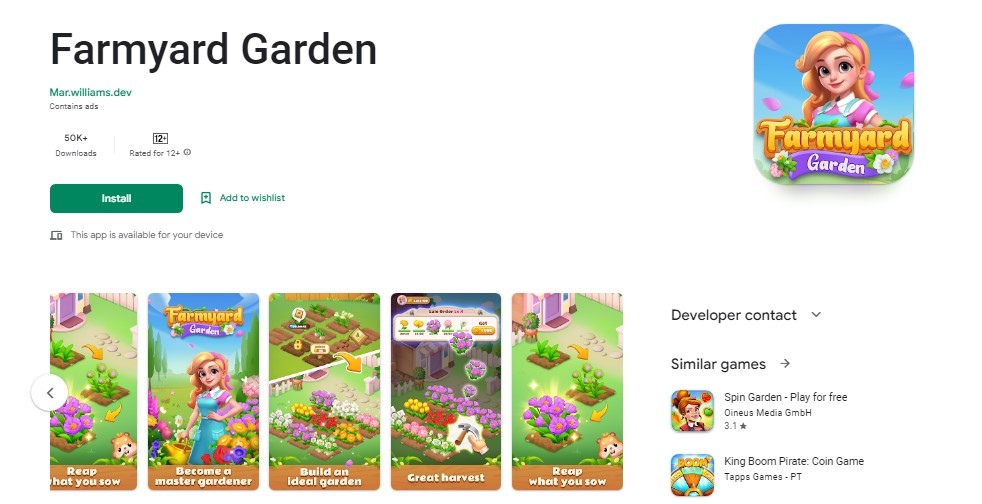 In Farmyard Garden, players are immersed in cultivating and maintaining their virtual farm while earning virtual currency that can be exchanged for real money. Despite being in Early Access and having garnered over 50k installations on the Play Store, the app currently needs a platform for user reviews, creating a challenge for players.
Reviews are typically regarded as dependable to assess an app's credibility. Without an open and democratic space for discussion, players are left in the dark regarding whether Farmyard Garden lives up to its ambitious claims.
How Does Farmyard Garden App Work?
Farmyard Garden App, available for free on the Play Store, is a straightforward game. However, there is a concerning aspect regarding its data handling practices.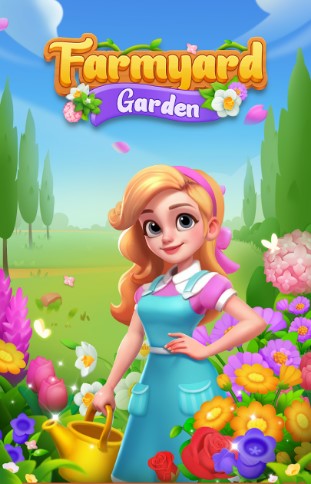 According to reports, the app does not encrypt user data, which is a cause for alarm. Additionally, it lacks the functionality for users to delete their personal information. These issues raise legitimate concerns regarding the privacy and security of user data within the game. Users must be cautious when sharing personal information and consider the potential risks associated with such data handling practices.
How to make money from Farmyard Garden App?
Farmyard Garden App revolves around gardening and shares similarities with Lucky Market. In the game, you click on plots of land to cultivate flowers, each requiring a specific number of coins to grow.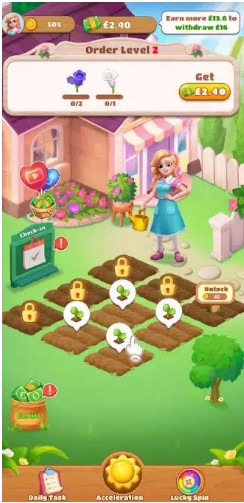 The flowers grow gradually, but you can use fertilizers to accelerate their growth. Once the flowers have matured, you can harvest them to earn additional coins.
The main objective is to fulfill orders by harvesting a specific number of flowers, completing levels, and earning cash rewards accumulating in your balance.
To aid your progress, the game includes an 'acceleration' mechanic, allowing you to reduce the growth time of all flowers by 60 minutes.
As you advance to higher levels, the game becomes more challenging, requiring more flowers and time to complete tasks.
To expedite gameplay, certain features prompt you to watch advertisements. This serves as a revenue-generating strategy for the developers, who earn income from each video played by users.
How To Withdraw Your Funds From Farmyard Garden App.
To cash out in Farmyard Garden, players must meet two conditions: reach a minimum of £16 and complete 12 level orders. The second requirement of completing 12-level orders often proves to be time-consuming, and players may only realize this after investing a significant amount of time and effort into the game.
If players choose not to pay or cannot meet the cash-out conditions, there is no way to rewind time and recover the lost progress or effort invested in the game. Players must consider these factors and make informed decisions about their involvement in the game and whether they are willing to commit the necessary time and resources to meet the cash-out requirements.
FAQs
Can I earn real cash prizes in Farmyard Garden?

Yes, Farmyard Garden offers the potential to earn real cash prizes. You must reach a minimum amount, typically £16, and complete several level orders to cash out. Keep in mind that meeting the requirements can take time and effort.

How long does it take to complete level orders?

The time required to complete level orders increases as you progress in the game. Higher levels demand more flowers and time to fulfill the orders, making it more challenging and time-consuming.

Are there any privacy concerns with Farmyard Garden?

There have been reports that Farmyard Garden does not encrypt user data and lacks the functionality to delete personal information. Considering these concerns and exercising caution when sharing personal information within the game is important.

Are there any costs associated with playing Farmyard Garden?

Farmyard Garden is free to play. However, certain features designed to expedite gameplay may require watching advertisements. These advertisements generate revenue for the developers.
See More:
Sim Cash App – Earn By Selling Your Unused SMS (100% Easy Money)
Surfe be Review – 5 Easy Ways To Earn Real Money
Wild Slots Spin To Win – Earn By Playing 100% Easy Mobile Game
Smile Battery App – Earn 100% Real Money While Charging Your Phone