Introduction
Welcome to Sim Cash App, the online platform offering a unique opportunity to earn money by selling unused SMS messages. With Sim Cash, you can effortlessly turn your idle SMS resources into a source of passive income. getting the app, register, and start monetizing your SMS today. Whether an Android user looking to make the most of your unused SMS or a savvy networker eager to refer others, Sim Cash App provides a user-friendly interface and various payment options, including cash and cryptocurrency. Join us now and unlock the potential to earn while using your SMS.
What is Sim Cash App?
Sim Cash App is an innovative online platform that allows individuals to generate income. By leveraging the selling of unused SMS, users can earn passive income through this website. With its user-friendly interface and seamless integration, Sim Cash offers a convenient way for users to monetize their untapped SMS resources.
How to Join Sim Cash App?
Getting started with Sim Cash App is a straightforward process. Download the Sim Cash on your Android mobile device. The app is exclusively available on the Google Play Store, where you can quickly locate and install the Sim Cash App demo.
Please note that Sim Cash App is currently only compatible with Android platforms and is not accessible through the iOS App Store. To get the Sim Cash, visit the official website at Simcash.io.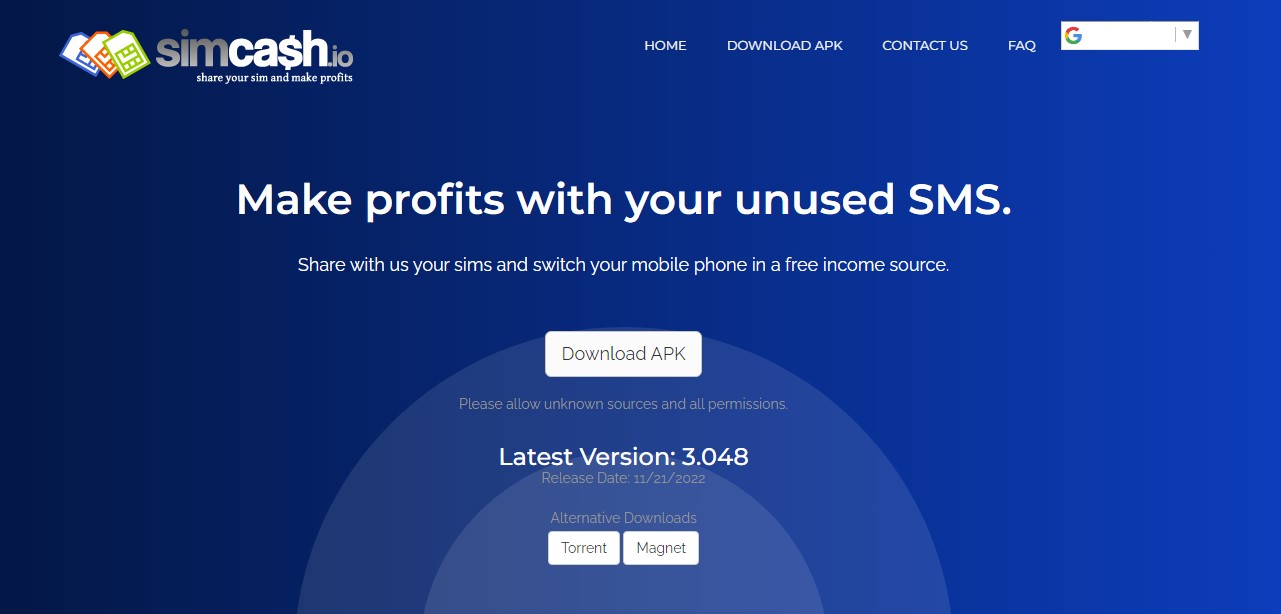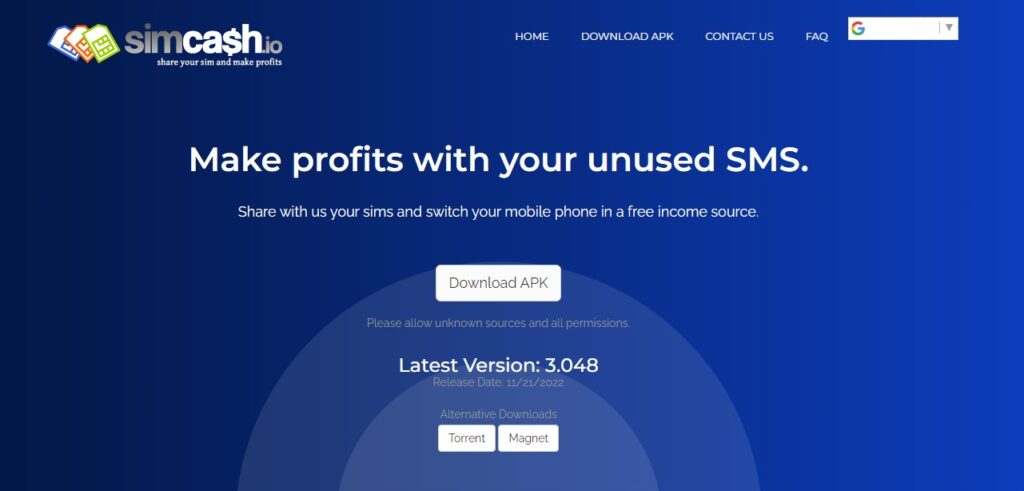 Once you have downloaded the app, fill out the registration form with your relevant information, including your first name, last name, country name, mobile number, email address, and password. After completing the form, please submit it to create your account and start earning.
How To Make Money With Sim Cash App?
Sim Cash App offers an opportunity to earn money by sending or selling SMS messages. By utilizing the platform, users can monetize their unused SMS. Moreover, users can enhance their earning potential by enabling dual SIM cards.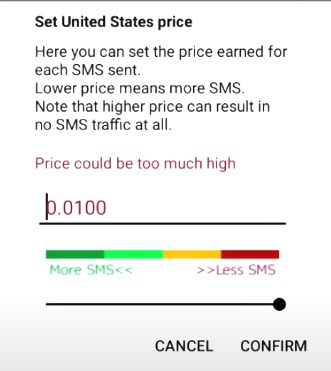 To activate the second SIM card, navigate to the dashboard and click the edit button. If the second SIM card has not been activated, this action will activate it. Furthermore, users can set the price for sending SMS and choose the desired destination for their messages.
Opting for the user's country as the destination can result in higher productivity, while selecting a foreign country may incur additional costs. Users are also advised to limit the SMS messages they wish to sell from their SIM cards.
Users can set the limit to maximize earnings as 'No limit.' Alternatively, they can set hourly, daily, weekly, or monthly limits based on convenience or preference. It is essential to consider that higher-quality SMS messages may be sold less frequently, whereas those with lower prices may result in higher sales volume but lower earnings per message.
Sim Cash App also provides a referral program where users can refer friends and family to join the platform using their unique referral link.
One of the advantages of the Sim Cash is that users do not need to remain online all the time to earn rewards. By selecting the "keep working in the background" option, users can continue making even when their device is not actively in use. However, an internet connection is necessary to ensure that the platform accurately tracks all sold SMS messages.
Referral link
In addition to selling SMS messages, Sim Cash provides a referral program that allows users to earn money by referring the app to friends and relatives. When individuals join the app using your unique referral link, you will receive a 10% commission on every SMS message they sell up to level 1. However, once you reach level 2, the commission reduces to a 5% bonus. This referral program incentivizes users to expand their network and earn additional income through the platform.
How Does Sim Cash App Pay?
Sim Cash App offers its users multiple payment options, including cash and cryptocurrency. The available payment methods include PayPal, XRP (Ripple), Bitcoin, DOGE (Dogecoin), Internet Transfer, and Bank Transfer.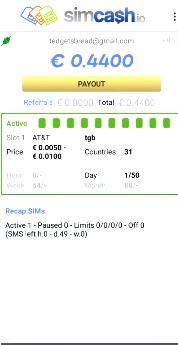 The minimum payout thresholds for each payment method are as follows:
PayPal: 6€
Internal Transfer: 0.50€
XRP: 6€
Bitcoin: 30€
DOGE: 8€
Normal Bank/Wire Transfer: 50€ or 50$
Once you have reached the minimum payout threshold and request a payment, Sim Cash App aims to process and complete the payment within seven days. This ensures that users can receive their earnings promptly.
FAQs
How do I earn with Sim Cash App?

You can earn by selling your unused SMS messages through the app. Additionally, you can refer friends and family to join Sim Cash App using your unique referral link and earn a commission on their SMS sales.

How do I set the price for my SMS messages?

Within the app, you can set the price for your SMS messages. Remember to find the right balance between price and frequency of sales to maximize your earnings.

What are the payment methods available on Sim Cash App?

Sim Cash App supports various payment methods, including PayPal, XRP (Ripple), Bitcoin, DOGE (Dogecoin), Internet, and Bank Transfer.

Is Sim Cash App available internationally?

Yes, Sim Cash App is available to users worldwide, allowing individuals from different countries to participate and earn.
See More:
Surfe be Review – 5 Easy Ways To Earn Real Money
Wild Slots Spin To Win – Earn By Playing 100% Easy Mobile Game
Smile Battery App – Earn 100% Real Money While Charging Your Phone
Word Rambler App – Earn by Playing 100% Easy Word Puzzle Game