Introduction
FUN MONEY app that rewards you for playing games. Developed by GameTester, it has gained popularity with over 100,000 installations and a 4.3-star rating. Engage with sponsored games, accumulate coins based on playtime, and exchange them for rewards like Google Play and Amazon gift cards or PayPal cash. Download FUN MONEY, play games, earn coins, and unlock exciting rewards.
What is FUN MONEY?
FUN MONEY is an Android application developed by GameTester, the same team behind popular apps like Game Tester and Money Cash. Since its release, the app has garnered considerable attention, amassing over 100,000 installations and an impressive 4.3-star user rating.
The functioning of FUN MONEY revolves around showcasing sponsored games and apps to its users. As individuals interact with these featured applications, they earn coins based on the duration of their engagement. Over time, users accumulate a substantial number of coins.
Once a user has gathered a sufficient amount of coins, they have the option to exchange them for real cash. Withdrawals can range from £2 to £50, allowing users to redeem their accumulated earnings.
How Does FUN MONEY Work?
FUN MONEY is a free app on the Play Store worldwide. While it doesn't require registration, there are a few initial steps to follow before accessing the app's full functionality.
Upon launching the app, users must agree to the privacy policy outlining FUN MONEY's practice of collecting information about installed apps. This data provides recommendations for games that users have yet to try.
Next, users are prompted to provide their gender and age. As a welcome gift, they receive 3600 coins upon completing this step.
To accumulate more coins, users can explore the "new" section within the app, which displays a list of app offers. It's important to note that if an app is installed on the user's device, they won't receive additional credit. This limitation is in place to ensure that new users, who are sought after by advertisers aiming to expand their audience, receive the credited coins.
The app interface displays how many coins users can earn per minute as they engage with the featured apps.
How to Play FUN MONEY and Earn?
Once users tap on the "Play and Earn" option, they will be prompted to grant permissions to FUN MONEY, allowing the app to track their playtime accurately and reward them accordingly.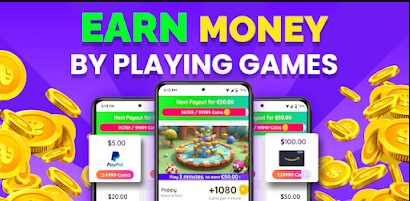 After downloading a game or app from the provided offers, launching it through the "My games" section within FUN MONEY is crucial.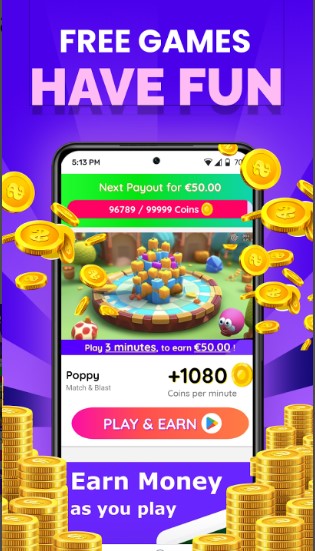 Launching the game from this section enables the developers to track the duration of your gameplay and credit you with the appropriate number of coins. If you launch the game independently, without going through the "My games" section, you won't receive any coins, which can be disappointing.
However, it's important to note that the number of coins initially stated may not correspond directly to the actual amount you earn after a specific period of gameplay. This approach encourages users to play for longer durations to accumulate more coins. Therefore, the intention is to motivate users to engage with the sponsored games and apps for extended periods, leading to higher coin rewards.
How to Withdraw Your FUN MONEY Funds?
For UK players using FUN MONEY, specific coin thresholds are required to redeem various rewards. To obtain a £5 Google Play gift card, a minimum of 10,999 coins must be accumulated.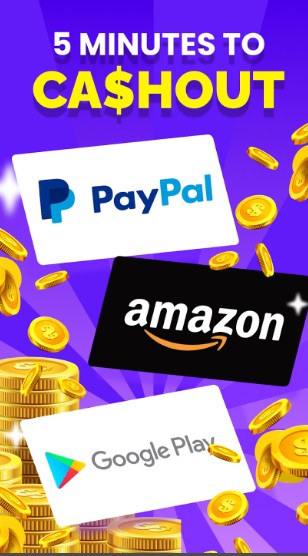 Interestingly, more coins, specifically 11,999, are necessary to redeem a £2 Amazon gift card. This implies that Amazon gift cards' redemption value is relatively higher than Google Play gift cards.
On the other hand, a lower coin threshold of 7,999 is required to withdraw £20 via PayPal. This means that users can obtain a higher cash payout through PayPal compared to the value of Amazon gift cards.
Users can visit the Payout section within the FUN MONEY app to explore all available options and their corresponding coin requirements. This section overviews the different redemption options available to UK players.
FAQs
Is FUN MONEY available worldwide?

Yes, FUN MONEY is available for users worldwide through the Play Store. However, specific rewards and offers may vary depending on your location.

Is FUN MONEY completely free to use?

Yes, FUN MONEY is free to download and use. It does not require any upfront payment. However, remember that sponsored games and apps may contain ads or in-app purchases.

How do I earn coins in FUN MONEY?

To earn coins, you need to engage with the sponsored games and apps provided by FUN MONEY. The app tracks your playtime; the longer you play, the more coins you accumulate.

Is FUN MONEY available for iOS devices?

FUN MONEY is only available for Android devices and can be downloaded from the Play Store.
See More:
Piggy Rush Slot – Earn By Playing 100% Easy Mobile Slot Games
Earn By Playing Money Garden 100% Easy Mobile Clicker Game
Blazing Clash – Earn By Playing 100% Easy & Mini-Games
Prize Blast Review – Earn By Playing Popular Android Game in 2023