Introduction
Prize Blast is a popular Android game that combines a captivating pirate-themed treasure hunt with the chance to win real-life prizes. With addictive gameplay and the opportunity to unlock piggy banks and claim amazing rewards like iPhones and Nintendo Switches, it's a game that keeps players engaged for hours. Players can access the exciting Treasure Hunt and construct their ships for epic sea battles by collecting bottles and progressing through levels. With a user-friendly interface and a wide range of payment methods, Prize Blast offers an exhilarating gaming experience with the thrill of tangible rewards.
What is Prize Blast?
Prize Blast is an exciting Android game with a thrilling pirate theme that allows you to join sweepstakes while enjoying a casual elimination game. Immerse yourself in the captivating world of treasure hunting as you progress through various levels by tapping and removing matching cubes.
This engaging game is completely free to play and has gained immense popularity. It provides an opportunity to win valuable rewards, which can be redeemed through various options such as PayPal, Visa, Gift Cards, and in-game currencies. Discover how to increase your daily earnings by at least $10 by clicking here!
As you progress further in the game, you'll have the opportunity to unlock piggy banks worth approximately $12 to $13. These piggybanks can be utilized within the Prize Cavern, where you can win exciting real-life prizes like iPhones, Nintendo Switches, Smartwatches, and AirPods.
Although the gameplay is straightforward, obtaining these incredible prizes may require additional effort. To gain access to the Prize Cavern, you'll need to collect bottles and embark on a treasure-hunting journey until you reach level 12.
It's worth noting that Prize Blast has garnered significant popularity, with over 100,000 installations from the Play Store. The game has received an impressive rating of 4.4 stars, reflecting the positive experiences of its users.
How Does Prize Blast Work?
Prize Blast is an immersive Android game that has captured the attention of players worldwide. It is designed for users 18 or older, offering an exciting and engaging experience.
Once you open the app, you will be prompted to accept the Terms of Service and Privacy Policy, ensuring a transparent and secure gaming environment.
To safeguard your progress and protect your hard-earned achievements, it is recommended to sign in with your Google or Apple account. Doing so can easily restore your progress even if you switch phones or uninstall the game, providing a seamless gaming experience.
How To Make Money By Playing The Prize Blast Game.
Prize Blast offers a gameplay experience that is easy to understand yet incredibly addictive. The objective is to tap on blocks of the same color to eliminate them and fulfill the level's specific goals, such as clearing a certain number of blue and red boxes.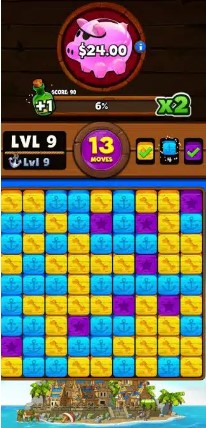 With limited moves available, strategic thinking becomes crucial for achieving success in the game.
Upon completing each level, you will be rewarded with a bottle. However, the adventure begins when you gather seven bottles, symbolizing seven victories. This unlocks the Treasure Hunt, which consists of 12 captivating steps.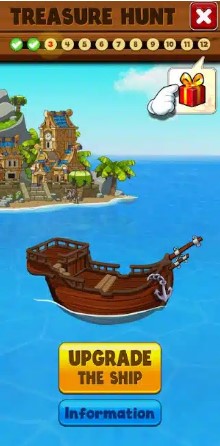 In the Treasure Hunt, you will embark on a journey starting with building your ship. Utilizing the collected bottles, you can upgrade your vessel and continue conquering levels to earn more bottles and progress through the various steps.
Your role in the game involves constructing and enhancing your ship, setting sail, and participating in epic sea battles, adding an exciting twist to the gameplay experience.
How To Win Exciting Real-life Prizes From Prize Blast?
Once you reach the final step of the Treasure Hunt, the mysterious Prize Cavern will open, unveiling whether you have won a prize.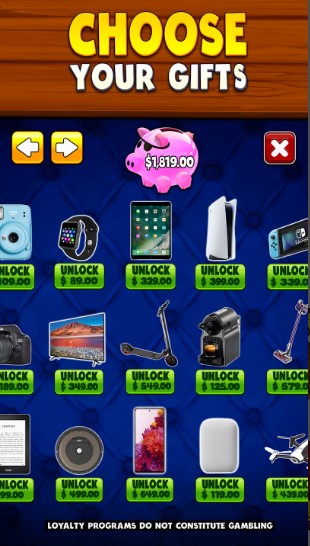 If luck is on your side and you have won a prize, you can utilize your cash balance to claim your reward. Watch for the pink piggy bank symbol on the game board; tapping it will help you grow your cash balance.
By tapping the pink piggy bank symbol, you can unlock cash mode, where breaking neighboring boxes enables you to blast larger piggy banks worth $4 each.
When you are ready to open the Prize Cavern and claim your prize, you will be prompted to register on the company's website to confirm your legal eligibility. During registration, you must provide your email address, date of birth, gender, and delivery address. This information is necessary to participate in the loyalty program and receive your prize.
Prize Blast Payment method.
Prize Blast offers various payment methods for redeeming rewards. You can receive your rewards directly to your PayPal account, allowing easy and secure transactions. Prize Blast may offer the option to receive rewards through Visa prepaid cards, which can be used for online and offline purchases.
You can redeem your rewards for popular retailers or online platforms as gift cards. These gift cards can purchase a wide range of products or services.
Some rewards may be in the form of in-game currencies, which can be used to enhance your gaming experience within Prize Blast itself.
The specific payment methods available may vary, so check the game or platform for the most up-to-date information regarding reward redemption options is recommended.
FAQs
How do I play Prize Blast?

Prize Blast is played by tapping and eliminating matching cubes of the same color. The objective is to complete level-specific goals within a limited number of moves.

How do I unlock the Prize Cavern?

To unlock the Prize Cavern, you must collect seven bottles by completing levels successfully. Once you have seven bottles, you can access the Prize Cavern and potentially win a prize.

Is Prize Blast free to play?

Yes, Prize Blast is free to play. However, it may offer in-app purchases or optional features that require payment.

Is Prize Blast available on iOS?

Yes, Prize Blast is available for Android and iOS devices, allowing players on both platforms to enjoy the game and have a chance to win prizes.
See More:
Prize Fiesta App – Earn By Playing 100% Easy Games
Owl Pop Mania – Earn by Playing Games & Watching Videos in 2023
CashBox App Review – Earn By Watching Sponsored Videos With 2 Easy Tasks
VibeTik App Review – Earn 100% Easy Money By Watching Short Videos