Introduction
Piggy Rush Slot is a mobile game that combines fun, winning potential, and real prizes. Spin the vibrant 5-reel machine, collect virtual cash, and unlock puzzle pieces to win iPhones, AirPods, and more. Experience bonuses, mini-games, and the thrill of potentially withdrawing real money. Caution: Early access may limit user reviews, so approach with care. Join Piggy Rush Slot for an exciting gaming adventure today!
What is Piggy Rush Slot?
Piggy Rush Slot is a mobile slot game that allows players to collect virtual currency and potentially withdraw real money. It features a colorful 5-reel machine where players can use tokens obtained through gameplay. The game bears similarities to Slot Cash Hunt.
When playing Piggy Rush Slot, players earn virtual cash whenever the pig symbol appears on the reels, which is added to their in-game wallet. Additionally, players can collect puzzle pieces that offer various prizes, such as iPhones, Apple MacBooks, AirPods, and more.
One enticing feature of the game is the promise that if players spin the reels 20 times per day for three consecutive days, they can supposedly redeem a free iWatch worth $499.
However, it is essential to note that Piggy Rush Slot is currently in early access, meaning there needs to be more user reviews or experiences available to gauge its reliability and fairness. This absence of user feedback may make it difficult for prospective players to make an informed decision before downloading the app.
As with any mobile game involving real money or prizes, it is advisable to approach Piggy Rush Slot cautiously and conduct further research before fully engaging.
How to Make Money by Piggy Rush Slot?
Download and install Piggy Rush Slot from the Play Store. No account creation is required.
Upon launching the game, you'll be greeted by a visually appealing 5-reel slot machine.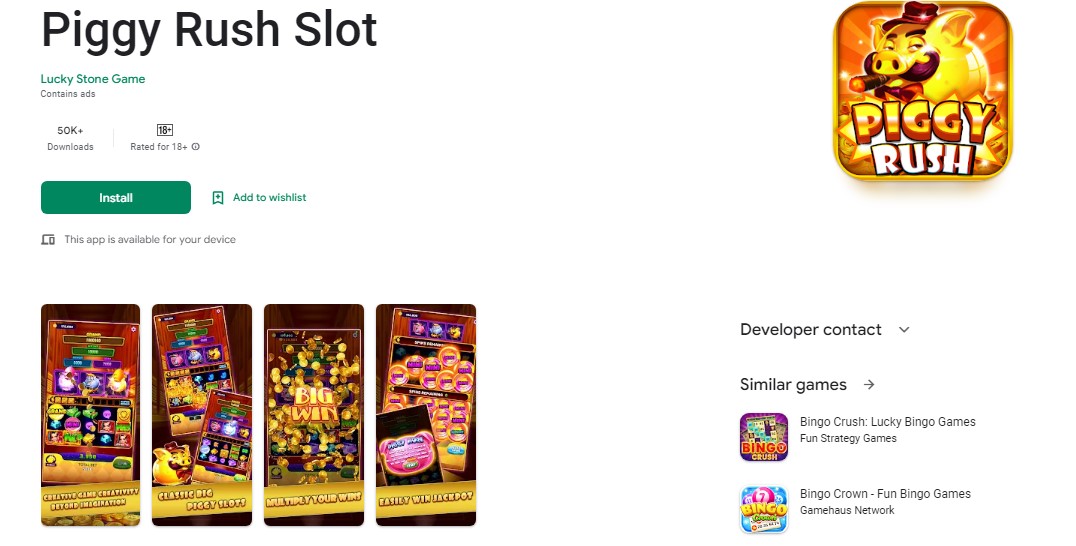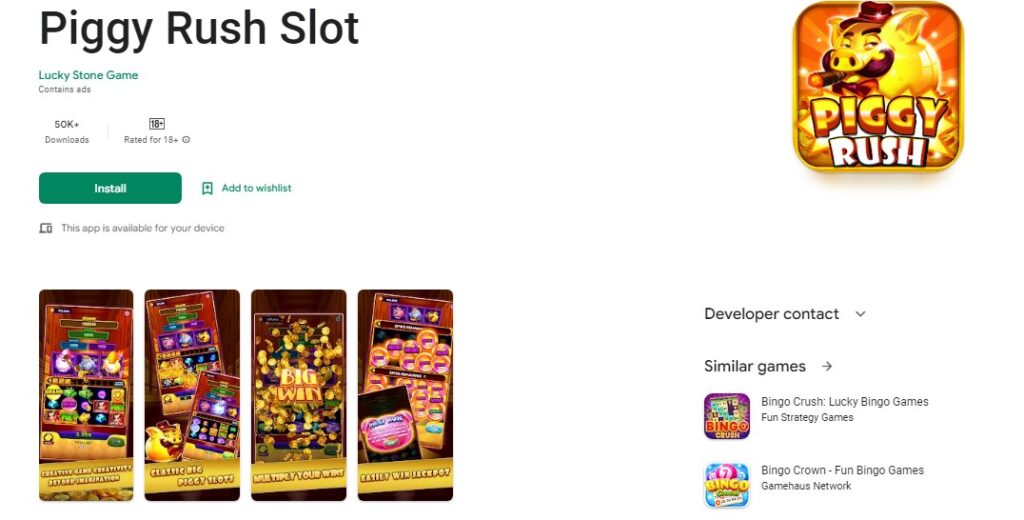 Tap the spin button to start the game and watch your virtual cash balance grow. The piggy symbols on the reels will reward you with virtual dollars at random intervals.
Each spin will consume 5,000 coins, which you can earn through gameplay.
While you often earn small amounts like $0.10 or $0.20, more significant amounts over $50 may be won occasionally. It would help to claim these more meaningful rewards if you watched a commercial or video advertisement.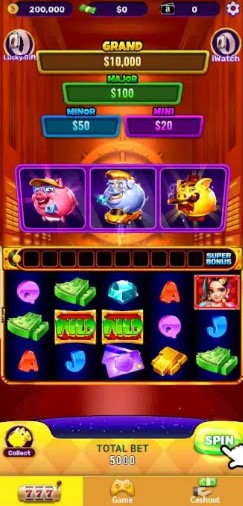 By watching these videos, you are helping the developer generate revenue from the app through advertisers.
Piggy Rush Slot provides additional ways to earn cash rewards, such as filling up the vault wheel icon to trigger the super bonus and various bonuses based on winning combinations.
The game also offers the opportunity to win exciting prizes like iPhones, AirPods, MacBook Pros, Nintendo Switches, and more. You must collect ten puzzle pieces of the desired prize while spinning the reels to claim these items.
If you want a break from spinning, you can explore the "Game" tab within the platform, where you'll find a mini-game list. Keep an eye on the progress bar on the right side, as it occasionally triggers cash rewards.
As always, tap the collect button and watch the video until the end to claim your prize in any part of the game.
Remember, while Piggy Rush Slot offers the potential to earn rewards, it is crucial to approach it cautiously and understand that actual monetary gains may vary.
How to Cash Out From Piggy Rush Slot?
To cash out your earnings in Piggy Rush Slot, Play the game and accumulate virtual cash until you reach a balance of $1,000.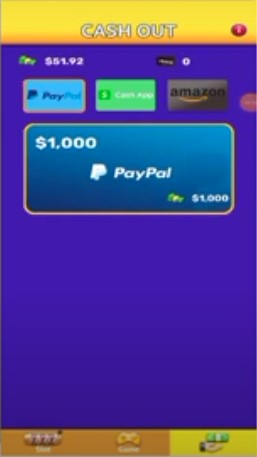 Once you have reached the required balance, open the Piggy Rush Slot app on your mobile device.
Look for the cash-out tab or section within the app. It may be located in the settings menu or on the main screen.
Click on the cash-out tab to initiate the withdrawal process.
You will receive different payment options, such as PayPal or Cash App. Select your preferred payment method from the available options.
Follow the prompts provided by the app to complete the cash-out process. This may involve entering your PayPal or Cash App account details, verifying your identity, or providing any additional information required for the transaction.
Once you have completed the cash-out process, the app should transfer your funds to your chosen payment method.
It's worth noting that the specifics of the cash-out process may vary depending on the app's policies and updates. Review the app's terms and conditions or contact their support if you encounter any difficulties or have questions about the cash-out process.
Regarding the redemption of a $1,000 Amazon gift card, the information provided suggests that you must collect 300 virtual cards within the game. However, it's important to note that the availability and terms of such rewards may vary, and it's advisable to confirm the details within the app itself.
FAQs
Is Piggy Rush Slot a free game?

Yes, Piggy Rush Slot is a free downloadable mobile game.

How can I earn money with Piggy Rush Slot?

By playing the game, collecting virtual cash, and reaching a certain balance, you may have the opportunity to withdraw real money through PayPal or Cash App.

Are the prizes in Piggy Rush Slot guaranteed?

While the game offers the chance to win prizes like iPhones, AirPods, and MacBook Pros by collecting puzzle pieces, the availability and terms of these rewards may vary. Check the app for specific details.

How do I collect puzzle pieces in Piggy Rush Slot?

Puzzle pieces can be collected by spinning the reels and achieving certain milestones or combinations. Collect enough puzzle pieces to unlock various prizes within the game.

Are there any additional ways to earn rewards in Piggy Rush Slot?

Yes, Piggy Rush Slot offers bonuses and mini-games that can provide additional cash rewards or prizes. Explore the game to discover these opportunities.
See More:
Earn By Playing Money Garden 100% Easy Mobile Clicker Game
Blazing Clash – Earn By Playing 100% Easy & Mini-Games
Prize Blast Review – Earn By Playing Popular Android Game in 2023