Introduction
Earn rewards for playing mobile games! With FunTap, you can play featured games, watch video ads, and accumulate coins that can be exchanged for cash via PayPal or various gift cards. Download the app, start playing, and receive a welcome bonus of 5,000 coins. Remember that your FunTap account is tied to a single device, and uninstalling the app will result in losing your earned coins. Start your rewarding gaming experience with FunTap today!
What is FunTap?
FunTap is a mobile app that provides a unique opportunity to earn rewards by playing featured games. Like PlaySpot, FunTap offers a platform where users can engage in mobile gaming and receive compensation for their participation. By exploring the earning potential of this app, users can gain insights into its functioning and assess their ability to generate rewards through gameplay.
Make Money By Playing Featured Mobile Games From FunTap.
You are playing the featured mobile games. Upon logging into the app, users are immediately presented with a selection of games. To play a game, tap on it, and you will be directed to the game's app page, where you can download and install it.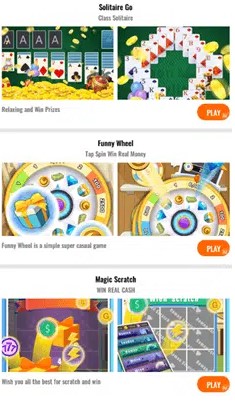 It is crucial to remember that when playing a game, you must access it through FunTap rather than directly from your device. This ensures that your progress is tracked, enabling you to receive rewards for your gameplay.
Unlike similar apps that provide rewards based on the duration of gameplay, Fun Tap employs a different approach. Instead, rewards are earned when video ads appear during gameplay. These ads will randomly pop up, and you must patiently wait for them to finish receiving your rewards. Although closing these video ads can be bothersome, it is a necessary step to access your rewards.
As you continue playing a game on FunTap, the rewards you receive will gradually decrease. This decline is a common occurrence in apps offering similar earning opportunities. The purpose is to encourage users to explore and try different games rather than solely focusing on a game they enjoy. Remember, these apps generate revenue by promoting downloading and installing various mobile games.
To maximize your earnings on FunTap, you should refrain from excessively playing a single game. If you observe the rewards are diminishing, it's a sign that you should switch to a different game and continue exploring the options.
How do you get paid From FunTap?
FunTap allows you to accumulate coins by watching video ads while playing their featured games. They can exchange these coins for a variety of rewards. One option is to convert your coins into cash and withdraw the funds via PayPal. To do this, you must earn 20,000 coins, equivalent to $20.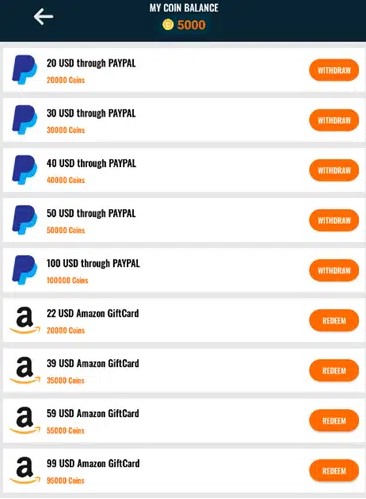 Alternatively, you can choose to redeem your coins for various gift cards. The redemption value for gift cards is slightly higher, where 20,000 coins will be worth $22. Opting for gift cards provides better value compared to cash withdrawals.
It is important to note that FunTap's payout threshold is relatively high compared to similar apps offering earning opportunities. Therefore, patience is necessary while using this app, as it may take some time to accumulate enough coins to reach the payout threshold and redeem your desired rewards.
How to join FunTap?
FunTap is available worldwide, allowing individuals from any location to become members. Joining FunTap is simple, as it does not involve a traditional registration process. To get started, you only need to download and install the app on your mobile device.
Upon launching the app for the first time, you will be notified that you've been awarded a welcome bonus of 5,000 coins. This initial boost provides a decent starting point for your earnings.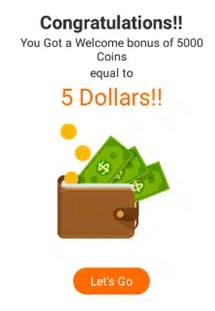 It's important to note that since no registration is involved, your Fun Tap account is tied to a specific device. If you install FunTap on a different mobile device, it will be treated as a separate account. If you uninstall the app, you will lose all the coins you have previously earned. This is a significant drawback of apps that do not require registration, as your progress and earnings are not transferrable or recoverable if the app is removed from your device.
FAQs
Is FunTap available worldwide?

Yes, FunTap is available globally. You can register as a member and earn rewards regardless of location.

What is the payout threshold on FunTap?

The payout threshold on FunTap is relatively high compared to other similar apps. You must earn at least 20,000 coins to be eligible for cash withdrawals or gift card redemption.

Can I use FunTap on multiple devices?

No, FunTap accounts are device-specific. If you install FunTap on another device, it will be treated as a separate account. Ensure that you play and accumulate rewards on the same device consistently.

How do I start earning with FunTap?

To start earning with FunTap, download and install the app on your mobile device. Launch the app, choose a featured game, and begin playing. You will earn rewards by watching video ads that randomly appear during gameplay.
See More:
GameGleam – Earn By Playing Games With 6 Easy Tasks
UserHappy – Make Money By Testing 100% Easy Projects
Sweat Coin – Earn By Staying Healthy With 4 Easy Ways
GetVase Survey – Easy Earning By Sharing Your Opinions in 2023