Introduction
Welcome to WePointz, the Get-Paid-To (GPT) app that offers exciting opportunities to earn rewards while having fun! Whether you enjoy playing games, completing tasks, answering surveys, or inviting others, WePointz provides various avenues to accumulate and redeem points for exciting rewards. With its user-friendly interface and multiple earning options, WePointz offers a legitimate and engaging way to boost your earnings. Discover the possibilities and start earning rewards today with WePointz!
What is WePointz?
WePointz is a legitimate Get-Paid-To (GPT) app that rewards engaging in activities such as playing games and participating in other earning opportunities.
While the app offers genuine opportunities to earn rewards, it's essential to consider whether it is worth your time. To make an informed decision, examining the earning opportunities provided by the app thoroughly is recommended.
How To Make Money From WePointz.
1. Make money by playing games from WePointz.
WePointz offers an opportunity to earn rewards by playing featured games within the app. To get started, log in to the app to see a selection of available games.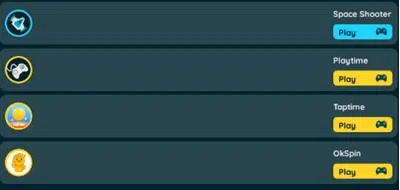 The games offered are of the arcade type, so if you enjoy this genre, you will likely enjoy playing the featured games. You must pay for a ticket to participate, but don't worry; you will receive 20 free tickets when you start. You can acquire more tickets daily by claiming them or watching video ads.
Once you've selected a game, the app will match you with another player. The objective is to score more points than your opponent within a 60-second time limit. At the end of the game, the player with the highest score will win the prize, which is awarded in the form of points. The number of points you receive will depend on the duration of your gameplay.
The longer you continue playing a particular game, the more points you can accumulate. It's important to note that earning points through this opportunity is not guaranteed, so it's essential to give your best effort while playing to increase your chances of winning.
Remember that while the app provides a legitimate opportunity to earn rewards, it's advisable to evaluate whether investing your time in playing games on WePointz aligns with your personal preferences and overall goals.
2. Make money by completing tasks from WePointz.
If you prefer a more reliable way to earn points, WePointz offers tasks through offerwalls. These offerwalls present you with a variety of offers that you can complete to earn rewards.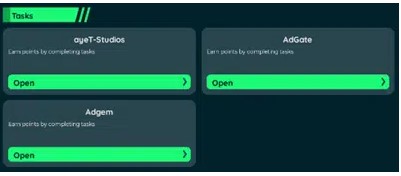 Each offerwall consists of a set of offers that you can choose from. These offers typically involve playing other mobile games, answering surveys or quizzes, or signing up for free trials.
When considering free trial offers, it's crucial to exercise caution and avoid joining any trials that require your credit card information. Although these trials may initially be free for a specific period, they may start charging you once the trial period ends. Refraining from cancelling could result in unexpected charges, so it's generally advisable to steer clear of these offers.
Each offer will have specific instructions you must follow to complete it successfully. Reading the instructions carefully before starting the offer is essential to ensure you meet all the requirements. Upon completing an offer, you will receive the promised number of points.
A decent number of offers are available at any given time, providing various options to earn points through task completion.
It's worth noting that while completing tasks can offer more reliable point earnings, it's essential to consider the time and effort required for each task. Evaluate whether the rewards earned align with the value of your time and if the tasks offered align with your personal preferences and interests.
3. Make money by Paid surveys from WePointz.
WePointz offers another opportunity to earn points by answering paid surveys. The app has partnered with several survey providers to give members access to these surveys.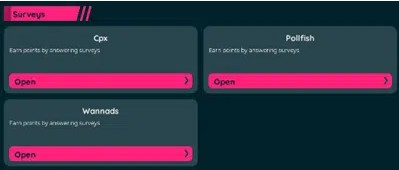 The process will be similar if you are already familiar with survey sites. To begin, select a survey provider from the options provided and click on it. You will be prompted to provide your profile information. Once you have completed that step, the survey provider will determine if any available surveys are suitable for you.
If surveys are available, you can start the process by selecting one. Initially, you will likely encounter qualifying questions to determine your eligibility for the survey. If you qualify, you can proceed to answer the actual survey. In cases where you don't qualify, you can move on to the next available survey.
It's worth noting that during testing, the app had limited surveys available, making it challenging to earn rewards consistently through this opportunity. Additionally, there is no guarantee that you will qualify for every survey you attempt.
You will receive the promised points as a reward if you complete a survey. The point value for surveys is typically higher compared to most tasks offered within the app.
While completing surveys can provide higher rewards, it's important to consider the availability of surveys and the qualification process. The frequency of surveys and your eligibility will impact your ability to earn points consistently through this opportunity.
4. Make money by using the Referral Program from WePointz
WePointz offers a referral program as another means to earn points. Referral programs are designed to promote the app, and participating in them can provide additional earning opportunities.

To take advantage of the referral program, you must share your unique referral code with the person you want to invite. When they download the app and sign up, they must input their referral code during registration to receive the referral reward. It's important to remind them to enter the code correctly to ensure they become your referral and for you to earn the associated rewards.
Once someone becomes your referral, you will receive a reward of 250 points. You will also receive a 20% commission every time your referral completes a task. It's important to note that WePointz covers this commission and does not deduct it from your referral's earnings.
Participating in the referral program can be a decent way to earn points. However, ensuring that the people you invite are genuinely interested in making rewards from WePointz is crucial. You can maximize your earnings from this opportunity by targeting individuals who incline to such apps.
Remember to clearly communicate the benefits and features of WePointz to your potential referrals, highlighting the earning potential and various opportunities available within the app.
How do you get paid from WePointz?
Once you have accumulated points in WePointz, you can redeem them for various rewards. The specific rewards available for redemption will depend on your country, but one of the most common options is PayPal.

You can withdraw your earnings by converting your points to cash via PayPal. In the app, you will find the option to redeem your points for a PayPal withdrawal. The minimum point threshold required for redemption will typically be 20,000 points, which is equivalent to a $2 PayPal withdrawal.
It's important to note that the specific point thresholds and currency conversions may vary based on your country. The app will automatically use your local currency for transactions.
The payment system in WePointz is generally straightforward, and including a popular and convenient payment option like PayPal is a notable feature. If you want to find more apps or sites with similar suitable payment systems, consider exploring other platforms that offer such options.
How to join WePointz?
To register for WePointz, download and install the app from the appropriate app store. You will need to sign in using your Google account during the registration process. This step allows you to create and access your WePointz account.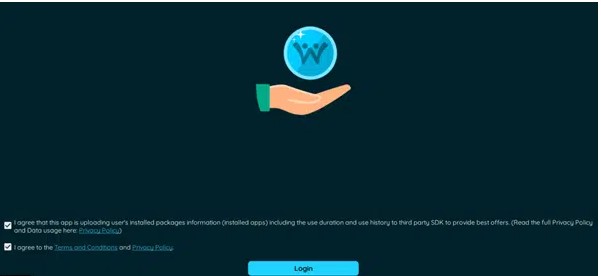 It's crucial to note that WePointz prohibits using the same Google account on multiple devices. If the app detects this violation, your account may be terminated, and any accumulated points will be forfeited. Therefore, it's important to adhere to the app's policies and guidelines to ensure your account's continued eligibility and security.
FAQs
Is WePointz a legitimate app?

Yes, WePointz is a legitimate app that offers various opportunities to earn rewards through playing games, completing tasks, answering surveys, and participating in their referral program.

How can I earn points in WePointz?

You can earn points by playing featured games, completing tasks from offerwalls, answering paid surveys, and referring others to join the app through the referral program.

What rewards can I redeem with my points?

The available rewards for redemption may vary based on your country. However, one common option is cash withdrawal via PayPal. Other rewards, such as gift cards, may also be available, depending on your location.

Is WePointz available in my country?

WePointz is likely available in many countries worldwide. The best way to confirm its availability in your country is to search for it on Google Play or your app store. If it appears in the search results, it is available for download in your country.
See More:
FunTap Review – Earn By Playing 100% Easy Mobile Games
GameGleam – Earn By Playing Games With 6 Easy Tasks
UserHappy – Make Money By Testing 100% Easy Projects