Introduction
UserHappy is a usability testing site where you can earn money by spotting mistakes and bugs on websites and apps. As a tester, you'll evaluate digital products, identify usability issues, and provide valuable feedback. Participating contributes to improving user experiences while being financially rewarded for your efforts. Join UserHappy and help shape the digital landscape, one testing task at a time.
What is UserHappy?
UserHappy is a usability testing platform that allows users to earn money by identifying and reporting mistakes or bugs on websites and apps. Usability testing involves evaluating the user-friendliness and functionality of digital products to improve the overall user experience.
On UserHappy, individuals can sign up as testers and participate in various testing tasks the platform assigns. These tasks typically involve visiting websites or using mobile applications and providing feedback on any issues encountered during testing. Testers may be asked to identify usability problems, such as broken links, confusing navigation, or design inconsistencies.
By identifying and reporting these issues, testers help website and app developers improve their products and ensure a better user experience. In return for their contributions, testers are typically rewarded with monetary compensation, which can vary depending on the complexity and duration of the tasks.
UserHappy and similar usability testing platforms provide a way for developers and users to benefit. Developers gain valuable insights into the functionality and user-friendliness of their digital products. At the same time, testers can earn money by sharing their feedback and helping improve the quality of websites and apps.
How to Join UserHappy?
While the UserHappy website doesn't explicitly mention the countries it is available, it appears to be accessible worldwide. However, project availability may vary depending on your location. Generally, more projects exist for individuals residing in the US, Canada, and the UK.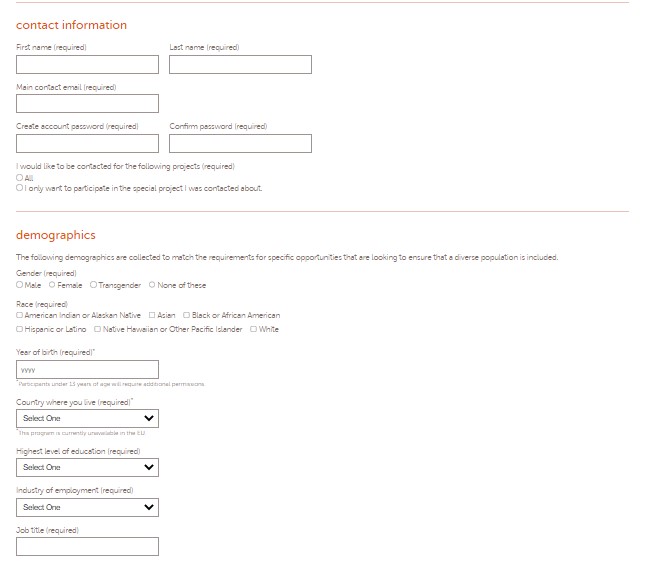 To become a member, complete the registration form, including providing your preferred payment method. It is recommended to include your PayPal email address for easy monetary transactions. You can update your preference later within the member dashboard if you prefer gift cards over PayPal payments. Once you submit the sign-up form, your registration process will be complete, and you can log in to the member dashboard to start earning.
How To Make Money Testing Projects From UserHappy?
To earn from UserHappy, you must participate in testing projects on the platform. After becoming a member, log in to the member dashboard to check for available projects. You can also receive email notifications if you enable them during sign-up.


If there are projects displayed, click on one to view the detailed instructions, deadline, and the amount you will earn. Accept the project to begin the process.
Before participating in any project, you must install the UserHappy Google Chrome extension, as testing projects can only be done in Google Chrome.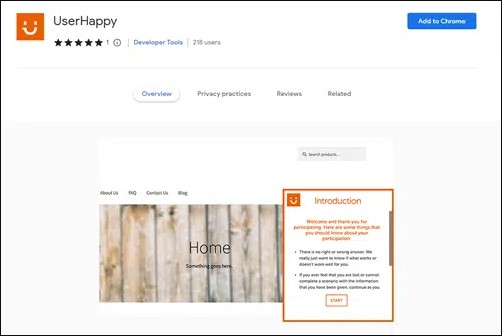 The extension lets you answer questions, record your screen, and capture your voice through a microphone. Thus, working in a quiet room is important, ensuring clear audio. Remember to address questions directly, explain your answers, and demonstrate your actions to help improve the product.
Once you complete a testing project, you must submit your recording for review. UserHappy does not specify the timeframe for acceptance or rejection, but it generally takes a couple of days to receive feedback.
If your submission is accepted, you will receive the promised reward. Payment details will be discussed later. Testing projects typically take 20 to 30 minutes to complete, making it a relatively simple and time-efficient earning opportunity. Confidence in expressing your thoughts is crucial for success in this role.
How Do You Get Paid From UserHappy?
After completing each testing project, UserHappy will pay you a specific amount according to your chosen payment preference. You can receive payment via PayPal or convert your earnings into Target or Starbucks gift cards. It's important to note that if you opt for PayPal, a 2.9% transaction fee will be deducted, resulting in a slightly reduced payment.

I find PayPal the most convenient payment method due to its ease of use. Unlike other platforms, UserHappy does not require reaching a specific earnings threshold before receiving your payment. Once your submission is accepted, you can expect to receive your earnings immediately.
Overall, User happy's payment system is straightforward, and I appreciate the absence of a minimum payout threshold. If you're interested in exploring additional platforms with no or low payout thresholds, other options are also available.
FAQs
How do I become a tester on UserHappy?

To become a tester, sign up on the UserHappy website by filling out the registration form. Provide the necessary information, including your preferred payment methods, such as PayPal or a gift card. Once registered, you can log in to the member dashboard and participate in testing projects.


How much can I earn with UserHappy?

The amount you can earn with UserHappy varies depending on the complexity and duration of the testing projects. Each project has a specified payment amount, disclosed before you accept the task. Projects can earn you reasonable compensation for your time and effort.

Is UserHappy available worldwide?

While UserHappy does not explicitly mention the available countries, it is generally accessible worldwide. However, project availability may vary depending on your location. More projects are typically available to US, Canadian, or UK individuals.

Can I participate in multiple testing projects at once?

Yes, you can participate in multiple testing projects on UserHappy, as long as they are available and you meet the criteria for each project. However, ensure you can allocate enough time and attention to each project to provide thorough feedback.
See More:
Sweat Coin – Earn By Staying Healthy With 4 Easy Ways
GetVase Survey – Easy Earning By Sharing Your Opinions in 2023
FUN MONEY App -Earn by Playing Games in 2023
Piggy Rush Slot – Earn By Playing 100% Easy Mobile Slot Games