Introduction
If you are a gamer, you already know too well that it can be a very expensive hobby. It's fun to earn extra if you like playing games. Gamekit is a Get-Paid-To (GPT) site that will reward you for playing games and doing simple tasks.
What Is Gamekit?
Gamekit is a Get-Paid-To (GPT) gaming platform that aims to connect gamers with game brands and developers trying to get the word out about their games. The site is available more or less all over the world. Game companies pay the site funds to get that new audience. And to attract new players, GameKit uses that money to pay gamers to play these online games for free.
You earn points for playing every game and doing other small tasks, such as completing quests. You can exchange your points for skins, full games, and gaming currency rewards.
How to sign up at Gamekit?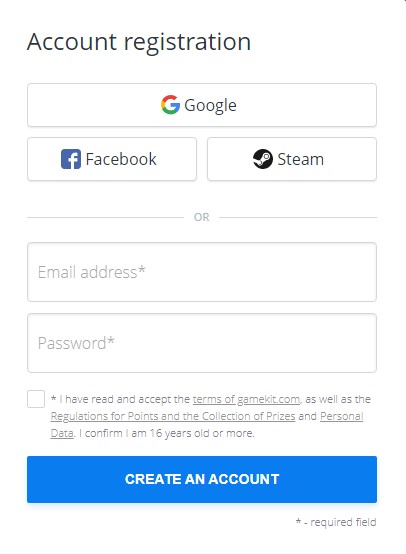 The registration process is very simple. You can sign up using your Facebook, Steam or Google account. You can also provide your login details.
Make money by playing games from Gamekit.
Most of the rewards you will earn from Gamekit.com come from playing games. When you log in to the site, you will instantly see all the games you can play.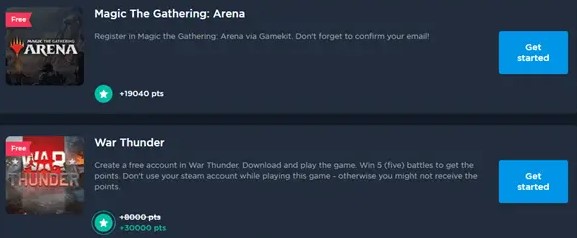 Every game you can play will have certain requirements you need to meet to earn the rewards. Most games require you to reach a certain level before claiming the reward.
Some games require you to win several times before getting the rewards. But regardless of what the game will ask you to do, the most important thing you need to remember is to click the button that says "Get Started" to get to the game you want to play.
That will be the only way Gamekit can track your game. Some members complained they didn't get the reward promised, but forgot to do that one simple thing.
Make money by Paid surveys from Gamekit.
You will also be able to earn additional rewards by answering surveys. Their surveys are powered by Samplicio.us, a site that usually partners with other GPT sites.
When you go to the surveys section of Gamekit, answer a couple of profiling inquiries. Once you are done with these inquiries, you will find out if there are surveys available that you can answer.
If there are, click on one and go through the qualification process. You will again have to answer a set of questions to determine if you can take the survey. If qualified, you get to answer the survey and receive the reward promised (up to 1,800 points per survey).
If you fail to qualify, move on to the following survey. It takes patience to qualify for surveys on Gamekit. So, don't expect to be eligible for every survey available.
Make money by using Gamekit Referral Program.
Lastly, you can earn additional rewards by inviting others to join the site. This is called a referral program. And if you've been a member of other online rewards sites before, this is a very familiar opportunity. To receive a referral reward, you must share your invite link with the people you want to invite. Once they sign up to Gamekit using your link, they will become your referral. However, you won't receive the referral reward (15,000 points) until your referral receives its first payment.
Your referral must redeem a reward from Gamekit before you receive your referral rewards. That's why the people you should invite are interested in earning from this site. Otherwise, you'll just be wasting your time.
How do you get paid from Gamekit?
Every activity you complete on Gamekit will make you a certain number of points. You can exchange your earned points for various in-game items, game platform currencies, and more.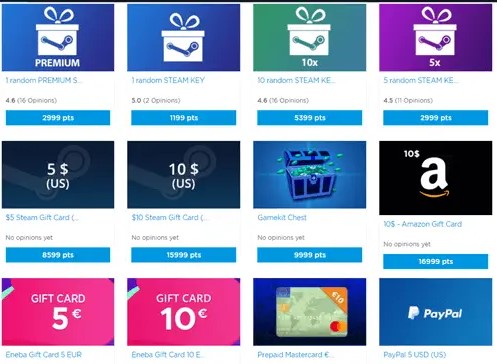 The number of points instructed to redeem rewards will change. The points to $ transformation rate is difficult to calculate because there's no set number of points for a specific amount. For example, if you want to redeem a $5 Steam gift card, you will require 8,599 points. But if you want to redeem a $10 Steam gift card, you will, just 15,999 points. So, it's hard to calculate how much each point is worth.
FAQs
Is Gamekit a legit GPT site?

Gamekit is a legit GPT site that will reward you for playing games and answering surveys.

Can you get support?

If you have any questions about the site or your account, you can refer to their Help page.

Can you use it on mobile?

Gamekit has an app you can download to complete the game offers available for mobile devices. The app is only available for Android devices, so if you use an iPhone, settle with the web version of Gamekit.
See More:
Chequity – 5 Best Ways to Make Money From Home
CheckPoints Rewards Earn by Checking in To Stores, Cashback Offers, and 3 more!
GAB PTC Review – 5 Easy Ways To Earn Money and Bitcoins