Introduction.
If you like playing games and completing short tasks during your free time. Joining GPT sites might be the right option. Many online sites reward you by completing online jobs such as playing games, answering surveys, and watching videos. GCLoot is a Get-Paid-To (GPT) site that promises to reward you with in-game items and gift cards. If you are looking for an online rewards site, you can join GCLoot is not a bad GPT site.
What is GCLoot?
GCLoot is a Get-Paid-To (GPT) site that pays you by completing an online tasks such as playing games, answering surveys, and watching videos. Reward Holdings Limited, based in Hong Kong, has owned and operated the site since 2012. Over the decade, they have garnered over 5 million users across their platform over the decade, a notable achievement.
How to join GCLoot?
GCLoot is available globally. You can sign up as a member regardless of where you live.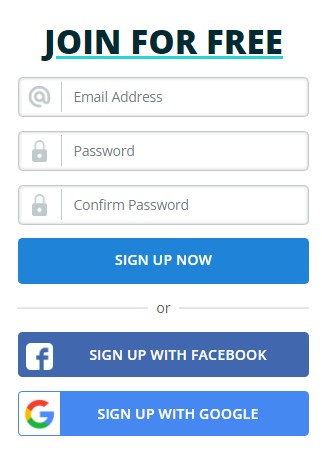 You have to be at least 18 years of age to register. Not only that, but you will need a parent's consent to join if you are 13 years old or older, but still under 18. To register as a member, you must fill out their sign-up form. Alternatively, you can also sign up using your Facebook or Google account.
Once you are done registering, you will be logged in to the site, and you can start earning.
How to make money from GCLoot
Here's how you can make money from GCLoot.


1. Make money with Paid offers from GCLoot.
What makes a GPT site a GPT site are paid offers.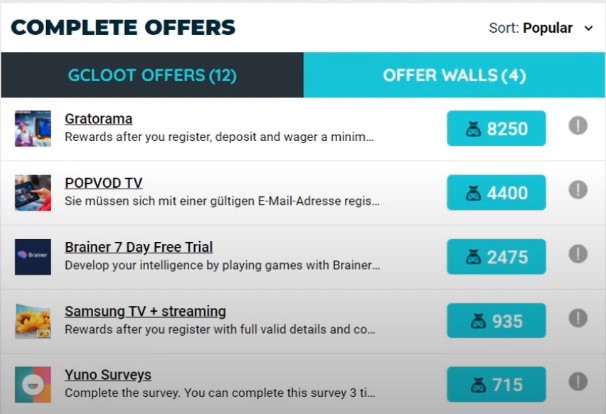 These are short tasks you can do to earn rewards. On GCLoot, there are two types of paid offers you can do. One is their paid offers. Most of their own paid offers will ask you to register to another online rewards site. Then, they will ask you to complete offers on those sites.
The other type of paid offers you will find are the ones on the offerwalls available on their site. If you need to know an offer wall, it is an in-app/site advertising platform that promotes specific websites or mobile apps through paid offers.
So, please expect that the offers on their offerwalls will ask you to go to a particular website or download a mobile app. Usually, on other GPT sites, you can find roughly ten or more offerwalls.
But with GCLoot, they only have 4 (refer to the photo above). That means you will only have access to a few offers, which can directly impact the site's earning potential. Ideally, you will want a site with plenty of offerwalls, so you will have things to do to earn rewards.
2. Make money by Paid surveys from GCLoot.
Another way you can earn rewards is by answering paid surveys. This opportunity is typically found on survey sites, but it is also being offered on many GPT sites, GCLoot has yet to pay for its own surveys. Instead, they only act as a survey router to give you access to surveys offered by other sites.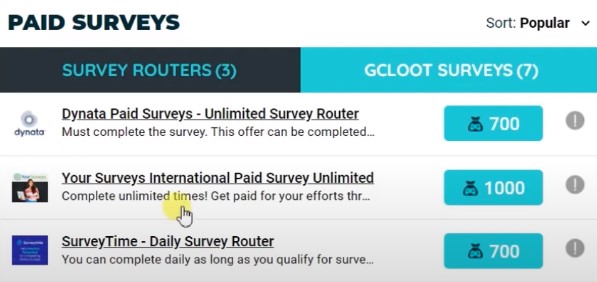 You get access to more surveys than if you were only answering surveys from a survey site. The reward you will earn from surveys from survey routers will be slightly less than what you will gain from surveys you will answer as a member of the actual survey site.
To complete a survey on GCLoot, get through a qualifying process first. Answer a set of screening questions. If you qualify, you will then get to answer the actual survey. If you don't allow it, you move on to the following survey site their router offers.
Once you complete the survey, you will receive the reward. But again, just like their paid offers, it can take a while before it credited the reward to your account.
3. Make money by Watch videos from GCLoot.
You can also earn additional rewards by watching videos. But let me tell you right away, don't expect to make a lot from this type of earning opportunity.

Watching videos typically is a less rewarding opportunity on any GPT site. The videos on the app are from HideoutTV. You won't earn a lot from watching videos, but you'll get seven points for every three videos you watch.
4. Make money by Referral program from GCLoot.
GCLoot has a referral program. So, you will receive a referral link that's unique to you, and you can share this on various social media platforms.
You'll earn a bonus whenever someone signs up for the site using your referral link. However, they'll have to make at least a thousand points on the platform before your bonus of $0.50 will be added to your account.
How to exchange your GCLoot points for cash?
You can request a transfer when you've reached the minimum of $5 for payment.
On this app, 1,000 points are equal to $1. So you'll need a minimum of 5,000 points to qualify for your first withdrawal.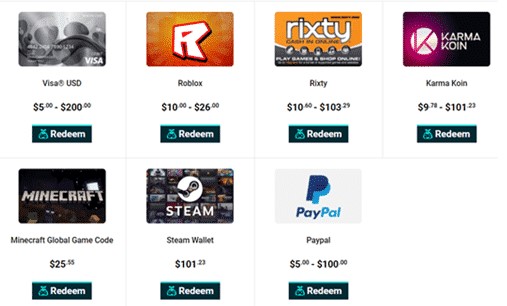 You can exchange your points for cash, in-app prizes, or gift cards. You can get prepaid Visa cards you can spend on anything online.
Many of the in-app options are geared toward gamers.
If you want cash, you'll need a PayPal account. It processed quickly payments on this app, and no matter what type of reward you request, you'll usually receive it within three working days.
FAQs
Is GCLoot legit?

GCLoot is a legit GPT site that will reward you for completing offers, surveys, and more.

Can you use it on mobile?

GCLoot doesn't have a mobile app you can download, but you can still access their site through a mobile web browser.

Who can join GCLoot?

GCLoot is available globally. You can sign up as a member regardless of where you live.
See More:
GamerMine – Make Money by Watching Videos, Playing Games, & 3 more Easy tasks
FingersClix Review – Earn money with 7 Easy Tasks Jobs and more
FitPlay App Review – Make Money by Playing Games With 2 Easy Tasks
DietBet Review – Make Money While Losing Weight 100% Easy Ways