Introduction
GReward is an app that claims you can make money by playing games and watching the video. It sounds like a simple and fun way to make extra money.
However, I suggest not hitting the install button until you first read this GReward app review.
What is GReward?
GReward is a Get-Paid-To (GPT) app that will reward you for playing mobile games and taking part in the other earning opportunities it offers. It is a legit app since you will get paid by doing the earning opportunities found inside the app.
Is it worth using?
Well, you must first understand how it works to gauge how much time and effort you need to invest to earn. And the best way to do this is first to examine the earning opportunities offered by reward.
How to make money from GReward app?
Make money by paid offers
The preliminary way to make money from GReward is to work on its paid offers. This money-making method will be very familiar if you've been a member of GPT apps or sites. If this is your first time hearing about this kind of opportunity, let me explain how it works.
Paid offers are simply short tasks you can do to make rewards. We usually find these offers on offerwalls. When you go to the GReward app, you will instantly see all the offerwalls you can perform on.
And by the way, offerwalls are just in-site, or app advertising media developed to enable specific websites and apps. They boost these sites and apps via paid offers.
So, when you log in to the app, you must pick which offerwall you want to work on to see all its paid offers.
That being said, every offerwall found in GReward has a decent number of paid offers available, so you will still not run out of things you can do to earn rewards.
Every paid offer will tell you how much you will earn for completing it, so you can quickly prioritize which offer to work on. I have to tell you that these offers can take a bit of time to complete because you will usually have to reach a certain level while playing to receive the reward.
That's why if you like to make money from this app, you must schedule to invest a bit of time. When you finish an offer, you'll make a specific amount of coins. Later, I will discuss what you can do with the currencies you've made.
Make money by watching videos
Another way to earn rewards from Greward is by watching videos. These videos are just video ads and will usually be around 30 to 50 seconds long.
To watch videos, you must log in to the app and scroll past the offers until you see the video option. Then, to watch the video, click it, and it will instantly play.
You'll have to wait for the video to finish to earn the reward. Once it has finished, if there are more videos you can watch, it will continuously play them.
For every video you complete watching, you'll make 100 coins. While it may state like a lot, it isn't. Later, I will explain why, but based on my experience, this earning opportunity isn't very efficient. But on the bright side, it brings little action.
Make money through Referral Program
Last, you can earn more rewards through GReward's referral program. If you don't know, a referral program is an earning option to promote the site or app.
You invite people to use GReward by sharing your invite code. They have to input your code when they install the app and go through the sign-up process. Once they do that, you'll reach 500 coins. They will also accept 100 coins as a bonus for equipping your code.
It's an easy way to earn additional rewards. Their referral program also has a couple of one-time bonuses. If you make a video promoting the app and post it publicly on social media or YouTube, you will receive $5 when the video reaches 20 likes and get ten referrals.
When the video has 500 likes and 200 referrals, you'll receive an additional $100 bonus. When qualified for the bonus, you can email them at [email protected] to receive the reward.
As mentioned, you can accept the bonus once. The $5 bonus is easier to achieve, while the $100 bonus takes a little more time and work to hit.
How do you get paid?
As explained above, you'll earn coins every time you complete an earning opportunity offered by reward. But what to do with the coins you've made? Well, you have three options. First, you can alter the coins to cash via PayPal.
Once you've earned at least 3,000 coins, you can make a PayPal withdrawal worth $0.2. It is a shallow threshold, but it's also not a practical one. I wait longer and earn more so I can withdraw a higher amount from apps and sites like this.
If you've earned 49,000 coins, you will make a $5 PayPal withdrawal. That would be the perfect amount.
Aside from this opportunity, you can also convert your coins to different gift cards. However, the sort of gift card you can redeem will depend on your country.
Last, you can also select to convert your coins to transferable credit. Again, the options for mobile credit will depend on your nation, so it's rather hard to say the exact amount of coins you will require redeeming this kind of reward. But those are your opportunities in times of cashing out.
The payment method of GReward is fairly straightforward, and I appreciate it offers PayPal as a payment process since it is one of the most suitable payment methods available today.
If you are interested in more sites offering a convenient payment method, I recommend you check out the top sites that pay via PayPal.
How much money can you make?
GReward has many making money options open. So, your payments will mainly depend on how well the app pays.
And these offers will usually bring a couple of hours to complete. That's why the earning possibility of this app is fairly low, specifically because of the low rewards it delivers. The time-to-money percentage is also low.
It will take a lot of time before you can make significant money from this GReward app.
FAQ
IS Greward legit?

Greward is a legit way to make money from the GPT site, But side income is not for full-time income.

Who can join GReward?

The app's website doesn't exactly inform you which country it is available. But from what I can notice, this app is available more or less worldwide.

Can you use it on a desktop?

GReward is a mobile-only forum, so you'll must your mobile device if you want to earn from it. It also makes sense because most earning possibilities, particularly the paid offers, will request you to download another mobile app/game.
See More:
ClipClaps Application Review | 6 Easy Ways to Earn Money
Bananatic Review | 5 Ways to Make Money from Bananatic
DropGC.gift Review | 5 Easy Ways to Make Money from DropGC
29 Best Platform To Get Paid To Watch Videos Online in 2022
GReward App Review | 3 Easy Ways to Make Money - We Are Money Maker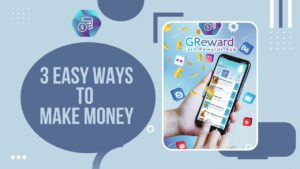 GReward is an app that claims you can make money by playing games and watching the video. It sounds like a simple and fun way to make extra money.
Price: free
Price Currency: $
Operating System: Android
Application Category: GPT Application