Introduction
Vindale Research is an online market research platform where you can make money by taking surveys and completing offers.
You can also search for job openings and earn money by recruiting friends to sign up for the service.
There are dozens of other survey websites out there. Some of them are legitimate, and many are complete scams.
Vindale Research is a legit way to make some extra money. You won't get rich if you spend the time-serving out surveys. But you will get paid.
This post will give you a complete overview of Vindale Research to decide if signing up is worth your time. Without further ado, let's get started.
What Is Vindale Research?
Vindale Research is an online market research company established in New York. They established the company in 2006 and has since developed into the U.K., Canadian, and Australian markets. In 2018, Vindale gained Reimagine Holdings Group for an undisclosed amount.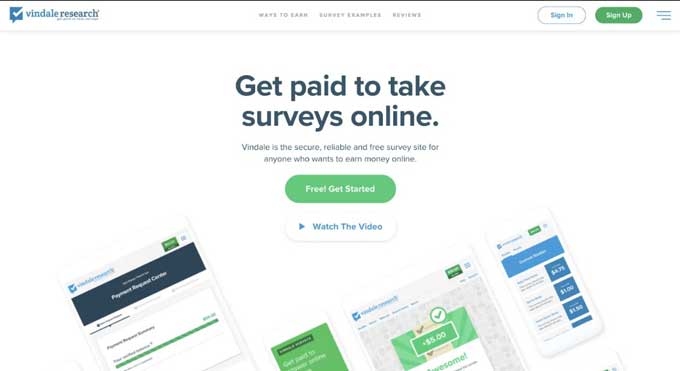 How Vindale Research Works?
Vindale pays its subscribers to complete various so-called studies, which offer that Vindale has negotiated with its advertisers. (Vindale's advertisers are the ones that finally pay the bills.) When you finish one of these studies, Vindale gets paid by the advertiser. They then transfer an amount of that commission with you.
For example, let's say an automobile insurance company is looking for prospective customers that live in Nevada. If you complete a "Car Study" with Vindale and tell them you own a car and live in Nevada, Vindale could sell your information to that auto insurance advertiser for a fee. Vindale would pay you a few bucks to complete the study. In a nutshell, that's how the process works.
Over the years, Vindale has shelled nearly $8 million to its subscribers. That's a lot of studies!
Signing up for a Vindale account.
Signing up for a Vindale account brings just about two minutes.
First, click Sign Up on the website's top right-hand corner or click on the green Free! Get Started button in the center of your browser.
You'll then land on a profile creation page that requests basic information, including your name, address, DOB, gender, and ethnicity. You'll also have to create a password.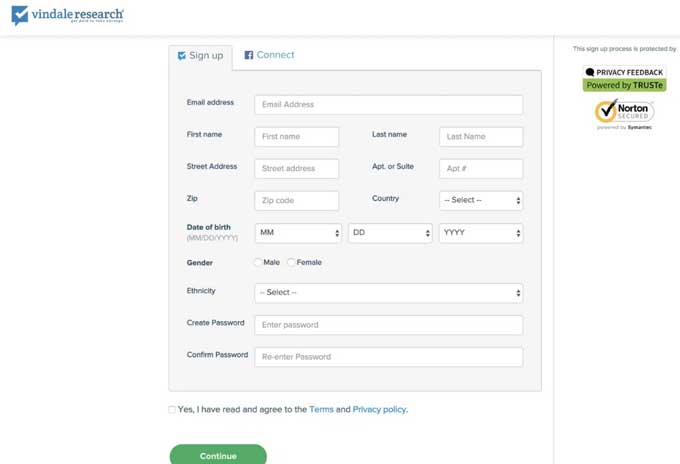 Once that's done, you'll be required to click on the activation link in your email to activate your account. It's that easy.
Ways To Earn
There are plenty of ways to earn once you start with Vindale Research, from applying to panels to taking part in studies. Take surveys, Open Emails, join Survey Panels, get started, make Referrals, watch videos, and provide feedback. But here we are talking about only one or two of them.
Getting Started and earn.
Vindale will offer you $1 just for taking an opening survey to get your account started: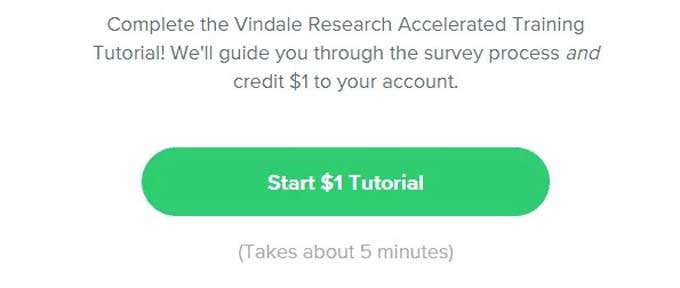 Of course, this has an additional effect. Vindale will build a customer profile on you. They're proceeding to use that data to report their survey panels.
The result? If you inform them you don't drink a lot of beverages other than water, you're likely not proceeding to get a lot of good-paying surveys on behalf of beverage units. Those companies positively aren't marketing to you.
That means that this initial setup stage is crucial with Vindale Research. Slow down and take your time. What are the products that are most important to you? What you answer will significantly affect how much money you can make.
Make money by Referrals
Like many other paid survey sites, Vindale Research seeks to broaden its market base.
You earn a $5 referral fee for each person you get to the site. It will not be a life-changing amount of money, but it's worth knowing if you enjoy the site and know someone else who might profit from online surveys.
It's worth mentioning here because referrals are part of the payment possibilities. But don't expect making a lot of money from referrals just by posting your referral link on social media. You would require a large audience and huge conversions to expect to make loyal money from $5 referrals.
At the same time, they can come in handy if you're struggling to hit the $50 minimum cash-out.
Watch Videos And Provide Feedback
You can watch videos and provide feedback to earn money from Vindale. It's one of their four main ways of making money (the others being emails, surveys, and referrals).
Watch Videos And Provide Feedback on a passive income idea, however. You will provide feedback at the end of the video. It can feel like taking a survey after watching a lecture.
It can also be one of the better methods to get paid to watch videos. Many sites that offer this opportunity to offer you an endless stream of low-paying ads and promotional content, and while you can frequently run those videos in the background, you'll only make pennies per hour.
Getting Paid
Here's the downside to making money with Vindale Research. Yes, they're a legitimate company. Yes, you can earn real money to do an online job. But Vindale's high minimum withdrawal of $50 means you won't see any cash immediately.
Compare that with Swagbucks at $3, where you can almost definitely start taking surveys and have enough points to cash out within a day or two.
Payments are through either PayPal or a paper check. Unlike most paid survey sites, Vindale only offers cash rewards — there is no opportunity to cash out for a gift card.
Conclusion
Suppose you're familiar with paid survey sites and their working method. Suppose you know how to consider whether you're earning enough survey options to make the site worth your while. Then know that Vindale is a legit opportunity that may be the right choice if you're looking for more ways to earn a little extra money.
FAQ
Is Vindale Research a legitimate company?

Yes. Vindale is a legit company (not a scam). It was launched in 2005 and offered real paid survey opportunities. You won't get rich — or earn actual side earnings — but you can make a little extra cash for fairly minimal work.

Does Vindale Research have an app?

No, Vindale Research does not now offer a mobile app. However, the survey site is portable for mobile browsers.

Who can sign up for and use Vindale Research?

In the initial setup stage, Vindale Research includes demographic questions for various ages, economic backgrounds, and employment statuses. So, the quick answer? A broad range of people!
You must be at least 18 years old, and a United States, Great Britain, or Australia resident to create a Vindale account and use this survey site.
See More:
29 Best Platform To Get Paid To Watch Videos Online in 2022
Viggle review? How To Earn money & Viggle Points by watching videos.
Cointiply Bitcoin Rewards | Earn Free Bitcoin and money by watching a video.