Introduction
JOYit is an exciting gaming app that offers a unique and engaging way to earn rewards while playing your favourite games. With a range of fun arcade-style games available directly within the app, installing multiple games separately is unnecessary. Earn points by completing challenges, participating in contests, and watching video ads. JOYit's referral program allows you to invite friends and earn even more rewards. Whether you want in-game currencies, gift cards, or prepaid mobile credit, JOYit provides various redemption options. Join the gaming community and start earning rewards today!
What is JOYit App?
JOYit is an app that offers the enticing opportunity to earn rewards through playing games. It has been established as a legitimate platform, providing users with rewards upon completing various gaming activities. However, it's essential to recognize that being legitimate doesn't automatically guarantee its overall worthiness. Evaluating its true value requires considering various factors such as the time investment, the type of rewards offered, and whether the effort put into playing the games aligns with the rewards' value. Users should assess their preferences and goals before engaging with the app to determine if it suits their interests and provides a satisfactory return on investment in time and effort.
How to make money from JOYit App.
Here's how to earn from JOYit.
1. Make Money by Playing Featured Games from JOYit App.
One of the primary methods to earn rewards on JOYit is by engaging with the featured games available within the app. Its convenience sets it apart from similar apps since you don't need to install games separately. Instead, all the arcade-style games are accessible directly within the JOYit app.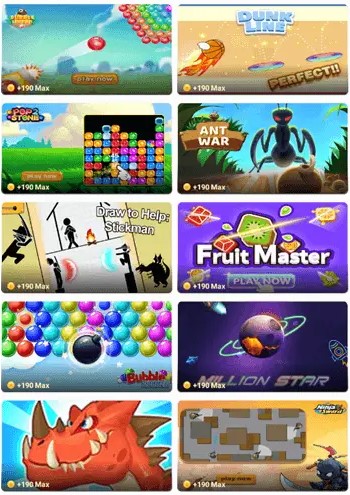 To start earning, log in and browse the list of available games. Once you've chosen a game, clicking on it will reveal the specific challenge you must complete to receive rewards. The challenges are usually straightforward and often involve playing the game for a designated duration, making it relatively easy to achieve.
Upon completing a challenge, you will receive rewards through points. These points can be accumulated and utilized later for various purposes, which will be discussed further.
The app provides an abundance of featured games, ensuring that there are always ample opportunities to earn rewards. This variety helps to keep users engaged and motivated to continue playing and earning through the platform.
2. Make Money by Participating in Contests from JOYit App.
In addition to playing the featured games, another way to earn more points on JOYit is by participating in contests. When you access the app, navigate to the Contests section to explore the ongoing competitions.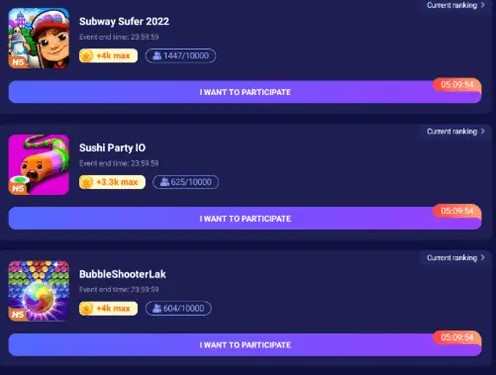 The contests are designed around the concept of achieving high scores in the game being featured. To earn rewards through these contests, you need to invest time and effort in playing the game and aiming for a top position on the leaderboard. The prizes are typically awarded to the top 20 participants with the highest scores.
It's important to note that there is no limit to the number of attempts you can make to improve your score and compete for a higher ranking. However, it's essential to be cautious about this approach, especially if you find the game challenging or do not need to be more skilled at it. Engaging in contests can consume a significant amount of time and effort, and it may only be worth it if it becomes more time-consuming guaranteeing substantial rewards.
Ultimately, contest participation should be based on your gaming skills, time availability, and personal preferences. If you enjoy the competition and have the skills to be competitive, it can be a rewarding way to earn additional points. However, if it becomes overwhelming or takes away from the overall enjoyment of the app, it might be better to focus on other earning opportunities available within JOYit.
3. Make Money by Completing Tasks from JOYit App.
Another way to earn rewards on JOYit is by completing various tasks. To access these tasks, click on the Coin icon at the top of the app, which will lead you to the Mission Center. Here, you will find a list of all available tasks.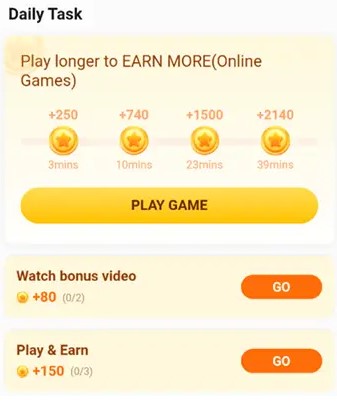 One of the common tasks is the Daily Login task, which rewards you with bonus points simply for logging in to the app and claiming the Daily Login reward. Additionally, tasks will involve playing games and earning points or watching video ads to accumulate rewards.
It's important to note that these tasks refresh daily, providing you with new opportunities to earn rewards daily. As a result, it's beneficial to check the Mission Center regularly whenever you log in to the app to maximize your potential earnings.
You can steadily accumulate points and boost your rewards on JOYit by completing tasks. It provides a variety of tasks that cater to different preferences and play styles, making it accessible to a wide range of users seeking to earn rewards through engaging with the app's content.
4. Make Money in the Referral Program from JOYit App.
In addition to the other earning opportunities, JOYit offers a referral program that allows you to earn rewards by inviting others to use the app.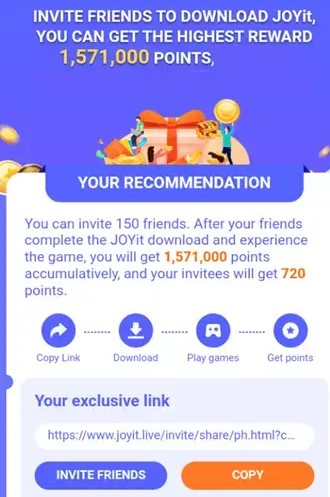 You can share your unique invite link or referral code with them to invite someone. They will become your referral if they click the link, install the app, and sign up using your referral code.
Once your referral starts playing games and earns points, you will receive bonus points for bringing them to the platform. However, the number of points you earn for each successful referral is not fixed and can vary based on the terms of the referral program.
To understand how many points you can earn for each successful referral, you should refer to the Referral Program section, which can be found on the Mission Center page. This section will provide you with the relevant information regarding referral rewards so that you can keep track of your earnings and potential rewards.
It's important to note that there is a limit to the number of people you can invite; you can only refer a maximum of 150 individuals to the app.
While the referral program presents an additional way to earn rewards, some users might need clarification due to the varying points system. However, for those who enjoy sharing apps and bringing in new users, it can be a fruitful way to enhance their rewards on JOYit.
How Do You Get Paid From JOYit App?
After accumulating points through the various earning opportunities on JOYit, users have several options for redeeming their rewards: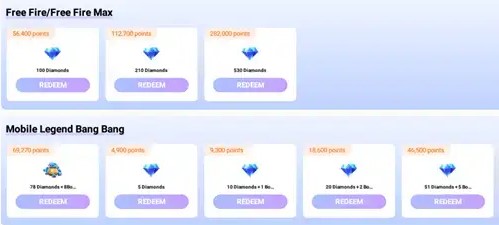 In-game currencies: Points can be exchanged for in-game currencies of popular games like PUBG Mobile, Mobile Legends, and others. This allows users to enhance their gaming experience within those specific games.
Gift cards: Another option is to redeem points for gift cards. The availability of gift cards may vary depending on the country the user resides in. Still, it allows access to various products or services through the gift card platform.
Prepaid mobile credit: JOYit also allows users to redeem their points for prepaid mobile credit, which can be used to top up their mobile phone balance. This option is especially useful for users who prefer to have additional mobile credit for calls, texts, or data usage.
It's important to note that the number of points required to redeem a reward will differ depending on the specific reward chosen. Some rewards may require more points than others, meaning users may need to earn a considerable amount of points to access certain rewards.
The process of redeeming rewards can motivate users to continue engaging with the app and earning points through games, contests, completing tasks, and referring friends. However, users should know the point requirements for their desired rewards and consider whether the effort invested aligns with the value of the redeemed items or credits.
How To Join JOYit App?
JOYit is available in numerous countries but is not accessible worldwide, particularly in certain Western countries. To check if the app is available in your country, search for it on Google Play. If it appears in the search results, it is available in your location. The minimum age requirement for signing up is 13 years.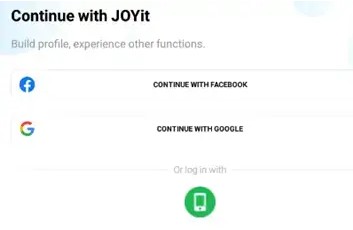 To get started, download and install the app. Upon opening it for the first time, you can register using your Facebook, Google account, or mobile number. Once registered, you can begin earning rewards immediately.
FAQs
Is JOYit available worldwide?

JOYit is available in numerous countries but may not be accessible in some Western countries. To check if it is available in your country, search for it on Google Play.

What is the minimum age to sign up for JOYit?

You must be at least 13 to sign up and use JOYit.

How do I register on JOYit?

To register, download the app and open it. Sign up using your Facebook, Google account, or mobile number.

Is there a limit to the number of referrals I can invite?

Yes, you can invite 150 people to become your referrals.
See More:
Capshort – Earn by learning & Playing Games With 4 Easy Ways
CoinPlix – Earn by Playing Games With More 3 Easy Ways
Alien Crush – Make 100% Real Money by Playing Mobile Game