Introduction
Boomco: the app that lets you learn Korean while earning rewards. Climb the Ladder ranking, solve quizzes for SATS coins, and enjoy global accessibility. Start your language-learning adventure today!
What Is The Boomco App?
Boomco is a unique app that offers a fascinating opportunity to earn rewards while learning. With Boomco, you can delve into the world of the Korean language and unlock exciting incentives along the way. This legitimate app teaches you Korean and allows you to earn while you learn. If you're searching for an engaging and rewarding learning experience, consider downloading Boomco today.
How To Make Money From Boomco?
So here's how to earn from Boomco.
1. Make Money By Answering Questions On Ladder Ranking From Boomco.
Boomco offers a unique way to earn rewards through its Ladder ranking system. Here's how it works: You can accumulate points by participating in daily missions or answering questions in the Quiz Module. These points contribute to your overall rank on the Ladder.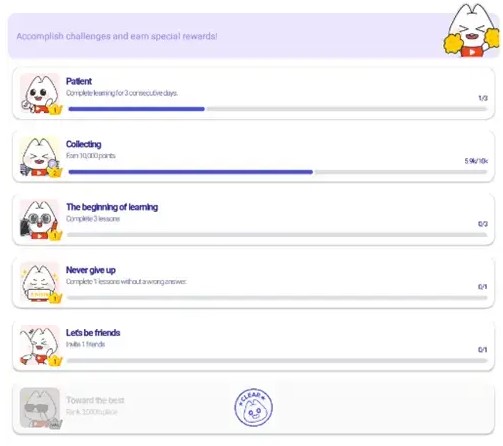 At the end of each month-long season, you will earn a specific number of LER coins based on your rank. These LER coins can then be used to level up, upgrade, or take additional courses and assessments the app offers. The more points you earn, the more LER coins you receive, allowing you to access more language-learning resources.
It's important to note that this earning opportunity does not offer direct cash or crypto rewards. Instead, the rewards gained from the Ladder ranking system will be utilized within the app to enhance your Korean language learning experience. If your primary goal is to learn Korean, this opportunity can be highly beneficial, as Boomco's courses are designed to teach the language effectively.
However, if your main objective is to earn cash or cryptocurrency, Boomco also provides another earning opportunity, which I will discuss in the following section.
2. Make Money By Solving Quizzes On Backpack Learning From Boomco.
Boomco's Backpack Learning mode offers another way to earn rewards through solved quizzes. To participate, simply login to the app and navigate to the quiz section to find a variety of available quizzes.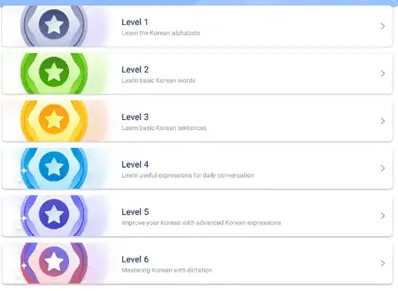 To earn rewards, you must have enough mana before answering a quiz. Each day, you are given 20 free mana, essential for quiz participation. Each question in a quiz consumes one mana, so managing your resources is crucial to maximizing your earnings.
You will receive 1 SATS coin (Satoshi) for every correct answer in a quiz. However, if you run out of mana and still wish to continue earning from quizzes, you can recharge your mana by watching a video ad, which grants you five mana. It's important to note that the video ad recharge option has a 10-minute cooldown, meaning it will take around 40 minutes to charge your mana fully.
Alternatively, log in the next day if you don't want to wait for the cooldown, and your mana will be fully recharged.
While this opportunity provides a way to earn rewards, it might be a slow and challenging process, especially for those new to learning Korean, as all the quizzes are centered around the Korean language.
In summary, Boomco's Backpack Learning mode allows you to earn rewards by solving quizzes but requires careful mana management. It can be time-consuming, making it more suitable for those genuinely interested in learning Korean and willing to invest the time and effort to do so.
How Do You Get Paid From Boomco?
Based on the information provided, Boomco offers opportunities to earn rewards solely through answering quizzes, and these rewards come in the form of SATS (Satoshi) tokens, a type of cryptocurrency. However, it's important to note that there are limitations regarding how these earnings can be utilized.
When writing the review, the earnings you accumulate within the Boomco app cannot be transferred to other cryptocurrency wallets, nor can they be converted into cash. Any SATS coins you earn will remain within the app and cannot be withdrawn or used outside the Boomco ecosystem.
Additionally, while the app features a marketplace, there is limited information on how to access it, and KLAY coins are required to make purchases within this marketplace. Unfortunately, there is no clear indication of how to obtain these KLAY coins within the app.
Given these limitations and uncertainties surrounding accessing the marketplace and converting earnings, if your primary goal is to earn cash or freely use the rewards you earn, Boomco may not be the most suitable app for you. However, if your main focus is on learning the Korean language and you're interested in earning rewards within the app's ecosystem, then Boom co might still be worth considering.
How To Join Boomco?
One positive aspect of Boomco is its global availability, making it accessible worldwide. To get started with the app, you need to download it on your device.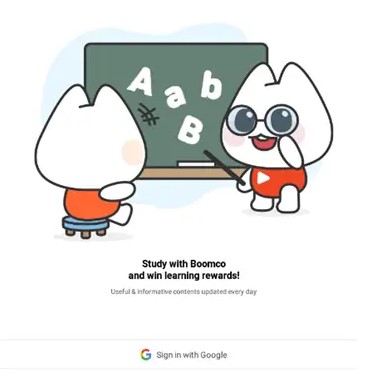 After installation, you'll be directed to the member dashboard, but to ensure your progress and earned rewards are saved, you must log in. This can be done by clicking the My Account icon and using your Google or Apple account credentials to sign in (as shown in the provided photo). Once logged in, you can fully utilize the app as intended and take advantage of its language-learning features and earning opportunities.
FAQs
How can I earn rewards with Boomco?

You can earn rewards through the Ladder ranking system by participating in daily missions and quizzes. You'll receive LER coins based on your rank at the end of each season, which can be used to access additional courses.

What are SATS coins?

SATS coins are a form of cryptocurrency that you can earn by solving quizzes in the Backpack Learning mode.

Can I withdraw my earnings as cash?

As of the time of writing, you cannot withdraw your earnings from Boomco as cash or transfer them to other crypto wallets. The rewards you earn remain within the app.

Is Boomco available worldwide?

Boomco is available globally, allowing users from different countries to access its language-learning features.
See More:
JOYit App – Earn By Playing Games With 4 Easy Ways
Capshort – Earn by learning & Playing Games With 4 Easy Ways
CoinPlix – Earn by Playing Games With More 3 Easy Ways