Introduction
Welcome to the world of LootUp, a website that offers various earning opportunities for people who want to make extra money online. If you're looking for ways to earn rewards in your free time, LootUp might be the perfect option for you. The website provides users with several earning opportunities, including completing surveys, watching videos, and participating in paid offers. Users can accumulate points from completing these tasks and redeem them for Bitcoin, cash via PayPal, or various gift cards. In this guide, we will walk you through how to earn points on LootUp and redeem them for rewards. So, let's get started!
What is LootUp?
LootUp is a reward application operated by Adscend Media, which provides advertising solutions. Like other GPT programs, Loot Up connects users with advertisers and marketing research companies willing to pay users for completing simple tasks, such as installing and playing a game until a certain level or participating in surveys that provide insights into consumer behavior. Users accumulate points for completing these tasks, which can be redeemed for gift cards, PayPal cash, or cryptocurrencies. Adscend Media's offer wall is well-known for allowing users to earn rewards.
Installation and Registration
LootUp can be accessed through its app or official website, LootUp.me. Users can earn points by completing tasks on their Android devices or desktops.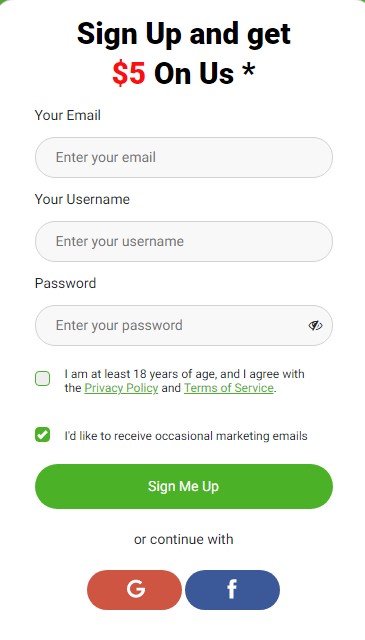 Users can sign up with their name and email, or use their Google or Facebook accounts to join. Registration is free, but users must be at least 18 to participate. A notable benefit of joining Loot Up is the 5000-point ($5) bonus awarded to users who accumulate 10,000 points within 30 days.
How to Make Money From LootUp?
1. Make Money Through Paid Surveys from LootUp.
LootUp allows users to earn money by completing paid surveys on its website. However, LootUp does not have its surveys and instead serves as a survey router for other survey providers it has partnered with.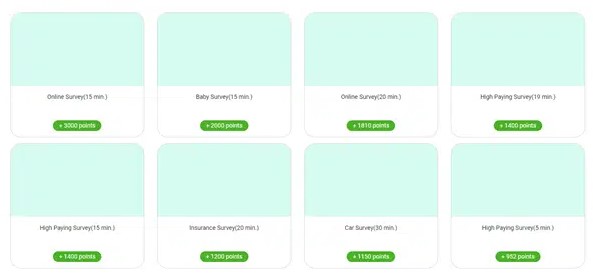 The process of answering surveys on LootUp is similar to other survey sites, where users must first qualify for the survey before answering it. If the user fails to qualify, they can proceed to the next survey. Once the user completes the survey, they will receive rewards in the form of points, which can be redeemed later. However, it should be noted that qualifying for surveys on LootUp can be challenging, and the qualifying rate is low, so users need to be patient and persistent in completing surveys to earn money.
2. Make Money by Completing Offers from LootUp.
Another way to earn rewards on LootUp is by completing paid offers. Paid offers are short tasks that typically involve answering a survey, signing up for a website, or downloading a mobile app in exchange for rewards.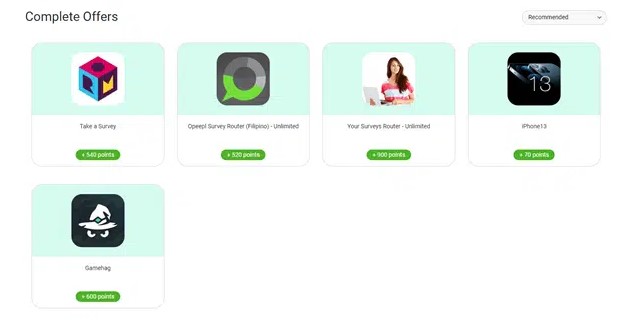 Users can view an offer's details by clicking on it and must ensure they understand all the requirements needed to complete it. Although there may be limited paid offers on LootUp compared to other GPT sites, users should still take advantage of these opportunities to earn rewards. Upon completing a paid offer, users will receive a specified number of points as a reward.
3. Make Money by Watching Videos from LootUp.
Another way to earn rewards on LootUp is by watching videos from their partner sites, such as HideoutTV. Users select a video provider and watch videos to earn points. It's important to note that users are not paid to watch the videos themselves, but rather to watch the ads displayed before, during, or after the video.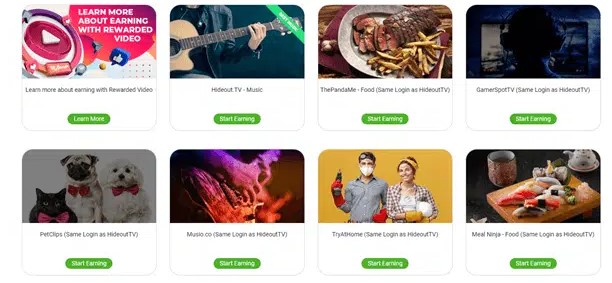 Users can let the video play in the background while working on something else, but they must keep the tab where the video is playing active to earn rewards. While there are more efficient ways to earn rewards on Loot Up, users can still take advantage of it when they have free time. Using the mobile app to watch videos on a mobile device is recommended to maximize efficiency.
4. Make money through Contests from LootUp.
The weekly and monthly contests offered by LootUp are great incentives for users to keep using the platform and completing paid offers. Their prizes are also quite substantial, a big plus for those who want to earn more points quickly.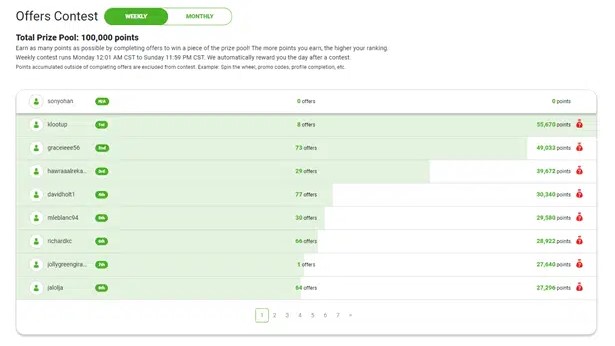 However, it's important to remember that winning these contests is not guaranteed, so it's best to participate in them without relying solely on winning the prize as the primary motivation for using the platform.
5. Make Money by Spinning The Wheel From LootUp.
LootUp offers a spin-the-wheel game as another way to earn rewards. The game is simple – you get one free spin every 24 hours. With each Spin, you can win free points or an earning bonus percentage, such as a 50% bonus on earnings for 24 hours.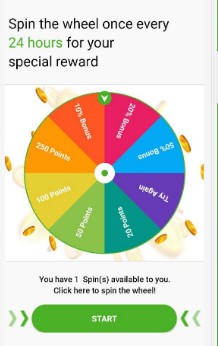 For example, if an offer rewards you with 100 points, you'll receive 150 points instead. It's a nice bonus, and I recommend spinning the wheel first when you log in to the site to maximize your earnings from LootUp.
6. Make Money By Using The Referral Program from LootUp.
LootUp also offers a referral and rewards program designed to promote the website. You can earn more points by sharing your invite link with others. When someone clicks on your link and registers on the site, they become your referral. However, for you to earn from your referral, they must become an active member of the site.
When your referral completes any earning opportunity the site offers, you will earn 10% of whatever they earn. For example, if they complete a survey worth 500 points, you will receive 50 points as commission, and Loot Up will shoulder it without being deducted from your referral's earnings.
If you can get 500 referrals, your 10% commission will be increased to 15%. It's not a very lucrative earning opportunity, but it is a passive form of earning. Inviting people genuinely interested in earning from the site is important to maximize your earnings.
How Do You Get Paid From LootUp?
To redeem your points for gift cards, you can choose from various options such as Amazon, Walmart, Target, Starbucks, and more. However, the availability of these gift cards may vary depending on your location.

To redeem your points for any of these rewards, go to the "Rewards" section on the LootUp website or app and select the reward you want to redeem. Then, provide the necessary information and confirm your redemption.
It is important to note that rewards may take some time to be processed and delivered, especially if you choose to redeem Bitcoin. Additionally, there may be fees associated with specific reward options, such as when converting your points to Bitcoin. So, check the terms and conditions before redeeming your points.
FAQs
LootUp a legitimate website?

Yes, LootUp is a legitimate website that pays its users for completing various earning opportunities.

Can I use LootUp on my mobile device?

Yes, LootUp has a mobile app that you can use to complete earning opportunities and manage your account.

Is it safe to use LootUp?

Yes, it is safe to use LootUp. The website uses secure connections and takes measures to protect your personal information.

How much can I earn from LootUp?

The amount you can earn from LootUp depends on how much time and effort you put into completing earning opportunities. Some users earn a few monthly dollars, while others earn much more.
See More:
Tapestri App Review – Earn by Running App In The Background With 5 Easy Tasks
Slot Rush App Review – Earn by Playing Mobile Games (100% Easy)
Givvy Radios Review – Earn by Listening To Your Favorite Radio Stations in 2023
Star-Clicks Review – Make Money By Clicking Ads (100% Easy & Real)