Introduction
In the world of online surveys and GPT (get-paid-to) sites, MoolaDays is one platform that claims to offer users the chance to earn money through various activities, such as taking surveys, watching videos, and completing offers. But with so many options, is MoolaDays worth your time and effort? In this review, we'll take a closer look at what MoolaDays offers, including its earning opportunities, payout conditions, and overall user experience, so you can decide whether to try it.
What is Mooladays?
Mooladays.com is a website that brings together various market research companies and paid email programs, allowing people to earn money from home without investing any money. Members are compensated for performing simple online tasks and completing offers. It's a fun and straightforward way to monetize your opinions and earn money. Members can also shop and receive cashback on their purchases.
One of the most popular work-at-home jobs is taking paid online surveys, where you provide answers to questions asked by market research companies. It's a simple way to earn money without investing any money. However, internet users who wish to make money online should be aware that market research companies do not charge any fees for taking surveys.
Numerous survey sites ask for registration and monthly membership fees. Unfortunately, some users are dissatisfied with the results of their investments. Such sites are created to exploit people looking for quick cash online. Avoid such programs, find reliable and trusted survey sites, and don't pay for something you can get for free. Conduct thorough research and check reviews online before joining any site.
How To Join MoolaDays?
MoolaDays is a free platform that anyone can join without any prior experience. Additionally, the platform is open to people worldwide, not just those in the US.


The signup process is simple and requires basic information such as your name, country, zip code, and email address. Once your account is activated, you will receive a welcome bonus of $3 without fulfilling any requirements to claim it.
How To Make Money From MoolaDays?
1. Make Money By Paid Surveys From MoolaDays.
MoolaDays provides an option for earning through online surveys but has limited options compared to other GPT sites.


The platform only offers two survey routers, Your Surveys, and Opinion Surveys, which may provide fewer surveys than other sites. Additionally, the rewards per survey on MoolaDays are relatively low at $0.50 compared to other sites, such as PrizeRebel, which offer $0.80 per survey. This can make a significant difference in the long run, so it may be worth exploring other survey sites with better rewards.
2. Make Money With Paid Offers From MoolaDays.
MoolaDays also provides an option for earning through paid offers or offer walls, which can greatly boost your earnings on other GPT sites. However, MoolaDays has limited options in this regard. Although it has several offer categories, there are very few offers available. The offers presented in the offer section are the same as the survey routers found in the survey section.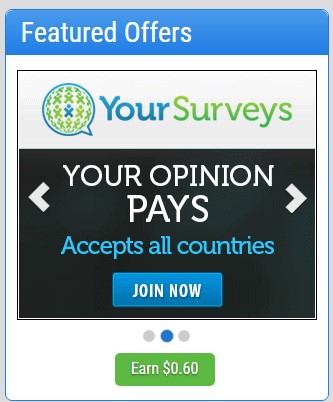 Fortunately, users can access an offer wall from PeanutLab by clicking on the "Points" tab in the top menu. However, the same offer wall is available on other sites with better opportunities. Therefore, while Moola Days has some offers, there may be better options on other GPT sites.
3. Make Money By Reading Paid Emails From MoolaDays.
As a member of MoolaDays, you will receive paid emails that cannot be opted out of. These emails contain offers, and you get paid a few cents for clicking on the link in the email. Moola Days hopes that you will end up taking the offer so that they can earn commissions. This is why they pay you to click on the email links.

Interestingly, users can choose the reward per email, ranging from $0.01 to $0.05. The higher the reward, the faster the Guaranteed Paid Emails (GPE) will reach zero. When the GPE reaches zero, users can no longer earn by reading and clicking on the emails. However, users can earn points by taking surveys and offers and use these points to increase their GPE again.
It is worth noting that users must pay to keep receiving more emails they will get paid to take. While this system may seem a little strange, this is how Moola Days has decided to create its reward system.
4. Make Money With Cashback Offers From MoolaDays.
It's important to note that while cashback options are available on MoolaDays, there may be other reasons why users join the platform. It's also worth considering that the platform may have a different focus than other GPT sites, such as providing paid surveys or email offers.

Ultimately, users should evaluate whether the available cashback options on Moola Days meet their needs and preferences and compare them with other platforms to find the best fit for their earning goals.
5. Make Money By Referral Program From MoolaDays.
MoolaDays offers a referral program where you can earn 15% commissions by inviting friends to join the platform. However, this is not viable as the site has limited earning opportunities. Inviting friends to a panel that may not offer many opportunities could upset them, and even if they do join, the limited earning potential means that you may not earn much from it anyway.
6. Make Money With Coupons From MoolaDays.
The "Coupons" section on MoolaDays is simply a referral link to coupons.com, which allows Moola Days to earn a commission if you use it. However, it only provides additional benefits or advantages compared to visiting the coupon site directly.
How Do You Get Paid From MoolaDays?
MoolaDays claims to offer instant payment through PayPal or Amazon gift cards, but the payout conditions could be better compared to other survey and GPT sites. To receive payment, users must earn either points or cash and reach a minimum of $15 for each reward type. The first payment is not made until 15 days after the end of the month requested. These conditions make it difficult to receive instant payment and are not competitive with other sites that offer much lower payout thresholds and faster payment processing times.
FAQs
Is MoolaDays free to join?

Yes, it is free to join MoolaDays.

Is MoolaDays available worldwide?

MoolaDays is available worldwide, but some earning opportunities may only be available in certain countries.

Can I use MoolaDays on my mobile device?

Yes, MoolaDays is mobile-friendly, and you can use it on your smartphone or tablet. However, some tasks may be easier to complete on a desktop or laptop computer.
See More:
LootUp Review – Take Paid Surveys & Earn Cash Rewards Completing 6 Tasks
Tapestri App Review – Earn by Running App In The Background With 5 Easy Tasks
Slot Rush App Review – Earn by Playing Mobile Games (100% Easy)
Givvy Radios Review – Earn by Listening To Your Favorite Radio Stations in 2023