Introduction
Welcome to Maya Jackpot Pusher, the ultimate Android game that brings the classic coin pusher machine experience to your fingertips! Drop coins onto the platform, strategically push them over the edge, and watch the rewards pour in. With the chance to win virtual cash, tokens, and an array of exciting prizes, Maya Jackpot Pusher offers endless entertainment and potential riches.
Whether you aim to cash out for real money, redeem Amazon gift cards, or collect pieces for luxurious gadgets, this game will keep you hooked as you tap, strategize, and aim for the jackpot. Get ready to embark on a thrilling coin-pushing adventure and see if you have what it takes to unlock the treasure trove of rewards in Maya Jackpot Pusher!
What is Maya Jackpot Pusher?
Maya Jackpot Pusher is an exciting Android game that emulates the nostalgic experience of playing a classic coin pusher machine. The objective is strategically dropping coins onto a platform and watching them push other coins over the edge.

While enjoying the coin-pushing fun, players can earn virtual cash. The goal is to accumulate at least $300, which can be withdrawn as real rewards. The rewards range from Amazon gift cards to popular gadgets like smartphones, Play Stations, and AirPods.
With its captivating gameplay and enticing rewards, Maya Jackpot Pusher is gaining popularity rapidly. It is expected to exceed 10,000 installations in the coming days as more users discover its engaging features.
However, it's essential to note a potential concern for users. The game is currently in early access, so no reviews are available on the Play Store. This lack of user feedback raises transparency issues, as individuals often rely on reviews to make well-informed decisions about apps.
How Does Maya Jackpot Pusher Work?
Maya Jackpot Pusher is readily accessible on the Play Store, catering to Android users worldwide. The game operates under a simple premise: players begin with an initial set of 50 gold coins, which are provided free of charge.
If players exhaust their coin supply, they need not fret, as a new coin materializes every three seconds. This ensures an uninterrupted and indefinite gameplay experience, allowing players to continue enjoying the game without any restrictions.
Moreover, players are presented with the opportunity to earn additional tokens by watching videos. By viewing a video, players can instantly acquire 50 tokens, enhancing their gameplay and giving them more opportunities to push coins and accumulate rewards.
How to Play and Earn from Maya Jackpot Pusher?
To play Maya Jackpot Pusher, tap the screen to drop your coins and watch them push other coins off the platform's edge, leading to exciting rewards. There are two types of coins in the game: golden coins and green coins.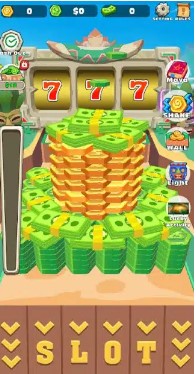 Golden coins award tokens, which can be used to enhance your gameplay. Collecting these tokens allows you to unlock additional features or advantages within the game.
On the other hand, green coins represent virtual dollars. Each green coin is marked with a specific value, such as $0.25. When a green coin drops off the platform, you will receive the corresponding amount in virtual dollars.
Occasionally, you may also encounter other items that tumble over the edge. These items can grant you extra coins, cash, or fragments towards coveted prizes like Samsung Galaxy devices, PS5 consoles, or MacBooks.
Keep an eye on the fever meter on the screen's left side. This meter increases as you drop more coins. Once it's complete, you'll receive double the rewards, providing an exhilarating boost to your earnings. The game offers many options to grow your balance and create a sense of abundance.
For added excitement, you can activate the slots by lighting up each word "SLOT" letter beneath the machine. Matching three pictures on the reels will reward you with prizes such as coins, items, or virtual cash, adding an extra layer of entertainment and potential rewards.
How to boost your earning during gameplay from Maya Jackpot Pusher?
You can utilize the Shake or Wall tool for an extra boost during gameplay. These tools allow you to unleash a torrent of coins simultaneously, increasing your chances of pushing more coins off the platform and collecting more rewards.
Watch for the banknote icon, which displays tempting values like $9 or $12. Tapping this icon will trigger a sponsored video, and upon completion, you will receive the corresponding prize. This feature showcases the game's generosity by providing players with additional opportunities to earn rewards.
Enjoy the immersive gameplay of Maya Jackpot Pusher as you tap, strategize, and accumulate wealth in the virtual coin-pushing world!
How to Withdraw Funds from Maya Jackpot Pusher?
Maya Jackpot Pusher offers a wide range of enticing rewards that can be redeemed once certain requirements are met. While it may initially appear effortless to accumulate wealth, the game requires significant time and dedication to reach the necessary milestones.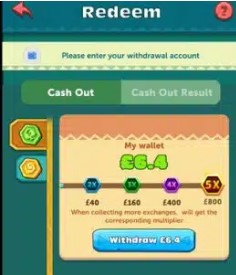 When you feel ready to cash out, you can tap the "cash out" button and be greeted by a treasure trove of prizes awaiting your redemption. Here is a list of popular rewards available:
$300 – You can withdraw $300 in real money once you reach this target.
Three million tokens: Redeem $300 by exchanging 3 million tokens, which can be acquired throughout gameplay.
100 Amazon cards: Redeem $300 in the form of Amazon gift cards, providing various purchasing options on the platform.
Collect 50 iPhone 12 Pro pieces: Gather 50 pieces of the iPhone 12 Pro within the game and redeem them for a reward of $1000.
Collect 50 Switch pieces: Similarly, collect 50 pieces of the Switch and cash out with a reward of $1000.
As you passionately tap your screen to progress in the game, you may also come across items representing high-end and luxury gadgets. These coveted prizes can include a Chanel bag, MacBook Pro, PS5, or Samsung Galaxy, among others.
To claim these glorious prizes, you must collect 10 or 20 pieces, depending on the specific item. This adds a layer of challenge and excitement to the gameplay as you strive to obtain these desirable rewards.
Keep pushing those coins and accumulating rewards to unlock the amazing prizes that await you in Maya Jackpot Pusher!
FAQs
How do I play Maya Jackpot Pusher?

To play the game, tap the screen to drop coins onto the platform. Your goal is to push the coins over the edge to collect rewards.

How can I earn virtual cash and tokens?

By pushing green coins off the platform, you can earn virtual cash. Tokens can be collected through gameplay or by watching videos within the game.

Are there any additional features in the game?

Yes, Maya Jackpot Pusher includes a fever meter that increases as you drop more coins, leading to double rewards once it's full. Some slots can be activated by lighting up the letters "SLOT," offering chances to win additional prizes. Plus, you can use tools like Shake or Wall to unleash a torrent of coins simultaneously.

Is Maya Jackpot Pusher available for all Android devices?

Maya Jackpot Pusher is available for Android devices worldwide through the Play Store.
See More:
Online Book Club – Writing Book Reviews & Earn 100% Easy Money
Mission Guru App – Earn By Watching Videos & Playing 100% Easy Games
HelloCash App – Earn by Playing 100% Easy Sponsored Games
Ethereum Blast – Earn Ethereum & Bitcoin Playing 100% Easy Game