Introduction
Ethereum Blast is an addictive casual game. Touch and eliminate blocks of the same color to conquer countless levels. Earn Bling Points as you progress and convert them into Ethereum or Bitcoin. Play for free, accumulate points, and enjoy the thrill of cryptocurrency rewards. Blast blocks, unlock power-ups, and immerse yourself in this exciting crypto-filled experience!
What Is Ethereum Blast?
"Ethereum Blast" is an exciting and addictive casual game that challenges players to eliminate blocks of the same color by touching them. With its vibrant visuals and simple gameplay, this classic block-collecting game offers a colorful adventure through numerous levels, each with unique targets and missions.
What sets "Ethereum Blast" apart is its incorporation of Bling Points, a special currency that enhances the game's appeal. You'll earn Bling Points as you complete levels, adding to the game's irresistible nature. The beauty of these points lies in their conversion potential – they can be exchanged for popular cryptocurrencies like Ethereum or Bitcoin, which can then be directly withdrawn to your crypto wallet.
One remarkable advantage of playing "Ethereum Blast" and other Bling games is utilizing a single account across all their offerings. This feature lets you accumulate more Bling Points across multiple games, enhancing your crypto earnings and rewards.
It's worth noting that "Ethereum Blast" is completely free to play, eliminating any concerns about the risk of losing money. Enjoy the game's captivating gameplay, collect Bling Points, and embark on a rewarding journey without any financial obligations.
How Does Ethereum Blast Work?
Upon launching the game, players must accept the standard Terms of Service and Privacy Policy, as is typical for most applications.
Users can sign in using their Facebook or Google accounts to begin playing. This feature allows players to use the same account across all games in the company's collection, thereby accumulating more points and rewards as they engage with different titles. This unified account system enhances the gaming experience and provides opportunities for increased point accumulation and benefits.
How to play Ethereum Blast?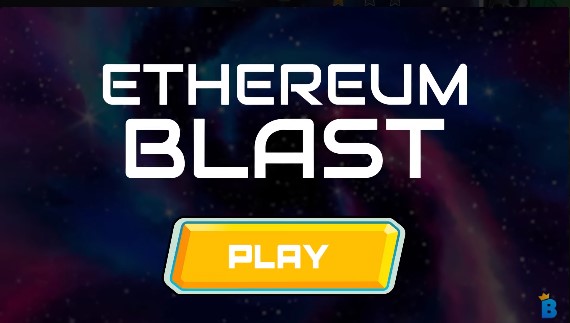 In Ethereum Blast, the gameplay revolves around completing levels by reaching specific goals, which involves tapping and eliminating groups of two or more blocks of the same color.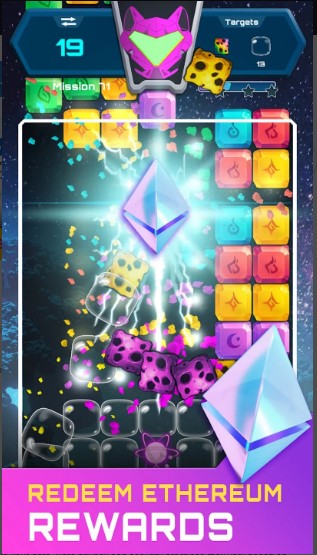 As you progress through the game, you'll discover the ability to create powerful combinations by merging larger groups of blocks. For example, combining five blocks will generate a rocket that can clear an entire row.
Upon completing a level, you'll be prompted to watch an advertisement, allowing you to earn Bling Points. These points hold actual value and can be exchanged for Ethereum or Bitcoin.
The number of Bling Points you earn will vary depending on the level, but typically, it's under 1,000 Bling Points or 0.00000001 BTC. That value now translates to around $0.00029, which may seem relatively small and disheartening as a reward.
Bling needs to provide an exact conversion rate for Ethereum. Instead, they state that the conversion rate may fluctuate.
To cash out your Bling Points, you'll need to accumulate at least 37,000 points, equivalent to just one cent of value.
Please note that the values mentioned are based on the information available until my knowledge cutoff in September 2021. It's advisable to check the latest terms and conditions or consult the game for the most up-to-date information on rewards and redemption rates.
How do you get paid From Ethereum Blast?
To withdraw your points from Ethereum Blast. Open the Ethereum Blast game on your Android device.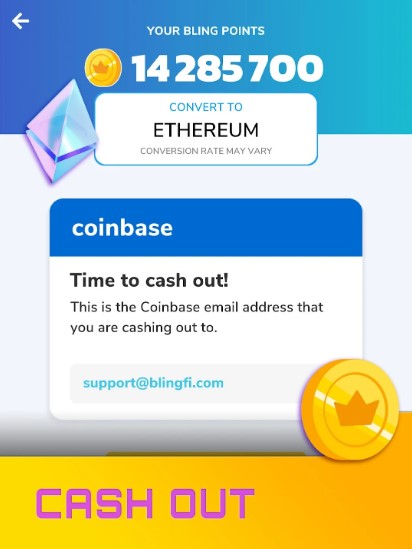 Ensure you have accumulated enough Bling Points to meet the minimum withdrawal threshold, usually stated in the game.
Look for the option or menu within the game that allows you to redeem or withdraw your points.
Click on the withdrawal option, and you may be prompted to provide your cryptocurrency wallet address.
Enter the required information, such as your wallet address for Ethereum or Bitcoin, as specified by the game.
Confirm the withdrawal request and any associated fees, if applicable.
The game's system will process your withdrawal request, and your Bling Points will be converted into the chosen cryptocurrency.
Depending on the game and its processing times, it may take some time for the withdrawal to be completed and for the funds to appear in your crypto wallet.
After the withdrawal is successfully processed, you can access your Ethereum or Bitcoin in your crypto wallet and manage it as desired.
FAQs
Is Ethereum Blast free to play?

Ethereum Blast is a free-to-play game for Android users worldwide.

How do I earn points in Ethereum Blast?

You can earn points by completing levels and reaching the specified goals within the game. Additionally, watching advertisements after completing levels may reward you with Bling Points.

Can I convert Bling Points to real cryptocurrencies?

Yes, you can convert your Bling Points into Ethereum or Bitcoin, which can be withdrawn directly to your crypto wallet.

How long does it take to process a withdrawal?

The withdrawal processing time can vary depending on the game's system. It may take some time for the withdrawal request to be completed and for the funds to appear in your crypto wallet.
See More:
BitCoin Connect – Earn 100% Free BitCoin By Playing Mobile Games
Witcoin Review – Earn By Answering Quizzes With 2 Easy Tasks
Payadcoin Review – Earn By Watching Video Ads With 2 Easy Ways
PublishOx Review – Earn By Writing and Reading Articles 100% Easy Money