Introduction
Mission Guru is an innovative reward app that offers an exciting opportunity to earn cash rewards while completing missions. With an impressive 100,000 installations on the Play Store, Mission Guru has gained attention for its promise of making money through gaming and watching videos. However, as we delve deeper into the app's features and practices, questions arise about its legitimacy and whether it truly delivers on its enticing promises. In this discussion, we'll explore the workings of Mission Guru, its coin collection system, withdrawal options, and the concerns surrounding its payment reliability. Join us as we uncover the truth behind this seemingly too-good-to-be-true reward app.
What is Mission Guru App?
Mission Guru is an exciting and inventive app that revolves around completing missions and offers attractive rewards. The developer has designed it to enable users to engage in game playing and watch short videos in exchange for generous cash rewards.

The app has garnered an impressive 100,000 installations on the Play Store, indicating effective promotion by the developer. The concept of earning money while enjoying oneself is incredibly enticing, akin to discovering a hidden treasure trove amidst a festive celebration. It almost seems too good to be true!
How Does Mission Guru Work App?
Mission Guru can be accessed worldwide through the Play Store on any Android device. The developer has clarified that no fees are involved in joining the program, and no registration is required. The primary objective is accumulating coins, which can eventually be exchanged for cash. The threshold for cashing out is set at 5,000 coins, translating to a remarkable $500. The offer is undeniably tempting!
Mission Guru gives users a generous welcome bonus of 2,000 coins ($200) to make the deal even more enticing. It's like stumbling upon a treasure trove from the very beginning!
Upon launching the app, users are prompted to select their preferred payment platform from various options, including PayPal, Amazon, Cash App, Google Play, and Steam. This ensures flexibility and convenience when it comes to redeeming rewards.
How to make money by playing a game on Mission Guru App?
To collect coins on Mission Guru, users are required to complete missions. However, the specific nature of these tasks needs to be elaborated upon in the given information.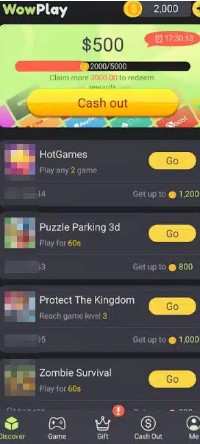 In the Discover tab of the app, users can find a list of games that indicate the number of coins that can be earned by playing them for a specific duration or reaching a particular level. Unlike legitimate reward apps like JustPlay or Mistplay, Mission Guru doesn't redirect users to the Play Store to download sponsored games. Instead, the games are directly available within the Mission Guru platform. This can be seen as a red flag, as it deviates from the usual practice.
The lack of sponsored game commissions raises questions about how the developer generates income from the app. In this case, the revenue comes from advertisements. The app bombards users with sponsored videos that promote other dubious cash games. These videos entice users to click on icons and buttons to trigger a reward, regardless of whether they play the advertised game. The primary objective for the developer is to ensure that users stream these short clips, as it generates revenue for them.
How to Withdraw Your Funds from Mission Guru App?
Mission Guru provides a straightforward process for cashing out once users reach a balance of 5,000 coins. Users must open the "cash out" tab and click the designated button. They are then presented with five withdrawal options: PayPal, Amazon, Cash App, Google Play, and Steam.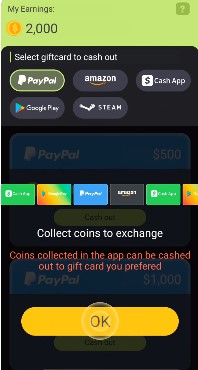 According to the provided instructions, the rewards should be issued to the user's account within 3-5 business days. While this may sound appealing, it's essential to approach the app's payout claims with caution.
Considering the doubts raised earlier about the app's revenue generation and the presence of dubious cash game promotions, there is reason to be skeptical about whether Mission Guru pays its users as promised. It's always prudent to be cautious when dealing with apps or platforms that offer seemingly lucrative rewards, especially if there are indications of potential red flags or questionable practices.
FAQs
How does Mission Guru work?

Mission Guru is an app that allows users to earn cash rewards by completing missions. These missions typically involve playing games and watching short videos within the app.

How do I collect coins on Mission Guru?

To collect coins, you need to complete the missions provided in the app. The specific tasks and requirements for each assignment may vary.

What are the withdrawal options available on Mission Guru?

Mission Guru offers several withdrawal options, including PayPal, Amazon, Cash App, Google Play, and Steam. You can choose the platform that suits your preferences for receiving your cash rewards.

Is Mission Guru a legitimate app?

The legitimacy of Mission Guru is a matter of concern. While it has gained popularity and boasts a significant number of installations, there are doubts about its revenue generation and the reliability of its payment system.
See More:
HelloCash App – Earn by Playing 100% Easy Sponsored Games
Ethereum Blast – Earn Ethereum & Bitcoin Playing 100% Easy Game
Mega Blast Tree Review – Earn by Playing 100% Easy games
Paceline Fitness App – Stay 100% Healthy And Make Easy Money