Introduction
Mega Blast Tree is a captivating Android game that offers the chance to earn real money. With addictive gameplay and the option to withdraw earnings, it has become popular worldwide. Players eliminate cubes to grow a virtual money tree and accumulate points. By reaching milestones and redeeming their earnings, players can choose from payment options like PayPal, Amazon, Cash App, and Google Play. While the game is free, privacy concerns and decreasing point accumulation as earnings increase should be considered. Experience the excitement of Mega Blast Tree and the potential for real rewards today.
What is Mega Blast Tree?
Mega Blast Tree is a captivating casual game designed for Android users. In this addictive game, players engage in eliminating cubes to nurture a virtual money tree, making it an engaging experience.
One unique aspect of Mega Blast Tree is its potential to offer real monetary rewards. The developers have cleverly integrated virtual dollars into the game, allowing players to withdraw their earnings. This enticing feature has attracted many players who aspire to earn money effortlessly.

An appealing aspect of Mega Blast Tree is its accessibility, as it can be enjoyed completely free of charge. This eliminates any financial risk associated with playing the game. However, it's essential to remember that time is a valuable resource, and investing time in the game is equivalent to investing in potential rewards.
How Does Mega Blast Tree Work?
Mega Blast Tree is a globally available game on the Play Store, welcoming players to join without any upfront cost.
Nevertheless, it's important to consider a significant aspect before immersing yourself in the game: the app does not encrypt your data during the download process.
This lack of encryption can pose a potential risk to your privacy and data security. Furthermore, the app lacks the functionality to delete your data, which violates privacy regulations in numerous countries.
Given these concerns, exercise caution while using this app, as it could make you susceptible to identity theft or other privacy-related issues.
How to play and earn from Mega Blast Tree?
Once you launch the Mega Blast Tree app presents you with an enticing cash opportunity, outlining three simple steps to earn $500. Play the game and accumulate as many points as possible.
Once you reach 5,000 points, click the redeem button to withdraw the money.
Enjoy your rewards.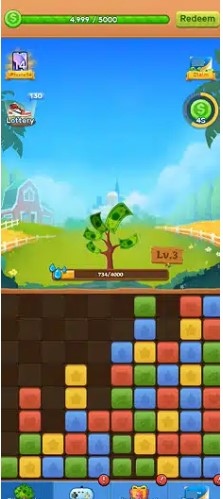 To make the offer even more appealing, the game provides a generous 1,000-point welcome bonus, equivalent to $100, instantly boosting your virtual wallet.
The gameplay involves tapping on two or more cubes of the same color to eliminate them. As you progress, you'll earn points, which can be doubled by tapping the "double" button and watching sponsored videos. This is a clever strategy for the app to generate revenue through advertisements each time a commercial plays on your device.
While your tree grows and levels up as you successfully eliminate cubes and fill the progress bar, it's important to note that the size of the rewards does not increase. The more you play and approach the $500 milestone, the fewer points you will earn, making it increasingly challenging to reach the desired payout.
How does the point accumulation work in Mega Blast Tree?
As you progress in the game and approach higher earnings, the rate at which points are earned decreases. This means that earning points becomes more challenging the closer you reach the maximum payout.
How to Withdraw Your Funds from Mega Blast Tree?
To withdraw your in-game earnings in Mega Blast Tree, tap the "redeem" button within the app. Upon doing so, you'll be presented with a selection of available payment methods, including PayPal, Amazon, Cash App, and Google Play.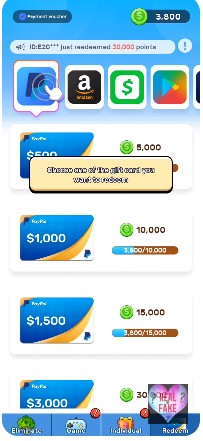 After selecting your preferred payment method, you can choose the amount you wish to cash out, ranging from $500 to $3,000. The specific amount you can select will depend on your accumulated points during your gameplay experience.
FAQs
Can I earn real money from playing Mega Blast Tree?

Yes, Mega Blast Tree offers the opportunity to earn real money. You can redeem your earnings through the app's available payment options by accumulating points and reaching certain milestones.

What are the payment options for withdrawing earnings in Mega Blast Tree?

The payment options in Mega Blast Tree include popular platforms such as PayPal, Amazon, Cash App, and Google Play.

Can I delete my data in Mega Blast Tree?

Unfortunately, Mega Blast Tree does not currently offer a feature to delete your data. This is an important consideration regarding privacy regulations.
See More:
Paceline Fitness App – Stay 100% Healthy And Make Easy Money
BitCoin Connect – Earn 100% Free BitCoin By Playing Mobile Games
Word Relax – Earn By Playing 100% Easy Word Games