Introduction.
PlayWard, an Android application designed by Fitness Dev Team, offers users a unique opportunity to earn virtual coins by trying out sponsored apps. It can later redeem these coins for cash via PayPal. While earning rewards through app engagement is intriguing, potential users should know certain aspects surrounding PlayWard. The developer's reputation, past complaints about unfulfilled payouts in their other apps, and the app's "Early Access" classification all contribute to a cautious approach when considering involvement with PlayWard. In this introduction, we delve into this app's features, concerns, and potential benefits, helping you make an informed decision before delving into the world of PlayWard.
What is PlayWard?
PlayWard is an Android application where you can try sponsored apps and earn coins redeemable for cash.
Available offers may include games, VPN services, anti-virus, social media platforms like TikTok, and more!
By completing their offers, you will collect coins valued at 0.01 each, and you can withdraw via PayPal once you meet the requirement.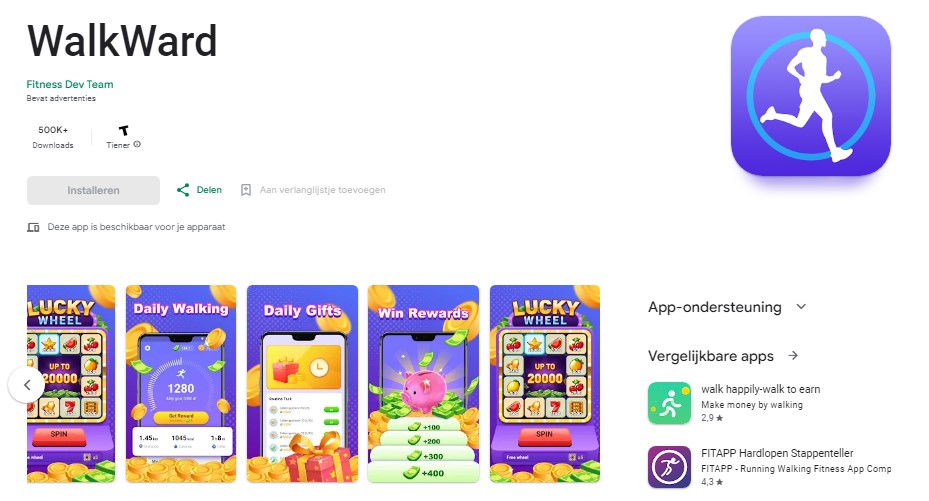 What worries me about PlayWard is that the Fitness Dev Team developer is behind money games like Lucky Knife 2, Easy Bridge, Sunny Kitten, and a few others!
These games have received many complaints for not living up to their advertised payouts.
Another red Flag about PlayWard is the "Early Access" classification, which prevents users from publishing honest reviews on the Play Store.
How Does PlayWard Work?
PlayWard Installation and Registration
PlayWard is available for get on the Play Store for all Android devices.
Upon launching the app for the first time, you will see a pop-up window asking you to allow user access.
This is required so that the company can access the usage stats of your apps and track the time you play.
Otherwise, you cannot collect the reward since they give you coins based on playtime.
Click "Allow," toggle on "allow usage tracking," and you are good to go!
After that, you will receive a login bonus of 10 coins, equivalent to 0.10 USD.
You don't need to create an account to access the platform and collect your welcome gift.
This is another red flag since all legit apps like Cash Cow and Justplay have a login system to protect against fraudulent behavior.
That's not the case with PlayWard, which doesn't even care about fake accounts exploiting the app!
How To Make Money By Playing PlayWard Game?
Finally, you can access the list of offers stating the maximum number of coins you can get for each game or app.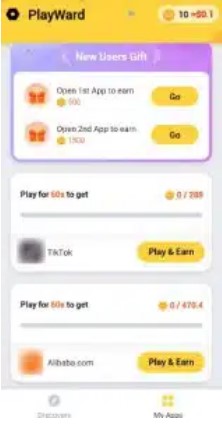 Just tap "Play and Earn" and install the application directly from the Play Store.
Ensure to access the application via the "My Apps" tab so that PlayWards can adequately track your playtime and give you the correct coin reward.
Your geographic location largely determines the availability of offers.
Therefore, residents of countries with large marketing budgets, like the US, Canada, and the UK, tend to receive more opportunities.
To my dismay, the only two choices for earning coins here in the UK were TikTok and Alibaba.
Completing both of these offers would pay me a total of 830 coins worth $8.30.
That would be great if there were enough opportunities to reach the payout threshold and get paid!
PlayWard Withdraw Funds.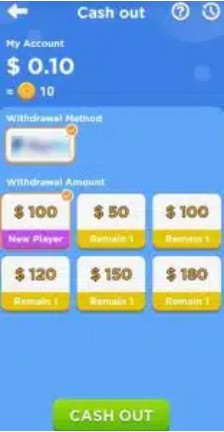 New users must achieve a minimum of $100 to cash out via PayPal.
If you are lucky and brave enough to hit the target, select the new player option and press the cash-out button.
This reward platform is going viral! Cash-out via PayPal, Visa, Gift Cards, and in-game currencies – Click here to learn how to generate an extra $10+ daily!
Then, you are supposed to submit your email address associated with your PayPal account to receive the funds.
FAQs
Can I earn money from PlayWard?

While PlayWard offers the potential to earn money by engaging with sponsored apps, it's essential to consider the developer's track record and user feedback. Some users have reported issues with unfulfilled payouts in the developer's other apps, raising concerns about the reliability of PlayWard's promised rewards.

What types of apps are available for engagement on PlayWard?

PlayWard features a variety of sponsored apps that users can engage with, such as games, VPN services, anti-virus applications, social media platforms like TikTok, and more.

How do I redeem my virtual coins for cash?

Once you have collected sufficient virtual coins, you can redeem them for cash through PayPal. The PlayWard app should have a feature that allows you to initiate this redemption process.

Is PlayWard safe to use?

While PlayWard itself might be safe to use, there are concerns surrounding the developer's reputation and the history of complaints related to unfulfilled payouts in their other apps. It's essential to exercise caution and conduct thorough research before engaging with the app.
See More:
Earn by Playing Treasure Cutter Fun Android Game in 2024
Earn By Playing Fruits Goal 100% Joyful Android Game
Daub Farm App – Make 100% Easy Money From Bingo Game
Money Train Review – Earn By Playing 100% Joyful Mobile Game