Introduction
Welcome to Prize Fiesta, the addictive match-3 puzzle game where you can win real prizes! Align identical pieces, earn points, and exchange them for valuable rewards. Unlock the Prize Cavern by accumulating virtual currency and fulfilling the requirements to claim your prizes. It's time to challenge your puzzle skills and experience the thrill of winning in Prize Fiesta!
What is Prize Fiesta?
Prize Fiesta is an engaging puzzle game that shares similarities with Candy Crush. Players aim to align three identical icons to progress and earn points in this game.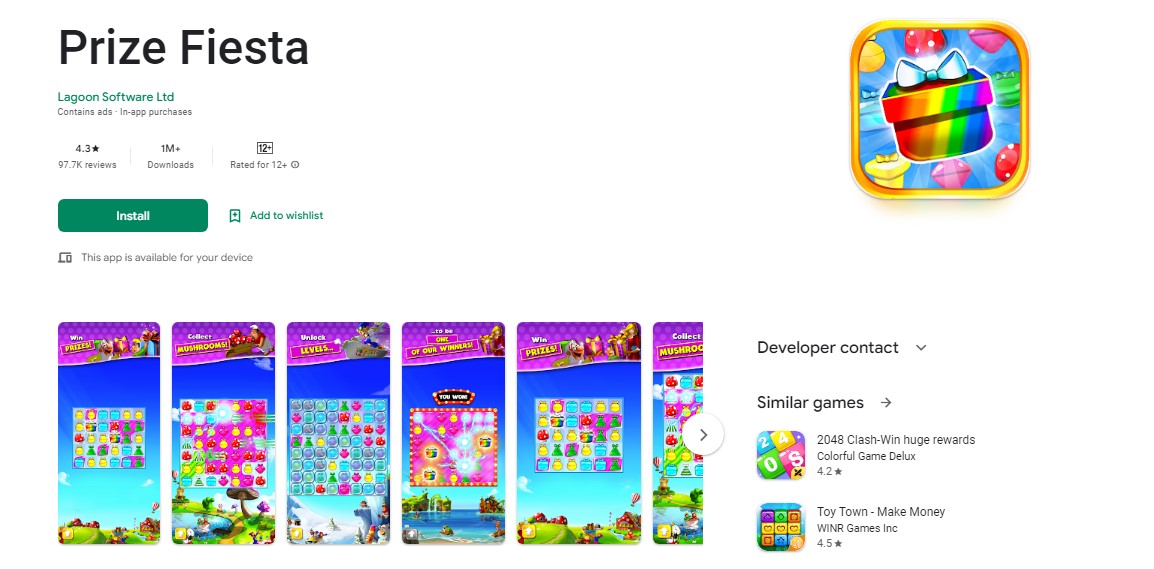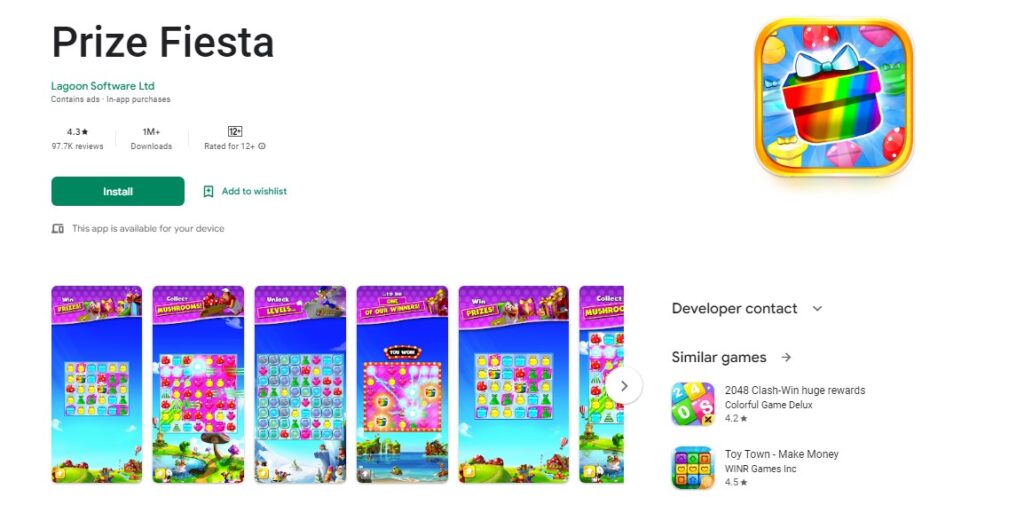 Full Game Ahead Ltd. is the developer behind Prize Fiesta, and they proudly state that since 2010, they have awarded 4226 prizes with a total value of £1,222,510. However, given the large player base of over 3 million registered users, it becomes evident that earning rewards can be quite challenging.
Prize Fiesta offers exciting opportunities to win prizes through sweepstakes and their membership reward program. Players can win Android smartphones, laptops, TVs, game consoles, drones, tablets, and more!
While Prize Fiesta is accessible in several countries, including the US, the UK, Ireland, Russia, Germany, Colombia, Australia, Argentina, and Brazil, individuals outside these supported countries can still enjoy playing the game. However, they will not be eligible to enter sweepstakes or exchange points for rewards.
How Does Prize Fiesta Work?
Once you have installed the Prize Fiesta app on your Android or iOS device, you can start playing immediately. However, to fully unlock the features and rewards, you must complete your profile and verify your email address. This step is necessary to access the Prize Cavern, where you can exchange your accumulated points for prizes.
The gameplay of Prize Fiesta revolves around aligning a minimum of three identical pieces to make progress in the game. You can advance through the levels and earn points by successfully matching these pieces.
While the Prize Fiesta app offers enticing rewards, it's understandable that some users may find its reward system complex or challenging to comprehend. It is recommended to explore the app's instructions, guides, or tutorials to understand better how the reward system functions and how you can maximize your chances of earning prizes. Additionally, contacting the game's support or community forums can help clarify any confusion or address specific questions regarding the reward system.
How do you make money by playing games from the Prize Fiesta app?
During gameplay in Prize Fiesta, players can earn virtual dollars and membership points, which can be exchanged for prizes. Accumulating enough Prize Points or meeting the requirements to unlock the Prize Cavern allows players to claim their desired prizes. It is important to note that the cash balance within the game does not hold any real monetary value.
Unlocking the Prize Cavern necessitates gathering 750 virtual dollars in your piggy bank or reaching a specific number of Prize Points required to order a gift. Unfortunately, the full details of these requirements are only revealed once you gain access to the Prize Cavern. This can lead to disappointment when players realize they need to collect additional Prize Points after reaching the $750 mark, as immediate virtual currency exchange is impossible.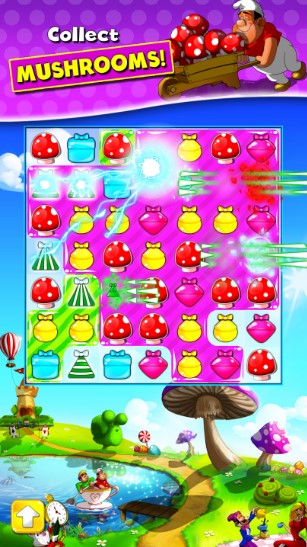 Mushrooms play a role in obtaining virtual dollars in the game. However, if a player fails to pass a level, they are given the option to purchase gems with real money or face an 8-hour restriction on mushroom use. This requirement needs to be adequately explained in the game tutorial, which can frustrate players.
Furthermore, players can accumulate sweepstakes tickets every 7 minutes spent playing the "match 3" section of Prize Fiesta. The more you play, the higher your chances of winning a gift through the sweepstakes. However, relying solely on luck through this method can be a limitation for players.
How Do You Receive Your Gift at Home From Prize Fiesta?
If you win a prize in Prize Fiesta, it seems there is a requirement to complete an online affidavit and provide proof of your identity and address within a specified time frame, typically within 4 days. Please fulfil these requirements within the given timeframe to avoid the loss of the prize.
Submitting an online affidavit and providing proof of identity and address is a common practice in prize promotions and sweepstakes to ensure that the prizes are awarded to legitimate winners and to prevent fraud or misuse. The details and instructions for completing these requirements may vary, so it is important to carefully follow the guidelines provided by Prize Fiesta when claiming your prize.
For accurate and up-to-date information regarding the prize redemption process, it is recommended to refer to the official documentation, terms and conditions, or contact the Prize Fiesta support team for assistance. They will be able to provide you with the necessary instructions and guidance on how to fulfil the requirements and claim your prize successfully.
How Do You Get Paid From Prize Fiesta?
Based on the information about Prize Fiesta, the game offers virtual rewards and prizes within the app. These rewards can be redeemed by exchanging virtual currency or points accumulated during gameplay for various gifts or prizes.
It's important to note that the rewards obtained in Prize Fiesta are virtual and specific to the game. They do not involve real money transactions or payments. The prizes you can get are within the context of the game and are not converted into real-world currency.
If you have specific questions about the payment or reward system within Prize Fiesta, consult the game's official documentation and support channels or refer to their terms and conditions for more accurate and up-to-date information.
FAQs
How can I win prizes in Prize Fiesta?

By playing the game, you can earn virtual dollars and membership points, which can be exchanged for prizes. You can claim real prizes once you accumulate enough Prize Points or unlock the Prize Cavern.

What are the requirements to unlock the Prize Cavern?

To unlock the Prize Cavern, you must accumulate 750 virtual dollars in your piggy bank or meet specific Prize Point requirements to order a gift.

What happens if I fail to meet the requirements for a prize in Prize Fiesta?

If you fail to meet the requirements, such as not
accumulating enough Prize Points or not providing the necessary documentation within the specified time, you may lose the opportunity to claim the prize.

Are the prizes in Prize Fiesta real?

Yes, Prize Fiesta offers real prizes that can be won through the game. However, it's important to note that the virtual currency and rewards earned within the game do not hold real-world monetary value.
See More:
Owl Pop Mania – Earn by Playing Games & Watching Videos in 2023
CashBox App Review – Earn By Watching Sponsored Videos With 2 Easy Tasks
VibeTik App Review – Earn 100% Easy Money By Watching Short Videos
Happy Tap-Get Cash – Earn by Installing & Playing Sponsored Games in 2023