Introduction
If you are good at typing, there are many sites you can join to earn money. One of them is called ProTypers. This site claims all you need to earn is the ability to type at least ten words per minute, and then you can earn good money online.
What is ProTypers?
ProTypers is like MegaTypers. They are almost similar. The only difference between these two sites is their name. ProTypers is a legit captcha-solving site that will pay you for solving captchas.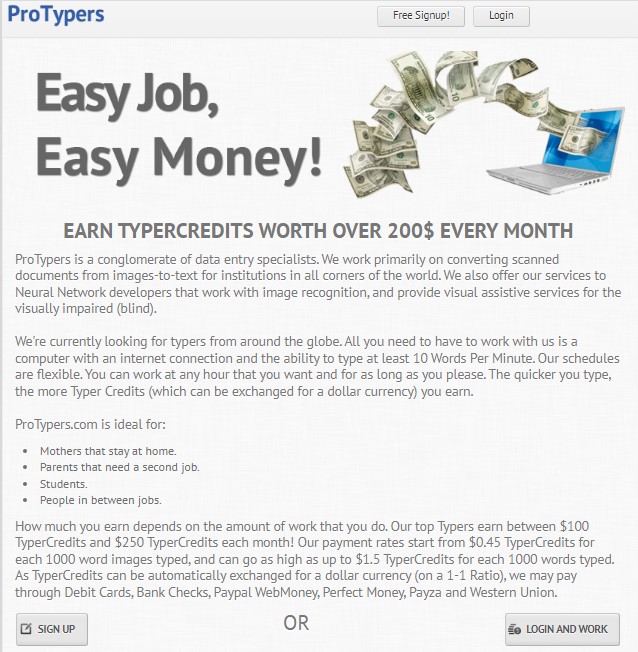 And to fully understand how the site works, we have to look closer at the earning opportunities it offers.
How to make money by Solving captchas from ProTypers?
The foremost earning opportunity this site offers is solving captchas. You can do this in two ways – either solve captchas using your web browser or download their software called Typer Solver and solve captchas using that program. When you log in to the site, you can start working on captchas by clicking the "Start Working" link at the member dashboard.
You will then notice a timer running when the captcha is displayed. This is important. You will only have 15 seconds to solve the captcha. If the timer runs out, you will be booted. And if you get kicked out ten times within 24 hours, your account will be banned, and you will lose all your earnings.
So, staying focused is essential when working on captchas on ProTypers.com.
When solving captchas, you must type the text in the images and press Enter. Each image must be tagged with the proper case for each letter.
Some of the images are only partially readable. When this happens, you must type the readable parts of the image, even if this represents going out the unreadable parts. You can click the "DON'T KNOW" button if an image is unreadable.
You can also press the Esc key to skip that unreadable image quickly.
Accuracy is the key to solving captchas. Their timer runs faster than other captcha-solving sites, making many images hard to read. It would be best if you were focused when you are working.
So, if you want to maximize your earnings, this software must be used.
You will also be provided the key to higher-paying captchas if you use the program. Solving the captcha is precisely the same as the web version. The only real difference in operating their program is the advantages mentioned above.
Make money by TyperDraw from ProTypers.
Technically expressing, this isn't an earning option because there's no guarantee you will make from it. But it is the way you can make money from ProTypers.
Their TyperDraw is just a lottery draw for members. To join the lottery, you must buy one or more TyperDraw tokens for a light price using your existing balance. The earnings of the tickets will become the pool money of the raffle. A lucky winner will be selected 48 hours after the draw date of the raffle.

If it has traded a draw occasion out before its Draw Date, the site will automatically transfer the prize to the champion by the end of the day.
So, this option can be a surprise if you are not alert. I suggest you spend only some of your earnings to buy tickets because there's no guarantee you will win.
Make money by Referral program from ProTypers.
Last, you can make extra rewards by participating in their affiliate program.
The idea is easy. You create affiliate codes and present them to people you want to invite. When they sign up as a member, they must provide their affiliate code so they will be notified as someone you've asked to the site.
The code is the site's way of following the people you invite. You only require one affiliate code to start; any code can take unlimited invited people. Creating additional affiliate codes to decide what promotion activity performs best for you would be most beneficial.
Then, you can check your affiliate dashboard to see how many people signed up using which code. That way, you can concentrate more on using the more practical way to invite people.
As for the reward, you will earn a 10% commission on your referrals' earnings. But you will only receive commissions once 5 of your referrals get paid.
How do you get paid from ProTypers?
As with most captcha-solving sites, you don't get paid per captcha you solve. Instead, you will be paid once you solve a certain number of captchas. In ProTypers' claim, they will pay you for every 1,000 captchas you solve.
You will visit their payment rate instantly when you start serving on captchas.
ProTypers presents numerous payment alternatives, but you can only choose one which will be permanent. The process of changing payment methods takes a lot of work. So, when you sign up as a member, make sure your payment method is final.
The amount of Typer Credits you need to earn before you can withdraw your earnings will depend on the payment method you choose. As shown in the photo above, if you choose to withdraw your earnings via PayPal, you must earn a minimum of $3 Typer Credits before you can withdraw it.
Aside from that, you also have to earn at least 50 TyperPoints.
They made automatically payments when you reach the threshold for your chosen payment method. For PayPal withdrawals, it made a payment every Monday. It will be credited to your PayPal account sometime within the week. But if you cannot meet the requirement by then, you must wait another week to get paid.
FAQs
Can you use it on mobile?

ProTypers doesn't have a mobile app you can download, but you can access their site from your mobile device using a web browser.

Is ProTypers a legit captcha-solving site?

ProTypers is a legit captcha-solving site that will pay you for simply solving captchas.

What conversion rate is 1 TyperPoint?

The conversion rate is 1 TyperPoint = 1¢.
See More:
FamilyClix – 7 Easy Ways You Can Make Money
PrizesDrop – Earn by Watching Videos, Gaming Offers & 2 More Easy Ways
Optimalbux – 8 Easy Ways You Can Earn Money Online