Introduction
PublishOx is an online platform where individuals can earn cryptocurrency by reading and writing articles. Readers are rewarded with cryptocurrency tips for their reading time, and writers can earn tips from appreciative readers. It provides a unique ecosystem that combines crypto, blogging, and reader engagement, offering a mutually beneficial experience for authors and readers alike. PublishOx offers an ambassador program for users to earn more cryptocurrency by referring others to the platform. It's a platform that brings crypto enthusiasts, bloggers, and readers together in an engaging and rewarding environment.
What is PublishOx?
PublishOx is an online platform that allows individuals to earn cryptocurrency through blogging. It operates similarly to Medium.com, but with a unique twist that benefits both authors and readers.
On Publish Ox, readers are given tokens that they can use to tip the writers whose content they enjoy. The reader determines the tip amount, which can vary depending on their appreciation for the article. Readers also have the option to keep some tokens for themselves as a reward for engaging with the content.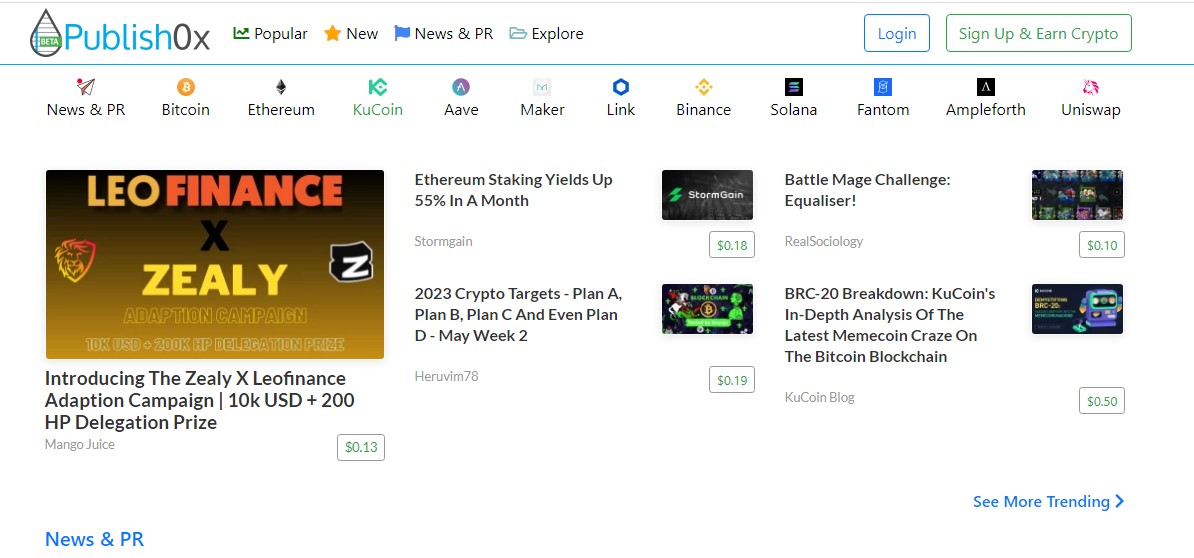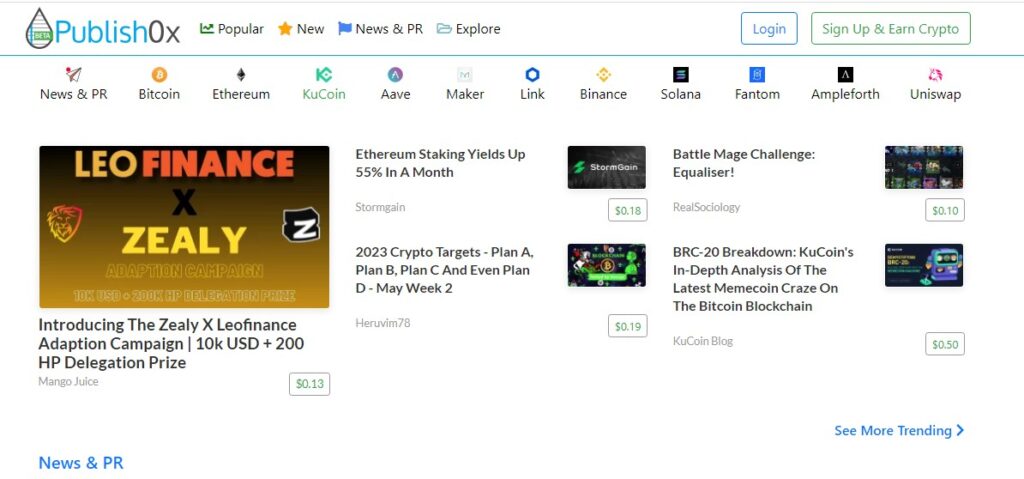 The tipping system on Publish Ox is facilitated through a rewards pool, which means that the tips readers provide are free for both the reader and the author. This model incentivizes quality content creation and encourages readers to support writers whose work they find valuable actively.
How to Join At PublishOx?
To get started with PublishOx, you need to create an account. You can register using your Facebook or Twitter account, or sign up with your email address.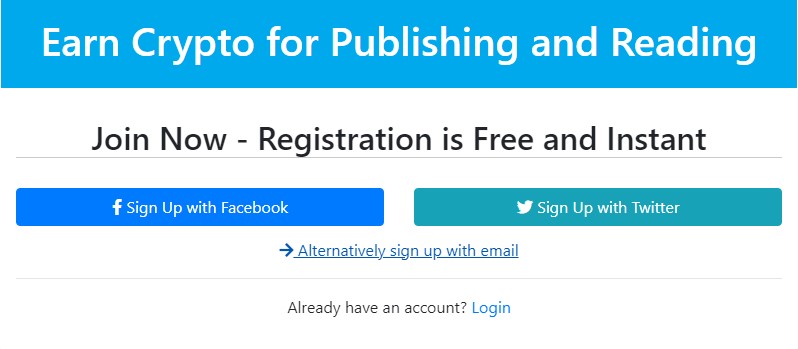 Once you choose your preferred registration method, you will be redirected to a sign-up page. You'll need to enter your desired username and email address and select an avatar for your profile. You may also have the option to describe yourself or your interests briefly.
After submitting your information, you should receive a confirmation email to the address you provided during registration. It's important to click on the link in the confirmation email to verify your email address and activate your PublishOx account.
Once you've completed the email verification process, you will be redirected to the PublishOx dashboard. In the dashboard, you can view various features and information, including how much cryptocurrency you have earned through your blogging activities on the platform. The dashboard lets you track your earnings and manage your account settings.
How Does PublishOx Work?
Becoming an author on PublishOx involves a slightly more involved process than being a reader.
To start, you must apply for authorship by visiting your dashboard and clicking the "Become an Author" button. This will lead you to a basic form you must fill out with relevant details.
As part of the application, you must submit a sample post for the PublishOx team to review. The article must focus on a crypto-related topic since Publish Ox primarily caters to crypto content.
Once you have completed the form and submitted your sample post, the site will review your application. Typically, the approval process takes around 24 hours. If your application is accepted, you will receive a notification from PublishOx.
Once you become an approved author, you can start writing and publishing your articles on the site. Readers can tip authors for their content, and the reader themselves determines the tip amount.
When readers tip, authors can receive either a percentage of the tip or the full tip, depending on the reader's preference. It's common for readers to keep a portion of the tip for their time spent engaging with the content.
By providing quality articles and engaging with the PublishOx community, authors can earn cryptocurrency through tips from appreciative readers.
How To Make Money By Reading And Writing The Articles From PublishOx?
PublishOx offers opportunities for both writers and readers to earn cryptocurrency. As a reader, when you spend time reading articles on the site, you are rewarded with cryptocurrency as a tip.


When tipping, you can provide a complete tip to the author or split the information, keeping a portion for yourself. The tip amount can be determined using a sliding scale provided by PublishOx.
It's important to note that there is a limit to how much you can earn for reading articles. Typically, you can earn cryptocurrency for reading up to 2 articles per hour. If you split the tip with the author, both parties typically earn around $0.01 per tip, depending on the prevailing conversion rate.
To prevent excessive tipping, a timer is set after each tip. This means that you cannot tip another author for 24 minutes or until the timer resets.
Authors on PublishOx primarily earn through tips from readers. Their earnings are based on the generosity of readers who appreciate their content and choose to tip them.
In addition to earning as a reader or author, PublishOx also offers an ambassador program. As an ambassador, you can promote Publish Ox by sharing your referral link with friends or on social media platforms. When someone joins PublishOx through your referral link, you earn a lifetime referral bonus of 5% of every tip they generate. This provides an additional avenue for earning cryptocurrency on the platform.
How Does PublishOx Pay?
To receive payments on PublishOx, you will need multiple accounts:
You should have a PublishOx account, which serves as your primary account on the platform.
You will require a hot wallet, such as MetaMask or MyCrypto, where you can receive your payment in cryptocurrency.
You'll need an account on a cryptocurrency exchange that supports fiat withdrawals, like Bitpanda or Coinbase, to convert your cryptocurrency into traditional currency and withdraw it to your bank account.
To set up the payment process:
Ensure that you have provided the correct Ethereum address in your PublishOx account. Any inaccuracies in the address may result in the funds being sent to the wrong place, with no way to retrieve them.
Access your PublishOx dashboard and locate the payment section. Click on the payment button to initiate the payment process.
Select your preferred hot wallet, MetaMask or MyCrypto, and follow the instructions to complete the withdrawal. This will transfer your earnings from PublishOx to your hot wallet.
Once the funds are in your hot wallet, you can use the supported fiat gateway on your chosen cryptocurrency exchange (e.g., Bitpanda or Coinbase) to convert the cryptocurrency into traditional currency.
Follow the exchange's procedures to withdraw the funds to your bank account.
Please note that payment processing times may vary, and you might need to wait until Monday for your payment to be processed by PublishOx. Verifying all the details and addresses is crucial to prevent any mistakes during the withdrawal process.
FAQs
Is Publish0x available worldwide?

Yes, Publish0x is accessible to users worldwide. As long as you have an internet connection and a compatible device, you can participate in reading, writing, and earning cryptocurrency on the platform.

How can I withdraw the cryptocurrency I earned on Publish0x?

Publish0x allows users to withdraw their earned cryptocurrency by connecting their Ethereum wallet to the platform. Once connected, users can initiate withdrawals based on the platform's withdrawal policies and minimum requirements.

What types of cryptocurrency can be earned on Publish0x?

Publish0x supports several cryptocurrencies, including Ethereum (ETH), Basic Attention Token (BAT), and DAI. The platform offers flexibility regarding the cryptocurrency options available for earning and tipping.

How does Publish0x work?

On Publish0x, users can discover and read various articles across different topics. They also have the option to tip the authors with cryptocurrency. Content creators can publish their work on the platform and earn tips from readers based on their value.
See More:
Slice Browser Extension – Make Money by Browsing The Web 100% Easy
Surfe Be Earning App – Earn by Watching Videos With Easy 2 More
TallyUP App Review – Earn by Playing Games With 4 Easy Tasks