Introduction
Welcome to the world of Smiley 360, where sharing your opinions and experiences can lead to exciting rewards. Smiley 360 is not your typical online platform; it's a place to test and review products, earn points, and unlock missions that offer valuable freebies. With no minimum payout and a unique payment method in the form of complimentary products, Smiley 360 offers a fresh approach to online rewards. Let's explore how this innovative platform can turn your feedback into fantastic perks.
What is Smiley 360?
Smiley 360 is an online marketing research platform that incentivizes individuals to review products in their early stages or before their official launch. These products are evaluated to identify and address any issues or errors, gather pre-launch insights, and assess their potential impact on the market.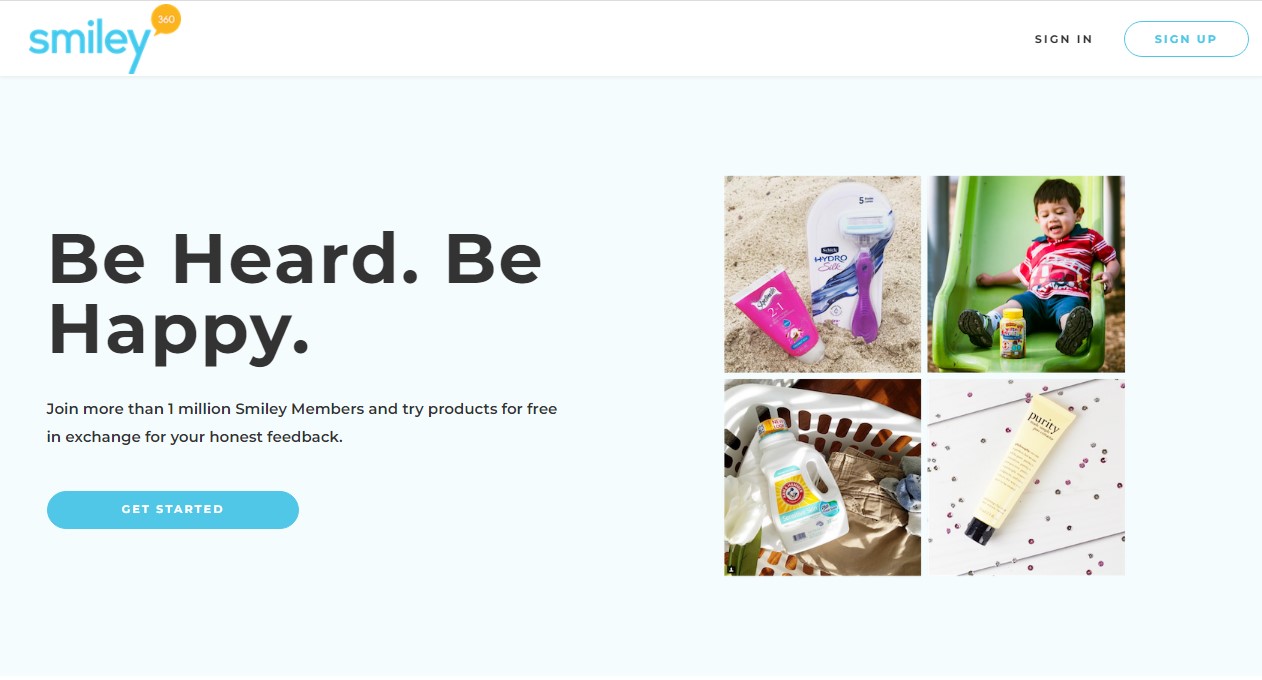 What sets Smiley 360 apart from other review platforms is its ability to send multiple products to reviewers simultaneously, with the expectation that they will complete their reviews within a specific timeframe. The core principle is that once reviewers receive these products, they must use them personally and then provide honest feedback and opinions on the platform.
In essence, Smiley 360 facilitates a unique approach to product evaluation, where reviewers engage with and assess multiple items, sharing their valuable insights to help refine and shape these products before they hit the market.
Getting Started Smiley 360.
Smiley 360 stands out as an online marketing research platform that rewards individuals who review products in their early stages, often before they hit the market. The primary goal of these reviews is to identify and rectify any potential bugs or errors, and to gather pre-launch feedback that helps gauge the product's market impact.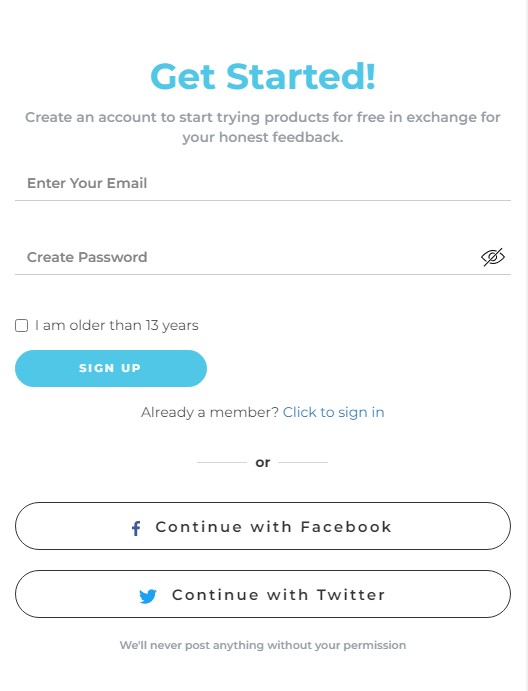 Its unique approach to product testing sets Smiley 360 apart from other review platforms. Instead of sending just one product at a time, the site sends multiple products to reviewers simultaneously. Reviewers are then tasked with testing and reviewing these items within a specified timeframe.
The fundamental principle is that once reviewers receive these products, they must use them personally and provide their genuine feedback and opinions on the platform. This approach helps companies gain valuable insights into their products' performance and usability before it officially launched them to the public.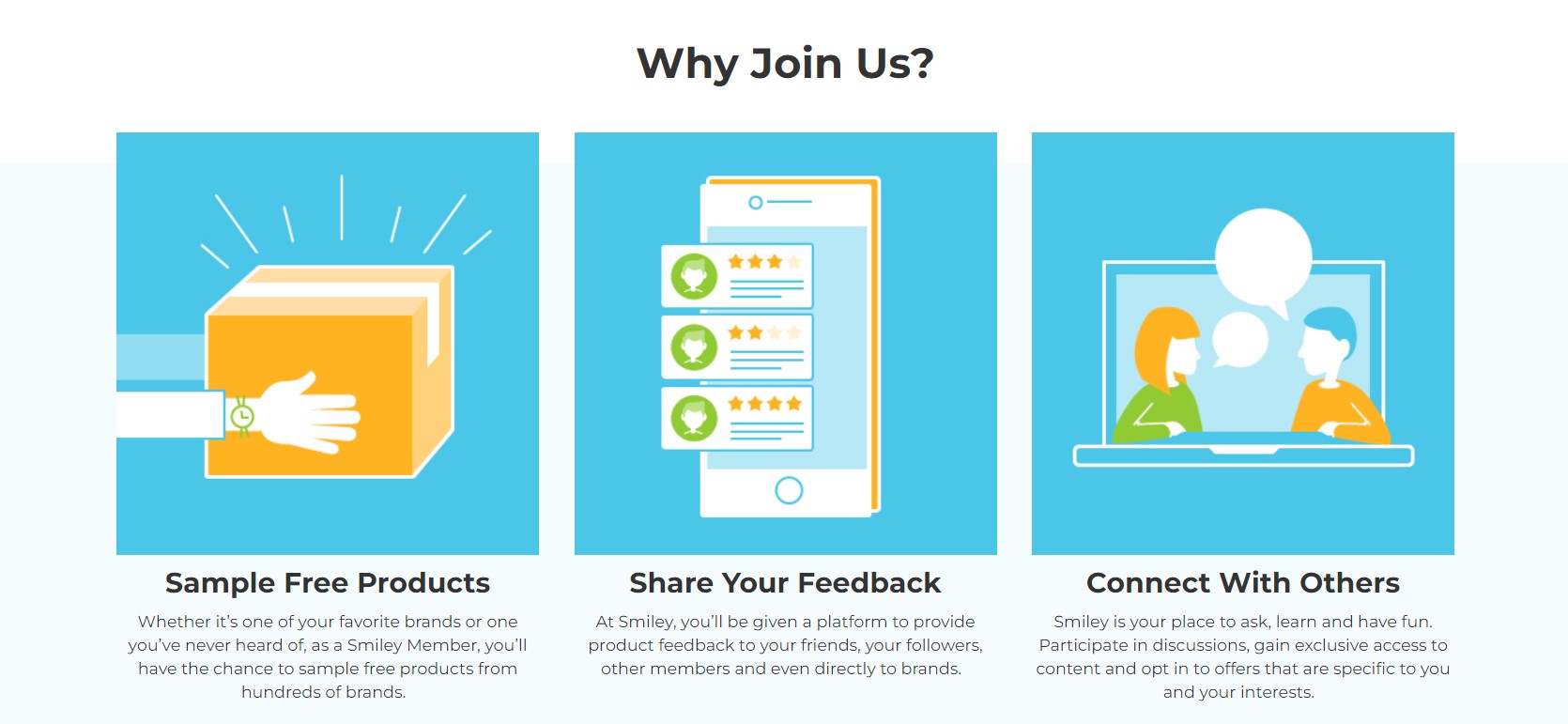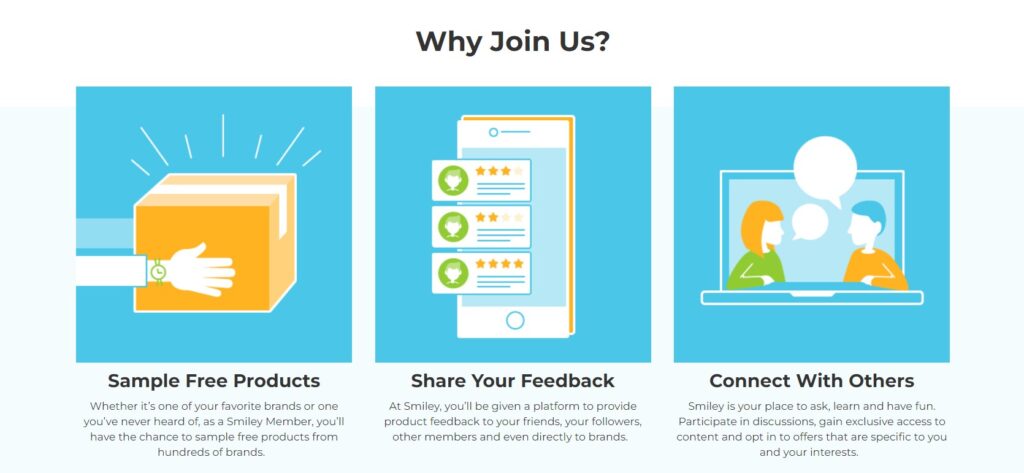 How To Make Money from Smiley360?
There are some tasks available on the site to make money from it. Now, let's discuss the tasks available on Smiley360.
1. Make Money by Product Tests and Reviews From Smiley 360.
Missions serve as the primary tasks on Smiley 360, offering users a pathway to earn valuable rewards from the platform. Distinguishing itself from standard surveys, Smiley 360's missions involve receiving complimentary products for evaluation over a designated period. You can keep these products without any cost in exchange for your genuine feedback and opinions.
Instead of monetary compensation, the rewards you earn from these missions come as free products. However, it's important to note that you will only once you gain access to these missions. To become eligible for missions, you must initially complete various survey tasks on the site.
For every survey task you successfully finish, you accumulate points. As your point balance grows, you become eligible to participate in missions. Once you accept a mission, you'll receive specific instructions on how to carry out the task and provide feedback. These missions can involve taking photos, recording videos, or sharing your opinions on social media platforms like Facebook and Twitter.
Maintaining a reputation for delivering honest and professional reviews during missions can enhance your opportunities. As your reputation improves, you'll receive more mission invitations, offering you additional chances to earn rewards.
It's crucial to remember that you must use the mission's designated feedback tool to provide your insights. These tools may also automate the sharing your information on social media for promotional purposes.
Furthermore, missions operate on a first-come, first-served basis. Swiftly responding to mission invitations is essential, as procrastination may result in missed opportunities to participate in these rewarding tasks.
2. Make Money by Completing Surveys From Smiley 360.
In contrast to traditional surveys that often offer monetary rewards for sharing feedback or opinions, Smiley360 takes a different approach. While you won't receive direct payment for participating in surveys on Smiley360, they play a crucial role in increasing your eligibility for missions, which are the paid tasks on the platform.
Surveys on Smiley360 provide you with the opportunity to earn points. As you accumulate sufficient points, you unlock the ability to access and participate in missions. These surveys are typically shorter and simpler to complete, making accumulating the points needed to qualify for missions easier.
Once you've reached the necessary point threshold and become eligible for missions, you can find these missions conveniently listed on your dashboard, ready to participate and earn rewards. While the surveys may not offer immediate monetary compensation, they serve as a stepping stone to more lucrative missions where you can earn valuable rewards for your feedback and participation.
3. Make money by Referring Friends From Smiley 360.
Users can increase their earnings by referring friends to join Smiley360. When a referred friend signs up and participates in activities, the referrer can receive rewards or bonuses.
Smiley 360 Payment Method.
Smiley 360 has no minimum payout requirement, and the payment method is exclusively in the form of free products. Once you've completed missions and earned rewards, these rewards are typically provided as complimentary products rather than cash or gift cards.
To receive your rewards, the platform will send these free products to the mailing address you provided during registration. This unique approach allows users to enjoy various products at no cost in exchange for valuable feedback and participation in missions, making it a distinctive feature of the Smiley 360 platform.
See More:
5 Easy Ways To Make Money From MOBROG Platform
Surveys2Cash – Make Easy Money By Sharing Your Opinions
RewardBee Claims To Be A High-Paying & Very Reliable Money Making Site