Introduction
MetroOpinion is an engaging and legitimate online platform that allows users to earn rewards by sharing their valuable opinions through surveys. Through a user-friendly interface, MetroOpinion offers a gateway to participate in surveys on various topics, providing valuable feedback to companies and organizations. Whether you're interested in sharing your insights on products, services, or market trends, MetroOpinion provides a convenient and rewarding way to make your voice heard while earning points that can be converted into currency or other valuable rewards. Join the MetroOpinion community today and turn your opinions into tangible benefits.
What is MetroOpinion?
MetroOpinion is a reputable online platform that offers opportunities to earn money by participating in surveys. Upon completing surveys on this website, users can earn varying amounts, typically from 1 euro to 5 euros or more.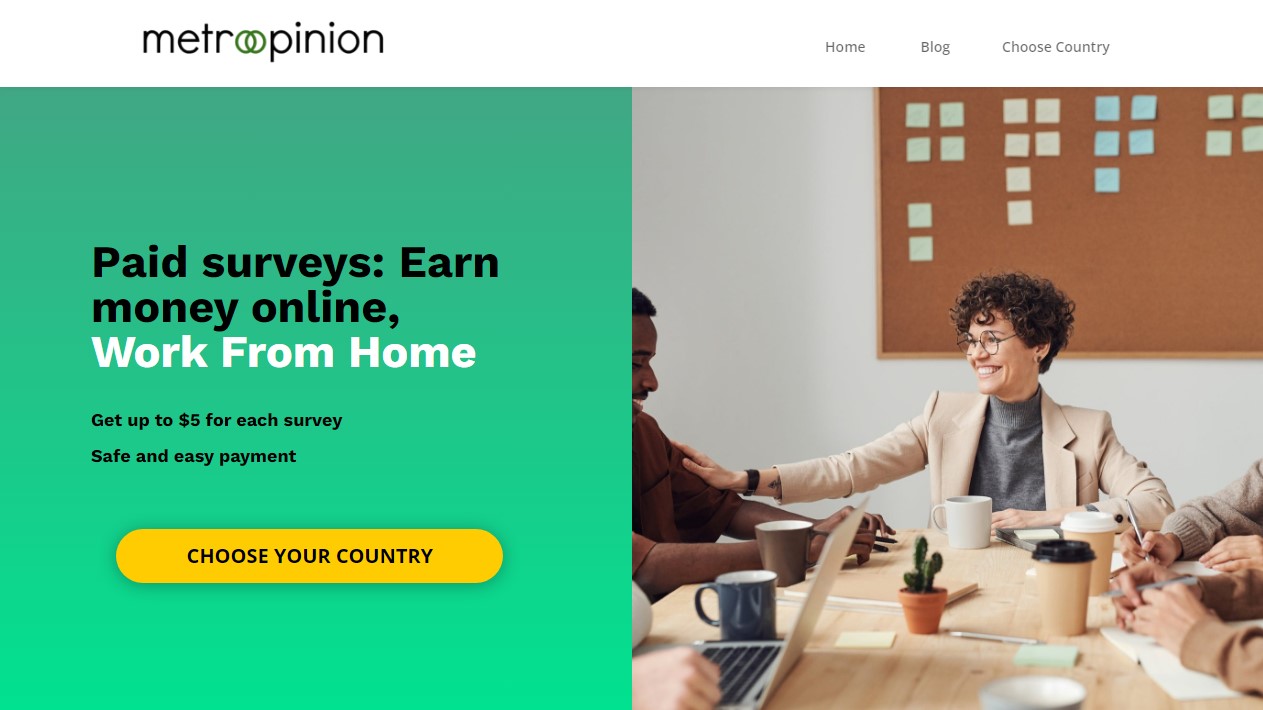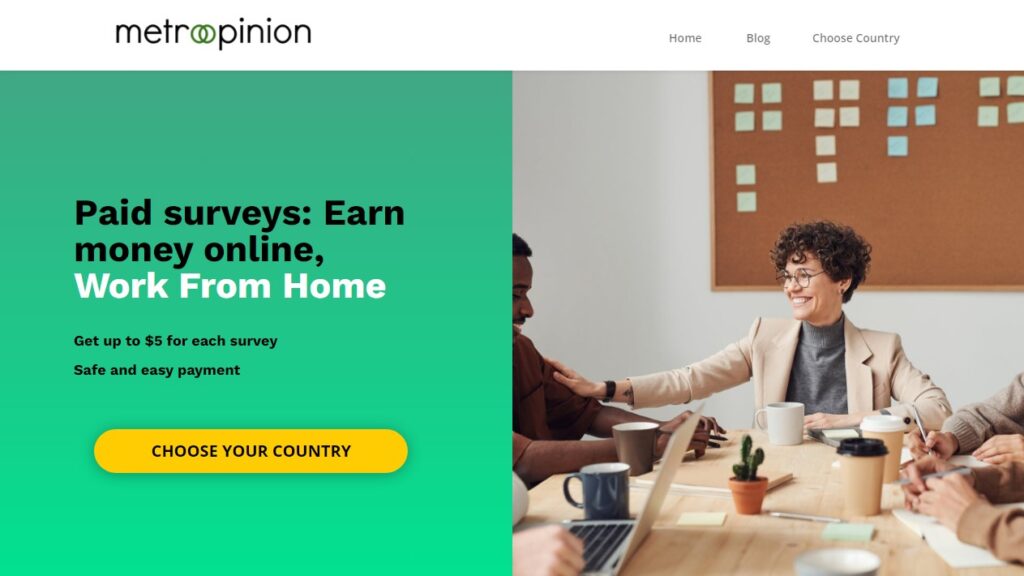 MetroOpinion is a trustworthy and secure survey site ensuring the safety of its users' personal information. You can confidently expect to receive your earnings promptly once you have reached the minimum cashout threshold. Payment options include PayPal, vouchers, and the option to make charitable donations.
How to Join MetroOpinion?
Getting started with MetroOpinion is quick and hassle-free, with just three simple steps:


Sign-Up for Free: To begin, visit MetroOpinion.com and select your country from the options provided.
Complete the Registration: Fill out the form with essential information, including your gender, password, date of birth, zip code, and email address.
Confirm Your Email: After submitting the registration form, check your email inbox for a message from Metro Opinion. Inside, you'll find a confirmation link. Click on this link to verify your email address.
Once you've completed these steps and confirmed your email, your brand-new Metro Opinion account is ready. You can log in and start participating in surveys to earn rewards.
How Does MetroOpinion Work?
After successfully registering, the next step involves filling out your profile with important information such as age, gender, date of birth, location, and more. This data helps MetroOpinion tailor a selection of surveys that align with your interests, background, and demographics.
However, the process isn't always as straightforward as it might seem. Here's how it typically works:
Profile Setup: Once you've created your account, you must complete your profile by providing details about yourself. This information helps MetroOpinion match you with relevant and potentially higher-paying surveys.
Survey Invitations: MetroOpinion will send you invitations to participate in surveys based on the information in your profile. These invitations come via email and include crucial details such as the survey topic, estimated completion time, and the amount you can earn.
Survey Participation: When you receive an invitation, you'll have the opportunity to take the survey. These surveys often cover various topics, including products and services. Your honest insights and opinions are crucial in providing valuable feedback.
Survey Availability: It's important to note that you may not receive survey invitations daily. Your profile and previous survey responses influence the frequency of surveys you receive. When your profile aligns with the requirements of a particular survey, you'll be more likely to receive invitations for it.
Consider Multiple Survey Sites: To maximize your earning potential, consider joining multiple survey sites, not just MetroOpinion. This approach ensures you have a steady stream of surveys to participate in, even if one site runs out of surveys at a time.
Act Quickly: Many survey opportunities operate on a "first come, first served" basis. To secure your spot, responding promptly to survey invitations is important. If you delay, the survey quota has already been filled.
It's also worth exploring other survey sites like Live Minds to increase your earnings further. Remember that each site may have unique surveys and opportunities, so diversifying your survey participation can strategically boost your income.
How much MetroOpinion Pays Per Survey?
MetroOpinion compensates participants with points for completing surveys, and the earnings per survey typically range from $1 to $5 worth of points. However, it's important to note that the exact payout varies depending on the specific survey. Generally, longer and more complex surveys offer higher rewards than shorter and simpler ones.
One notable feature of Metro Opinion is that they still provide some compensation for participation even if your survey is rejected. However, it's essential to exercise caution because your earnings may be reduced under certain circumstances. This reduction in earnings can occur if you answer questions without thoroughly reading the survey description, questions, or study instructions, or if your responses need more consistency.
For those interested in earning money through mobile gaming, you can explore the review of Rewarded Play to discover opportunities in that area.
In summary, Metro Opinion offers a points-based compensation system for completing surveys, and the amount you earn depends on the survey's complexity and length. They also compensate for participation, but providing thoughtful and consistent responses is essential to maximize your earnings.
How Does MetroOpinion Pay?
As previously mentioned, MetroOpinion compensates participants with points for completing paid surveys, and the value of these points can be redeemed for euros, dollars, or your country's currency. The point values may vary depending on the country.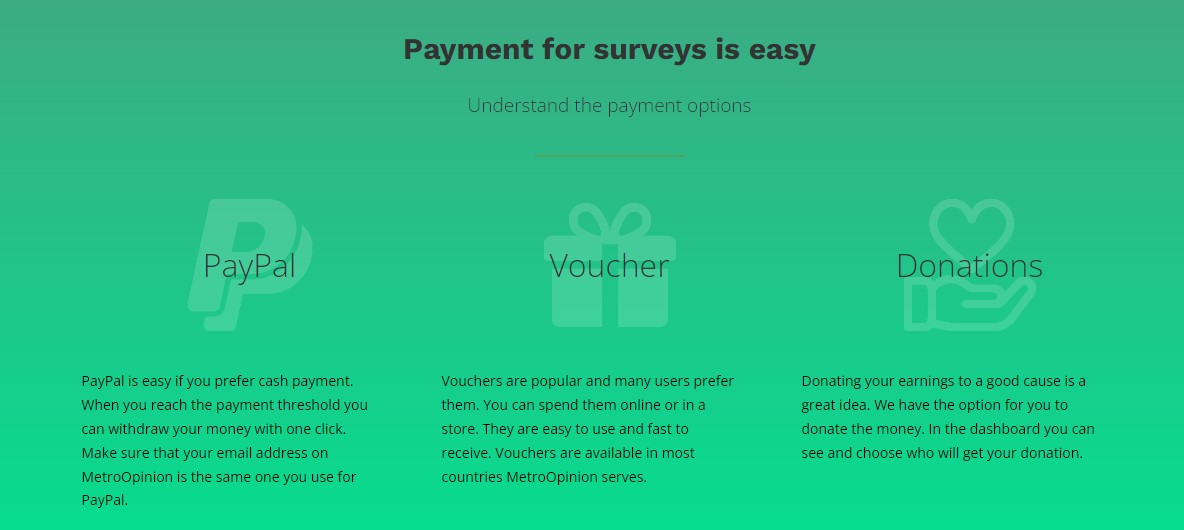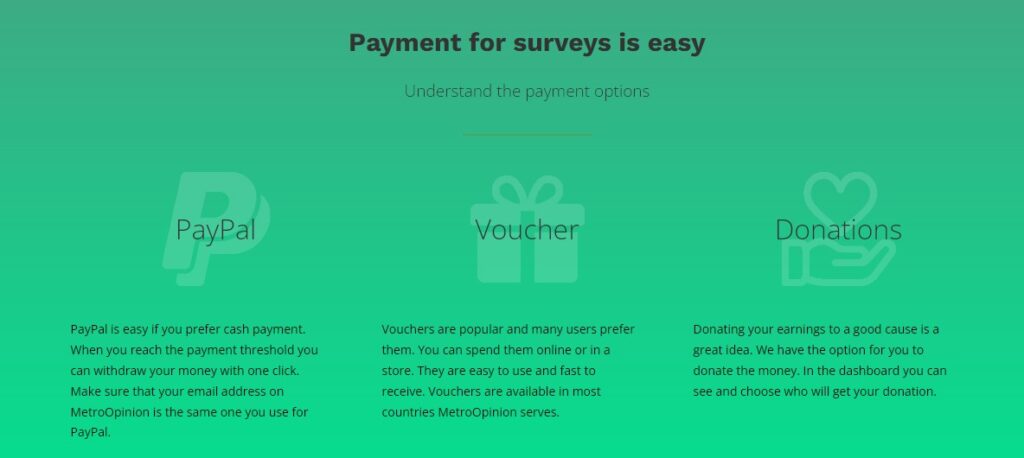 To redeem your earnings, Visit the Metro Opinion website and log in to your account.
Navigate to the member area of your account.
Look for the "My Earned Points" section. Here, you can track your accumulated points.
Be aware that the payout threshold can vary depending on your country. Ensure that you have reached or exceeded the threshold.
If you've met the payout threshold, click the "Update" or "Request Payment" button. This action initiates the transfer of your earnings to your PayPal account.
Metro Opinion may charge a 2% fee for transferring your earnings to your PayPal account.
Log in to your PayPal account to accept the payment. Do this within 30 days, or the funds may be returned to your Metro Opinion account.
Metro Opinion offers other redemption options apart from PayPal, such as vouchers or the option to donate your earnings to a charitable cause. This flexibility allows you to choose the method that suits you best for cashing out your survey earnings.
See More:
Earn By Playing Maya Gems Match-3 Puzzle Joyful Game
Pop Bubble Winner – Earn by Playing 100% Joyful Mobile Game
HappyTube – Earn By Watching Videos & Playing 100% Easy Games