Introduction
If you have been looking for an easy way to make extra cash online, you may have encountered SurveysEmail.But is it a legit and honest way to make money, or is it a scam to stay away from? Yes, SurveysEmail gives real ways to make money and pays out legitimately.
How to make money from SurveysEmail?
So here are what kind of earning methods SurveysEmail offers.
1. Make money by Paid Emails from SurveysEmail.
As the site's name suggests, you can earn by reading emails on SurveysEmail. Once you are a member, you will start receiving emails. You can get paid up to $0.05 per Email by clicking the links in the Email.
You can, however, not receive unlimited emails. The amount you can receive depends on GPE (guaranteed paid Email), a number from 0 to 100. When you first join, it will automatically be 100.
This means you can maximum gain 100 paid emails. This will go down every time you get an email. When it arrives 0, you will no longer gain paid emails.
However, you can improve the GPE and get more opportunities by participating actively on the platform.
It is not a way to earn massive amounts of money, but it takes little time.
2. Make money by Paid Surveys from SurveysEmail.
SurveysEmail offers paid surveys through two survey providers. Once you complete it, you will get paid into your Surveys Email account.

The two providers you can see in the image above are good ways to take surveys, and you can find many opportunities through them.
You will only get $0.50 per survey. For these particular survey providers, this is on the lower end.
So SurveysEmail has some decent survey opportunities, but they do not pay as well as many other sites for the same surveys.
3. Make money with Paid offers from SurveysEmail.
SurveysEmail is a get-paid-to (GPT) site that offers several ways to earn. For example, you can make it by taking paid offers, an option on most GPT sites.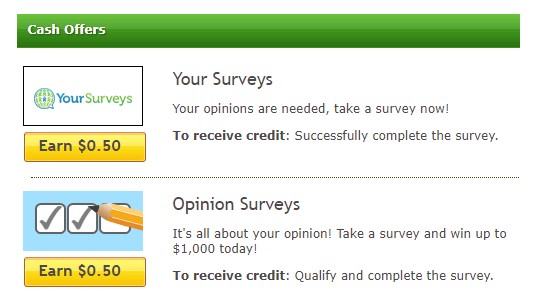 However, the offer section on SurveysEmail differs significantly from other GPT sites. Usually, you will find many offers you can take, sign up for, etc., to earn extra rewards. On SurveysEmail, you get the same as you get in the survey section.
You get two links to the same two survey providers. This time they are just offered with a small banner.
So you need help to find offers in the offer section of SurveysEmail. For some cause, they have just selected to create a section with offers and offer the same opportunities as they have in the survey area.
If you look closely at the site, you can find a few offer walls like one other GPT sites. Not a huge selection compared to others, but they are at least there.
You find them by going to the "points" tab in the main menu. In the image above, you will see a small box with a few offer walls.
This option is fairly easy to manage, and strange they have hidden it like this. But anyway – now you know it is there. Again, it does not offer the same amount as many similar sites.
4. Make money with Cashback offers from SurveysEmail.
You can also encounter a section where you can get cash back if you shop online through the links there. This is a great way to save money if you shop online.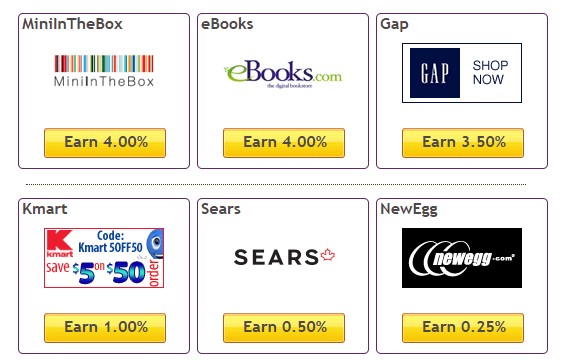 The number of shops you can get cash back through could be higher than similar sites. So you must be lucky to find a shop you would like to use there. Cashback is a great option if you shop online. But many other sites offer a wider variety of shops and more significant cashback rewards most times. If you like cash back, check out Swagbucks instead, as it has a fantastic shopping section with some great opportunities.
5. Make money with Coupons from SurveysEmail.
SurveysEmail has a unit with coupons, which shows you can find coupons to save money. You can find nothing special in this section. All you get is a link. Click the link that will then bring you to coupons.com. So no actual reason to go to the coupon section on SurveysEmail.
6. Make money by Jackpot contest from SurveysEmail.
By participating on SurveysEmail, you will also automatically participate in their monthly jackpot game.
You earn an entry into the lottery every time you finish a survey, offer, or use the shopping section. When logged in, you can still see the jackpot's current size.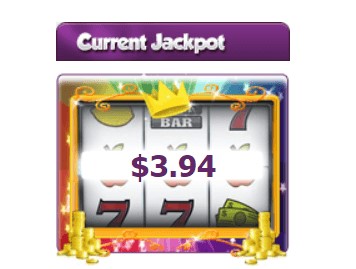 The jackpot will rise by $0.01 every time a member has finished and been rewarded for a survey, offer, etc.
But if you like using surveys email anyway, then it is nice with a chance to win a bit extra.
How do you get paid from SurveysEmail?
It is also essential to determine if a GPT site is for you and what payout methods it offers. SurveysEmail offers PayPal as a payout method. Earn $15 before you can get paid.
This is low, but with the few options SurveysEmail presents, it can still take patience to reach some of the best sites that pay through PayPal. Mainly because you earn on the site in different ways, and you cannot get all your earnings out through PayPal.
When you accept the offers from the offer walls, you will not make money, but points. We cannot use these points for PayPal cash. Rather, you can use these for Amazon gift cards or to boost your GPE. The limit to get an Amazon gift card is also $15. So this way, you are spreading your revenues out, which means it will take longer to get the payout threshold.
FAQs
Is SurveysEmail legit?

SurveysEmail is legit as it offers real ways to earn and payout methods.

Does Surveys Email pay internationally?

Absolutely! the program is available internationally. However, payments will only be made in US currency.

Who can join SurveysEmail?

A great thing about SurveysEmail is that you can join it from all countries, no matter where you live.

Can you use it on mobile?

Using a GPT and survey site on mobile is a great way to earn when you have a few spare minutes during the day. Unfortunately, SurveysEmail.com could perform better in this area.
See More:
Roaster Earn – Earn By playing games & watching videos with 2 Easy Tasks
Abaqoo Browser Review – Make Money By Using Web Browser 100% Easy
Game Round – Earn by Testing Top Unreleased Video Games {$100/hr}
Clawee Game Review – Earn By Playing Game Is 100% Easy & Legit