Introduction
Welcome to GrindBux, a Get-Paid-To (GPT) platform where your time and effort can translate into rewards. In this virtual space, users from around the globe have the opportunity to earn by completing a variety of online tasks and offers. Whether you want to make cryptocurrencies, prepaid Visa cards, or gift cards for popular platforms, GrindBux offers multiple paths to accumulate rewards. Join us as we explore the ins and outs of this platform, from its earning opportunities to its user-friendly registration process. Discover how GrindBux can enhance your online earning journey.
What is GrindBux?
GrindBux is a legitimate Get-Paid-To (GPT) platform that compensates users for completing brief tasks. However, the mere legitimacy of the site doesn't necessarily translate to it being a worthwhile endeavor to sign up for.
To determine whether joining this platform is a good decision, it's crucial to understand its inner workings thoroughly. This involves a detailed examination of the various opportunities it provides for earning rewards. By doing so, you can appreciate the time and effort investment required to generate income from it.
1. Make Money from Offerwalls.
The primary method for earning on GrindBux revolves around engaging with offerwalls. If you're unfamiliar with offerwalls, they are advertising platforms commonly featured on GPT websites. Their primary objective is to promote specific websites and apps through paid offers.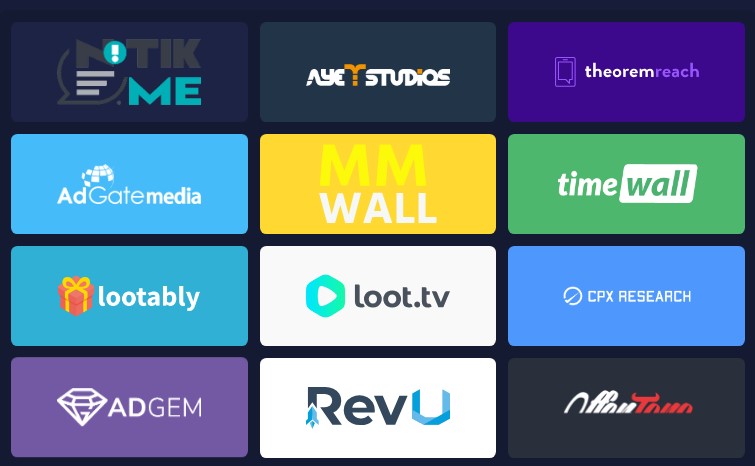 Upon logging into GrindBux, you can access all available offerwalls by clicking the "Earn" link. Once there, you'll encounter a layout similar to the abovementioned image.
GrindBux offers a substantial selection of offerwalls. During my initial platform assessment, some offerwalls were accessible only after achieving a specific membership level. However, they have since revised this policy to make all offerwalls readily available, which is an improvement.
When you click on an offer, you'll discover a variety of paid tasks to choose from. Most jobs involve answering surveys and quizzes, playing mobile games, installing mobile apps, or registering on websites. If you find an offer that interests you, click it to access the complete details.
It's vital to meticulously follow all provided instructions because failing to do so, even with a single omission, will result in an inability to complete the offer. Subsequently, you won't receive the promised reward.
Upon completing an offer, you'll earn a specific number of diamonds, which serves as the currency GrindBux utilizes.
2. Make Money from Leaderboard Contests.
GrindBux also offers the opportunity to earn additional rewards through their leaderboard contests. While this may not be considered a traditional method of earning, it provides a motivating goal for users, as significant tips are at stake.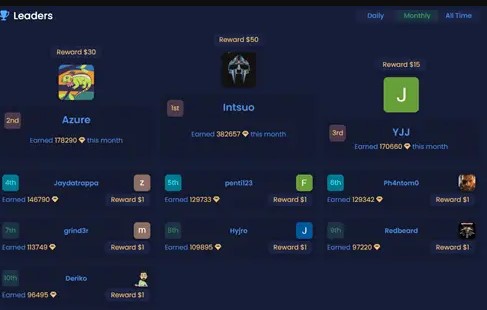 GrindBux features two types of leaderboard contests: daily and monthly. The objective is to secure a top position among the site's highest earners.
You'll be eligible to receive a designated prize if you rank among the top earners. For instance, in the monthly leaderboard contest, the top-ranked user may receive a substantial reward of $50. Prices are typically awarded to the top 10 earners, making it a challenging goal to achieve, especially when compared to platforms like Freecash, where rewards are distributed to more individuals on the daily leaderboard.
3. Make Money By Using the Referral Program.
Additionally, GrindBux offers a means of earning rewards through its referral program. To participate, share your referral code with individuals you wish to invite to the platform. They must input your referral code during the sign-up process to establish the connection.
During my site testing, I did not encounter an opportunity to enter a referral code, typically done during the registration process (I'll cover this process in more detail later). As a result, I am unsure whether this feature is still available or has been temporarily disabled.
Nonetheless, you possess a referral link to distribute to others. This leads me to believe that the referral code may need to be more valid in practice. Instead, it would help if you focused on sharing your referral link to encourage people to join GrindBux.
When someone clicks on your referral link and successfully registers, they become your referral, and as a reward, they receive 100 diamonds. You earn a 5% commission every time your referral makes diamonds from GrindBux. While this may not yield significant earnings, it does provide a passive income stream. However, ensuring that the individuals you invite are genuinely interested in earning from GrindBux is crucial to making this referral program worthwhile.
How Do You Get Paid From GrindBux?
Once you've accumulated diamonds through the various earning opportunities GrindBux provides, you can redeem your earnings.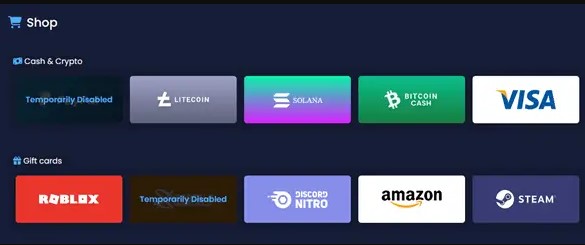 Cryptocurrency Conversion: You can convert your diamonds into cryptocurrencies like Bitcoin, Solana, or Litecoin. To do so, you'll need to accumulate a minimum of 250 diamonds, equivalent to $0.25 in your chosen cryptocurrency.
Prepaid Visa Card: Another option is to exchange your diamonds for a prepaid Visa card. However, this option requires a higher threshold of at least 5,500 diamonds for a $5 prepaid Visa card. It's important to note that a service fee of 500 diamonds is associated with this choice, so you'll need a total of 6,000 diamonds to redeem a $5 prepaid Visa card.
Gift Cards: GrindBux also offers gift card rewards for popular platforms such as Amazon, Discord, Roblox, and Steam. In most cases, you'll need to accumulate a minimum of 10,000 diamonds to redeem a $10 gift card. Notably, Amazon gift cards also provide a $5 redemption option. The advantage here is that no service fee is attached to gift card rewards.
Overall, GrindBux's payment system is relatively straightforward and provides a variety of reward options to choose from. However, it's worth noting that while they used to offer PayPal as a payment method, it may have been disabled during your site testing. It's always a good idea to check the current available payment methods and options directly on the platform, as they may have made updates or changes since your last interaction with GrindBux.
How Much Money Can You Make From GrindBux?
GrindBux offers many earning opportunities, allowing you to accumulate rewards at a relatively consistent pace. However, it's essential to recognize that the payout rates for these offers may not be as competitive as those offered by some of the more prominent GPT sites in the industry.
Consequently, it will require a fair amount of patience and time investment to accumulate a substantial sum on GrindBux. Given this, it's reasonable to conclude that the earning potential on GrindBux is lower than what you might find on some of the more established and higher-paying GPT platforms. It might be more efficient to allocate your time and effort to these higher-paying GPT sites if your primary goal is to maximize your earnings from online tasks and activities.
Who Can Join GrindBux?
While GrindBux may not explicitly state the list of countries it is available in, it appears to be accessible to users worldwide based on your observations. The platform has a broad reach, allowing individuals from various regions to participate.
Moreover, the registration process for GrindBux is relatively straightforward. To join, users can conveniently click on the Steam or Google icon in the website's upper right-hand corner. This seamless registration option allows individuals to instantly log in to the member dashboard using their Steam or Google accounts, granting them immediate access to the site's earning opportunities. This user-friendly approach simplifies the onboarding process for new members and facilitates a quick start to earning rewards.
FAQs
Is GrindBux a legitimate platform?

Yes, GrindBux is considered a legitimate GPT site. Users can earn rewards by participating in its various activities and offers.

Is GrindBux a high-earning GPT site?

GrindBux may offer lower payouts than other GPT sites, so earning potential may be lower. It may require more time and effort to accumulate significant earnings than higher-paying platforms.

What are leaderboard contests on GrindBux?

GrindBux features daily and monthly leaderboard contests where users compete to become one of the top earners on the site. The top earners receive cash rewards as prizes.

Is GrindBux available in my country?

GrindBux doesn't specify the countries it's available in, but it appears to be accessible worldwide. You can sign up and check if it's available in your region.
See More:
Viewfruit – Earn By Message Members With 5 Easy Ways
Lucky Day Review – 6 Easy Ways You Can Make Money
Prime Opinion Review – 4 Easy Ways of Earning With Surveys
SurveyParty – 2 Best Ways To Earn Money by Sharing Your Opinions