Introduction
Chubby Garden – the enchanting match puzzle game that brings together adorable animals with a twist of merging and evolution! Available on the Android platform, this addictive game offers a delightful challenge reminiscent of the famous Candy Crush. Slide and group together identical animals to witness them evolve into higher-level creatures. As you conquer levels and execute thrilling combos, you'll earn coins that can be converted into real cash via PayPal. With an accessible installation process and gameplay suitable for players of all ages, Chubby Garden is a captivating adventure that promises fun and rewards. Step into this charming world of strategy and adorable animals, and let the merging frenzy begin!
What is Chubby Garden?
Chubby Garden is a captivating match puzzle game accessible on Android devices. It introduces a delightful assortment of animals with a shared objective: to merge and evolve into higher-level creatures.
The gameplay is reminiscent of the famous Candy Crush, with a simple concept of sliding and grouping a minimum of three identical animals of the same level. These charming creatures transform into new animals at higher levels through this merging process.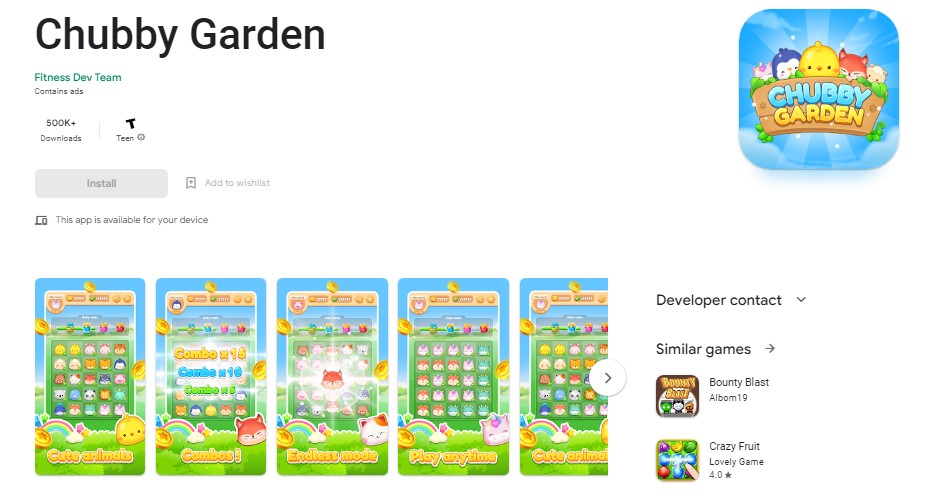 As you successfully create combos and conquer levels, you are rewarded with coins, which can be redeemed for real cash through PayPal.
Despite the enticing cash reward system, the developer insists that Chubby Garden is suitable for players of all ages, from the young to the old.
However, considering the game's addictive nature, some might argue that it should be restricted to an adult audience.
How Does Chubby Garden Work?
Chubby Garden offers a hassle-free installation and gameplay experience for all Android users, with no registration required. Players aged 12 and above can download it free from the Play Store and immediately immerse themselves in the captivating gameplay.
Upon launching the game, it provides clear instructions on converting the earned in-game coins into real cash.
Players can keep track of their coin balance at any time, and the game displays the number of coins earned and their corresponding value in dollars.
For UK or US players, the preferred option for cashing out is PayPal. New players can initiate the cash-out process once they reach a minimum of $100.
The game offers various cash-out possibilities, with the highest reaching an astonishing $100,000, encouraging players to dream big and aim for impressive rewards.
As for the gameplay itself, it revolves around strategic thinking and creating combos. Players earn coins by achieving multiple merges (combos) and unlocking animals at new levels, adding to the excitement of the experience.
How to Play Chubby Garden and Earn?
Chubby Garden's gameplay centers around employing clever strategies and creating combos. Players can earn coins as rewards by achieving multiple merges and unlocking animals at higher levels.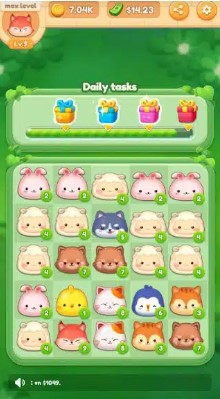 However, the game incorporates a somewhat aggressive advertising approach. Players are frequently presented with advertisements when collecting their hard-earned coins. This tactic is a clever strategy by the developers to increase their profits while keeping players engaged with the enticing promise of substantial rewards.
The allure of virtual winnings doesn't end with just the coins. Upon reaching level 8, players unlock the daily tasks feature. By staying dedicated and consistently completing these tasks for 30 days, players can amass an impressive $900 in virtual earnings. That amounts to a remarkable $30 per day, all from the enjoyable act of merging cute animals!
It's like stepping into a fairy tale world, where the promise of lucrative rewards adds to the game's addictive nature and keeps players returning for more.
How To Get Paid From Chubby Garden?
When you are ready to cash out, navigate to the cash-out section in the game. Follow the instructions provided to convert your earned coins into real cash. Depending on your cash-out option, you may need to provide additional information (like your PayPal email) to receive the payment.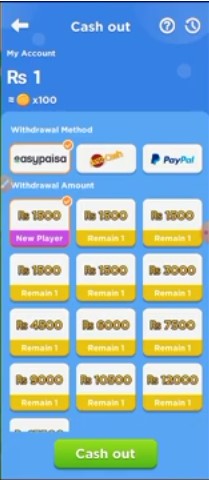 Once the cash-out process is complete and you've met the minimum cash-out threshold, you should receive your earnings through the selected payment method. Enjoy your rewards!
It's essential to remember that while Chubby Garden offers virtual winnings and the possibility of real cash, the game's primary aim is to entertain. Exercise caution, and don't spend excessive time or money on the game. As with any form of gaming, striking a healthy balance is essential.
FAQs
How do I earn coins in the game?

You can earn coins in Chubby Garden by achieving combos through multiple merges and unlocking new-level animals. Additionally, the game rewards you with coins whenever you unlock a new animal.

Can I convert my coins into real cash?

You can convert your hard-earned coins into real cash through the cash-out feature. PayPal is the preferred option for cashing out if you are in the UK or the US.

What is the minimum amount required for cashing out?

For new players, the cash-out process begins at a minimum of $100. You must accumulate at least $100 coins before requesting a payout.

Is Chubby Garden suitable for all ages?

Yes, Chubby Garden is designed to be enjoyed by players of all ages, from the young to the old.

Can I play Chubby Garden without registration?

Absolutely! You can install and play Chubby Garden on any Android device without registering.
See More:
Boomco App – Make Money While Learning with 2 Easy Ways
JOYit App – Earn By Playing Games With 4 Easy Ways
Capshort – Earn by learning & Playing Games With 4 Easy Ways