Introduction
The Cashplay app is a survey platform that allows users to earn money by participating in surveys provided by various providers. It's natural to question its authenticity with an opportunity like this. People often wonder whether Cashplay is a legitimate app or a scam. They also want to know if it pays out as promised. These are essential considerations when exploring such opportunities.
If you're someone who has these questions in mind, you've come to the right place to get all the answers you need. This review will provide comprehensive insights into the Cashplay app, addressing its legitimacy, potential rewards, and how it operates. Consider this review your go-to guide for gathering all the essential information before deciding on using the app. Stay tuned to discover everything you need to know.
What is CashPlay App?
CashPlay is a rewards app that allows users to earn small amounts of PayPal cash through activities like playing games and taking surveys. Its straightforward interface lets you accumulate coins you can later withdraw once you meet specific requirements. CashPlay app stands out with its remarkably low cash-out minimum of just $0.15.
With over 100,000 downloads, the app is gaining popularity among individuals looking for an easy way to earn cash. CashPlay also emphasizes its promise of providing instant and daily payouts, which may remind users of a similar proposition JustPlay offers.
How Does CashPlay App Work?
CashPlay is currently available exclusively for Android devices and operates globally. However, the app's availability of offers and surveys heavily depends on your geographical location. Finding opportunities to earn coins may be challenging or impossible in some countries.
Individuals residing in regions such as the United States, United Kingdom, Canada, Australia, and Europe have an advantage. These areas typically see higher levels of advertiser investment, resulting in more available offers and, consequently, more significant earning potential for users.
When you launch CashPlay and tap 'Start,' you are greeted with a welcoming message that promises a $0.15 bonus to your PayPal account. Additionally, you receive a starter bonus of 4,899 coins right from the start. With a notably low cash-out limit set at just 5,000 coins ($0.15), this app allows you to withdraw your earnings relatively quickly compared to many similar apps. You're only 101 coins away from reaching your first payout!
How to make money on Cashplay App?
1. Make money by answering surveys From Cashplay App.
Cashplay offers a way to earn money by participating in surveys. A well-known survey provider powers these surveys called Bitlabs. Cashplay does not host its own surveys; it depends on Bitlabs to provide daily survey opportunities.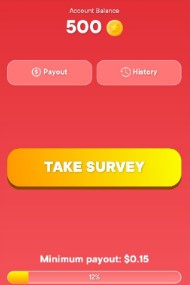 When you log into your Cashplay account, you'll find a prominently displayed "Take survey" button. Clicking on this button will take you to Bitlabs' survey page, where you'll find a list of available surveys. You can select any survey that interests you and share your honest opinions. The promised reward will be credited to your Cashplay account upon completing a survey.
It's important to know that not everyone will qualify for every survey. Some surveys target specific demographics, and you may be disqualified if you don't fit the criteria. To determine your eligibility, you'll often be asked to complete a qualifying survey before proceeding to the main survey. Passing the qualifying survey will lead you to the main survey, where you can earn a reward upon completion. If you're disqualified, you must return to your Cashplay account and look for other survey opportunities that match your profile.
2. Make money by Playing Games From Cashplay App.
For users in specific countries, Cashplay provides an additional earning option called 'Earn Money,' which appears alongside the 'Take Surveys' button.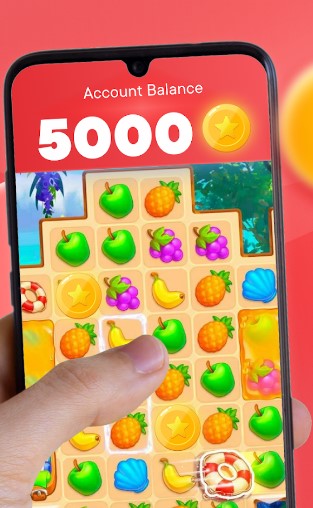 Clicking on the 'Earn Money' option will redirect you to a third-party platform called Adjoe. Here, the earning process differs from taking surveys; instead, you accumulate coins by installing and playing sponsored games. This approach is similar to what you'll find in apps like Daub Farm and Rewards.
With this method, you earn coins every minute you play these sponsored games. However, it's crucial to note that you must open and access these games through the 'My Apps' section within CashPlay to ensure that your playtime is tracked and that you receive your coins. Please do so to ensure the app can monitor your playtime, which means you won't earn any coins for your gameplay.
How much money can you make on Cashplay App?
Like most survey apps, the amount of money you can earn with Cashplay App depends on several factors, including the availability of surveys and your eligibility. As you mentioned, only some users will qualify for every survey, which can impact your potential earnings. Additionally, the number of available surveys can vary based on your location.
However, based on your thorough review of the Cashplay app, the app may provide a small income opportunity. The rewards offered per survey could be higher than similar apps, and it might be challenging to accumulate significant money. Earning up to $1 in a month may be difficult with Cashplay.
Additionally, the welcome reward of 500 coins provided upon signing up still needs to reach the minimum withdrawal threshold of $0.15.
Regarding the specific earnings per survey, you mentioned that users can earn between 300 coins, 1,000 coins, 500 coins, and occasionally more. However, it may be rare to find surveys that offer the equivalent of 4,000 coins, which is equal to $0.15.
Given these details, potential users should have realistic expectations about their earnings with Cashplay and be aware that it may not be a significant source of income.
How to Cash out From Cashplay App?
Cashing out with CashPlay is a straightforward process, but there is indeed a minimum withdrawal requirement: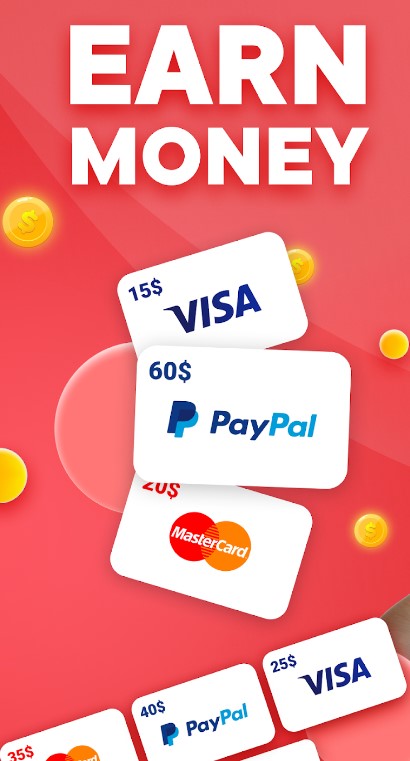 Go to the Payout Tab: Open the CashPlay app and navigate to the payout section, where you'll find your coin balance and withdrawal options.
PayPal Option: CashPlay exclusively offers PayPal as the payment method.
Choose Withdrawal Amount: You can select a withdrawal amount starting at $0.15, but there are options to withdraw higher amounts, up to $15. It's important to note that withdrawing more significant amounts requires fewer coins, which means you get slightly better value for your coins when cashing out in larger increments.
Confirm: After choosing your withdrawal amount, confirm your choice and wait for the transaction to process. CashPlay claims to provide fast transaction processing.
Receive Payment: Your earnings will be deposited into your PayPal account shortly after completing the transaction. Remember that PayPal may deduct fees, so consider this when cashing out.
It's important to clarify that while CashPlay advertises that no minimum amount is required to cash out, this statement needs to be more accurate. There is indeed a minimum withdrawal requirement of $0.15 or 5,000 coins. So, while the minimum amount is relatively low, it's essential to be aware of this requirement to ensure everything is clear.
See More:
Sweetstudy Review – Earn By Answering Student Easy Questions
Big Sports App Review – Earn 100% Real Cash By Playing Games
SurveyKing Review – Earn from Surveys & Completing 3 Easy Tasks
Miles App Review – 100% Easy Earning By Sharing Travel Data