Introduction
Welcome to the world of Miles App, a mobile app that offers an innovative way to earn rewards for your everyday travels. Whether commuting, walking, or taking a trip, Miles tracks your movements and rewards you with points or miles, which can be exchanged for various enticing rewards. In this guide, we'll explore how the Miles app works, what you can expect to earn, and the rewards you can look forward to. Let's embark on a journey to discover how this app can turn your daily movements into valuable perks.
What Is The Miles App?
The Miles app, available for Android and iOS, offers a unique opportunity for users to earn rewards by sharing their daily travel data. By accumulating points for your miles, you can later redeem these points for various rewards.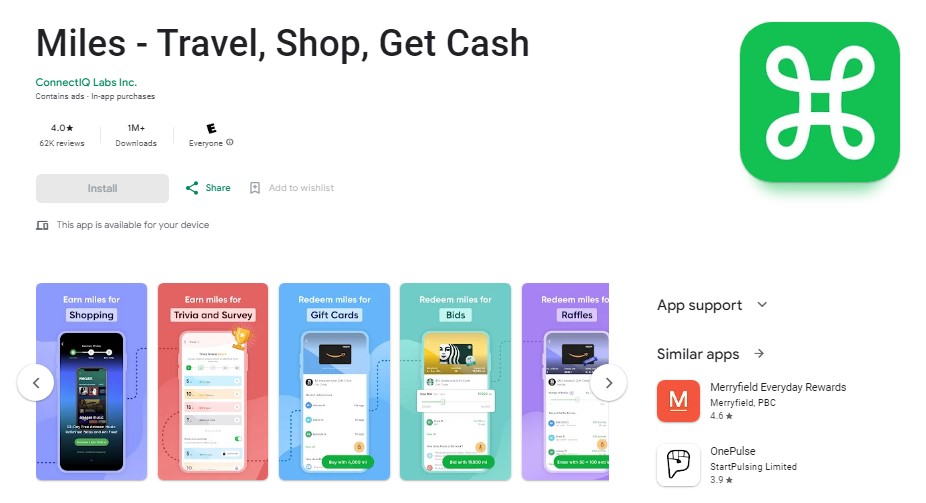 The Miles app is a unique option among many workout incentive apps. It allows you to convert your daily transportation time into a modest source of passive income. This app is worth considering if you have a lengthy daily commute or engage in regular physical activities!
It's important to note that the Miles app won't make you wealthy, but it is a clever tool for generating passive income while seamlessly integrating into your everyday routine.
How to join the Miles App?
It's worth noting that the Miles app is currently only available in the United States and Japan so you may need a different location. Additionally, you must be at least 13 to become a member.
To get started with the app, you'll need to install it on your device. Upon opening the app for the first time, you'll be guided through a straightforward sign-up process. The most crucial step is granting the app permission to track your location continuously.
As mentioned earlier, Miles requires access to your location data to accurately calculate the distance and speed of your travel, which in turn determines the points or miles you earn. Once granted this permission, using the app becomes a seamless experience.
Make money by Traveling From Miles App?
The primary way to accumulate rewards with the Miles app is by land travel, although technically, you can also earn rewards from flying. Still, the tips for air travel are typically relatively minimal.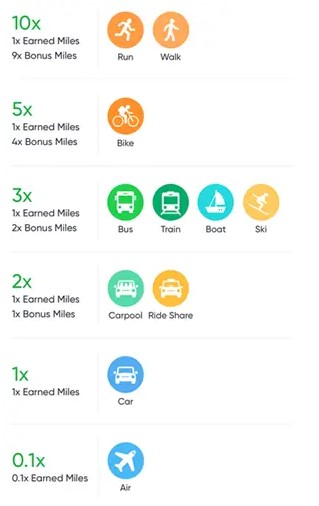 Getting started is simple: all you need to do is install the app and grant it access to your location. Then, you can let it run in the background while you travel. The app operates by continuously tracking your location and analyzing your travel speed to classify the mode of transportation for each trip you make.
Based on the mode of transportation, the app assigns points for every mile traveled. As the image shows, you'll earn more points for running or walking, while air travel makes the least.
This system is intended to encourage eco-friendly transportation choices. The points or miles you accrue will automatically appear on your member dashboard, eliminating the need to click any buttons for collection, which is quite convenient.
The app calculates miles traveled even for journeys within a city, so you don't necessarily need to venture outside your city limits to start earning rewards.
How Much Are Miles Worth?
On average, it typically takes between 5,000 to 10,000 miles to redeem a $1 gift card with the Miles app. Each mile you earn is worth only a fraction of a penny, so accumulating a substantial number of miles is necessary to redeem more significant rewards.
For those who don't travel extensively, the Miles app may yield a dollar or two in monthly rewards when used during spare moments. Users with longer daily commutes might manage to earn a few extra dollars, but it's essential to remember that this app will only result in making a maximum of dollars.
Essentially, the Miles app is an excellent way to generate extra "beer money" rather than a full-time job or a highly lucrative side hustle. It essentially rewards you for something you're already doing in your daily life—traveling—making it a passive source of income.
How do you get paid From Miles App?
As previously mentioned, the Miles app allows users to convert their earned points or miles into a range of rewards. These rewards include gift cards, subscriptions, raffle entries, and the opportunity to contribute to charitable causes.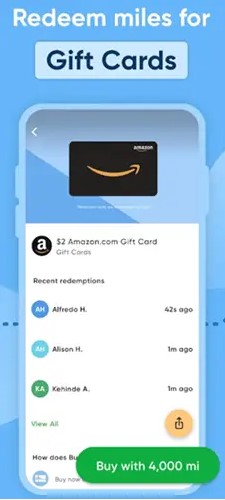 It's crucial to be aware of specific difficulties when redeeming rewards. Gift cards, often the most sought-after reward, may be limited and are typically distributed on a first-come, first-served basis. Frequently, the most readily available rewards are free trial subscriptions, essentially designed to entice users to try out specific products or services.
These rewards can also be perceived as promotional incentives that the app has arranged, which might lead some users to consider the app's payment options less than ideal.
Additionally, the number of points or miles required for redeeming a reward can fluctuate from week to week, making it challenging to pinpoint the exact value of your accumulated points or miles. However, as a rough estimate, you need approximately 3,000 to 5,000 points to redeem a $2 gift card.
See More:
GoNovel Review – 4 Easy Ways To Earn Money
Reward Time Review – Earn By Completing 3 Quick Tasks
Toy Town Review – Earn by Playing With 4 Easy Tasks