Introduction
SurveyKing is a user-friendly Android app that provides a unique opportunity to earn rewards by sharing your opinions and completing various tasks. With a low payout threshold, diverse earning options, and a straightforward payment system, SurveyKing offers a convenient way to turn your spare time into tangible rewards. Whether you're interested in taking surveys, completing offers, or referring friends, SurveyKing presents a straightforward platform to help you earn extra cash and rewards effortlessly.
What is SurveyKing?
SurveyKing, available on Android, is a unique app that rewards users for sharing their opinions with marketing research firms and completing various offers for cash. As per its Play Store description, the surveys offered are quick and typically require less than 10 minutes of your time.
It's crucial to note that SurveyKing is an intermediary, connecting survey providers with participants. The app offers the opportunity to connect and interact with various companies through its user-friendly interface.
Participants can accumulate redeemable points for PayPal and other payment methods by participating in surveys. What sets SurveyKing apart from many other survey apps is its remarkably low payout threshold of just $1, and it offers a generous 20% referral commission to users who bring in new participants.
How Does SurveyKing Work?
SurveyKing is completely free to use and is exclusively designed for Android users, readily available for installation through Google Play.
Upon launching the application, users must accept the Terms of Use and can register using their Google, Facebook, or email accounts.
It's essential to note that the app strictly prohibits using VPNs, as using a proxy is considered fraudulent. This prohibition exists because some individuals attempt to manipulate their virtual location to access more surveys. Such manipulation can compromise the integrity of marketing studies, especially when they are designed to target specific countries.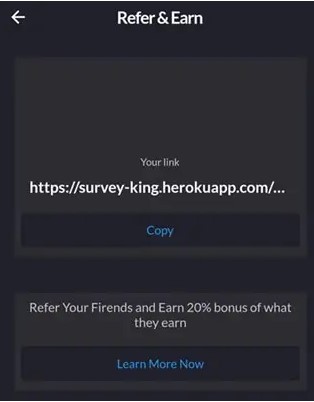 How to make money from SurveyKing?
1. Make Money by SurveyKing Paid Surveys.
SurveyKing offers an opportunity to earn income through paid surveys, and it collaborates with various survey providers such as Pollfish, TheoremReach, and others to offer these opportunities to its users.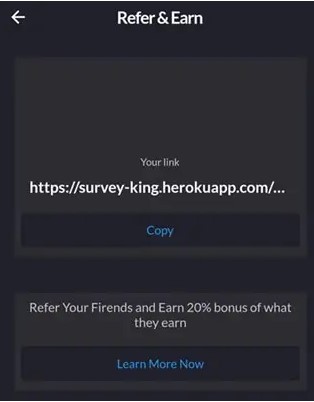 To begin earning, select a survey provider within the app and start the process. You'll be prompted to provide some basic personal information. The survey provider will then assess whether there are surveys suitable for you.
If you meet the criteria, you can choose a survey to complete. There may be a qualifying phase to ensure you are the right fit for the survey. If you qualify, you proceed to answer the survey questions. If you don't meet the qualifications, you can move on to the next available survey, if there are any.
During my testing of the app, a reasonable number of surveys were available, so you can expect regular opportunities to participate.
Upon completing a survey, you will earn specific points, which will be added to your SurveyKing account balance. In the following explanation, I will elaborate on how you can utilize your accumulated points.
2. Make money by SurveyKing Offerwalls.
SurveyKing has partnered with six Offer Walls, expanding the opportunities for users to increase their earnings by completing paid offers.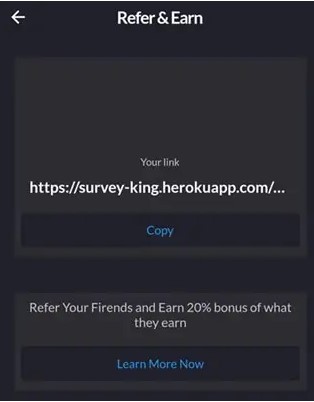 But what exactly is an Offer Wall? It's a third-party platform where users can undertake straightforward tasks in exchange for monetary rewards. These tasks typically include downloading games, signing up for free trials, or completing surveys.
To access these opportunities, navigate to the "Earn Extra Points" section and select "Offer Walls" within the app. From there, you can choose one of the following providers:
AyeStudios
HangADS
Youmi
Monlix
Okspin
Once you've selected a provider, you can explore the offers or tasks and complete the requirements. For instance, one featured game, Dice Dreams, offers 8,366 points to users who reach level 50 within 30 days, translating to almost $10—a substantial reward for your efforts!
3. Make money with SurveyKing Referral Program.
SurveyKing also offers a passive earning opportunity through its referral program. If you're still familiar with this type of opportunity, it involves inviting others to use the app by sharing your unique referral link.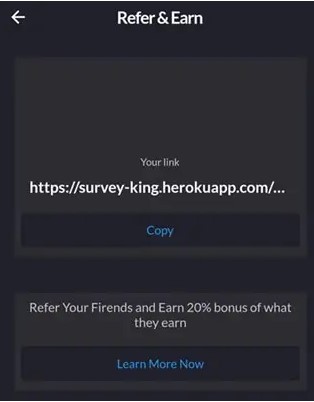 Here's how it works: When someone clicks on your referral link and installs the app, they become your referral once they complete the sign-up process. As a reward for referring them, you will receive a 20% commission each time your referral earns. This relatively high commission rate can entice users looking to boost their earnings.
However, the referral commission may not significantly impact your total earnings. The effectiveness of this earning method can vary depending on how many active referrals you have and how actively they engage with the app. Nonetheless, it can still be a valuable addition to your overall earnings from SurveyKing.
How do you get paid Feom SurveyKing?
SurveyKing provides several options for redeeming the points you've earned, allowing you to convert them into cash in various ways. The app offers a range of payment methods, including PayPal, Payeer, AdvCash, Perfect Money, Wise, and even cryptocurrency through Binance. Most of these options require you to reach a low earnings threshold of just $1, making it relatively easy to access your earnings (although Wise requires you to earn $5).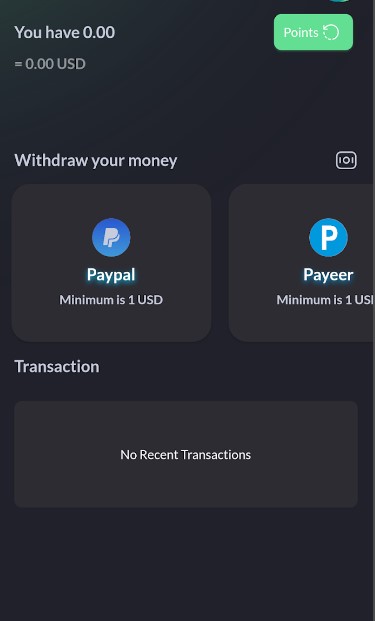 The conversion rate from points to cash may vary depending on the payment method. For instance, the exchange rate with PayPal is typically 1,000 points to $1. However, it's important to be aware that a notable service fee is associated with withdrawing your earnings from SurveyKing.
For example, if you withdraw your earnings via PayPal, for every $1 you earn, you will receive approximately $0.66 after the service fee is deducted. So, it's essential to factor in this fee when considering your total earnings.
Overall, SurveyKing's payment system is relatively straightforward, offering convenient options like PayPal for cashing out your earnings. However, the service fee should be considered when assessing your potential earnings.
See More:
Miles App Review – 100% Easy Earning By Sharing Travel Data
GoNovel Review – 4 Easy Ways To Earn Money
Reward Time Review – Earn By Completing 3 Quick Tasks