Introduction
Big Sports is an exciting gaming app that offers a variety of games for players to enjoy while also earning real cash prizes. Players can engage in games ranging from soccer and car racing to cricket and basketball, ensuring something for everyone. Games like Fruit Chop and Ice Blaser add to the app's diversity.
To enhance the gaming experience, Big Sports rewards players with diamonds for playing games and meeting daily targets. These diamonds can be cashed out directly to a PayPal account, making it convenient for players to access their earnings. Daily logins are also incentivized with coins, allowing players to enjoy their favorite games without interruptions. Big Sports emphasizes a safe and secure gaming environment, with no in-app purchases and fast withdrawal processes.
In conclusion, Big Sports is worth considering if you're seeking an entertaining and rewarding gaming experience. You can start playing for free today and have the chance to win real cash prizes while honing your gaming skills.
What is a Big Sports App?
Big Sports is an online gaming platform that provides a range of casual games accessible to users free of charge. These games allow players to earn real cash rewards that can be quickly withdrawn through PayPal. The platform also incentivizes users with daily coin and diamond rewards for their participation and reaching daily targets.
The identity of the owner of Big Sports remains undisclosed, as the developers behind the website have kept this information confidential.
How to make money from Big Sports?
Make money by playing games from Big Sports.
The primary method of earning rewards on Big Sports is by playing their assortment of free games, which come pre-installed with the app.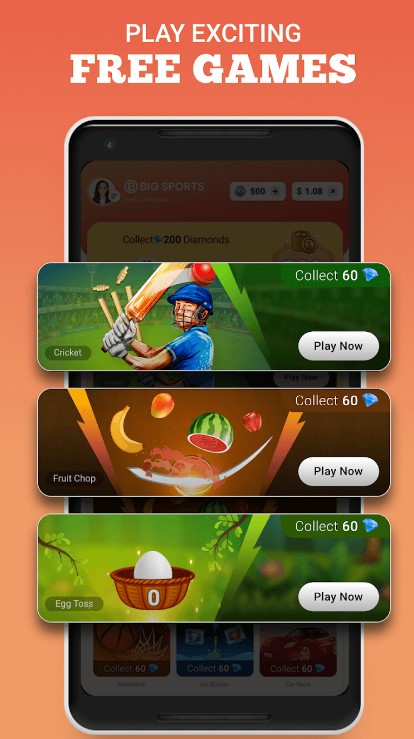 They designed these games to be enjoyable and engaging. You typically spend a certain number of in-game coins (normally 25) when you play a game. Your objective during gameplay is to attain the target score set by the app within a limited time frame, usually around 5 minutes. While the games are relatively simple, reaching the target score can be challenging. As you continue playing, the difficulty increases with more obstacles to overcome, so proficiency in the game is essential to reach the set target.
Failing to reach the target score means you won't receive the reward, and you'll also lose the coins you spent to play the game. It's important to note that these coins do not hold any monetary value; they are used to accessing free games. Fortunately, the app offers free opportunities to earn more coins, often by watching video advertisements.
However, random video ads within Big Sports can be somewhat bothersome for users.
You will be rewarded with diamonds when you successfully achieve the target score.
Make money by using the Referral program from Big Sports.
Another way to earn rewards on Big Sports is through its referral program. If you're not familiar with how these types of programs work.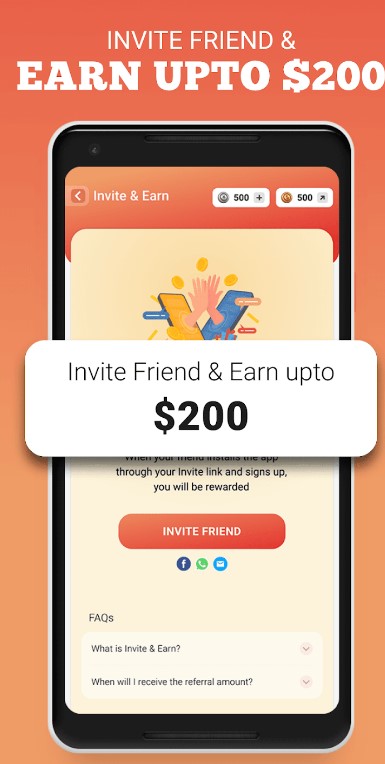 The concept behind the referral program is to encourage users to invite others to use the app. To do this, you share your unique invite link with potential users. When they click on your link and proceed to install the app, they must sign up. Once they complete this registration process, they become your referrals.
As a reward for successfully referring someone, you receive a relatively small amount, typically $0.1 per referral. The advantage here is that your referrals do not necessarily have to perform specific actions or meet certain requirements after signing up for you to receive the reward. Unlike some other apps where referrals may need to meet specific criteria, in this case, simply signing up is sufficient.
How do you get paid from Big Sports?
You mentioned that you can earn diamonds in Big Sports, but the value of these diamonds is flexible, and they can change over time. To convert these diamonds to cash through PayPal, you need to accumulate enough diamonds to reach a threshold of $15, which you find quite high for this type of app.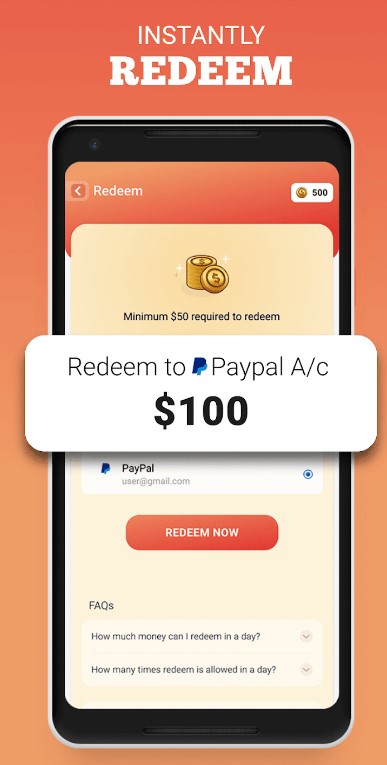 Understandably, the fluctuating value of the diamonds and the relatively high payout threshold can be confusing and potentially frustrating for users. Transparency in the conversion rate of diamonds and a lower payout threshold might make the payment system more user-friendly.
In conclusion, while Big Sports offers the opportunity to convert diamonds to cash via PayPal, the fluctuating diamond values and the $15 threshold could be areas where the app could improve to provide a more satisfying experience for its users.
Who to join Big Sports?
To become a member of Big Sports, you need to start by installing the app on your device. When you open the app for the first time, you'll be prompted to choose your preferred method for logging in. You have the option to log in using either your Facebook or Google account.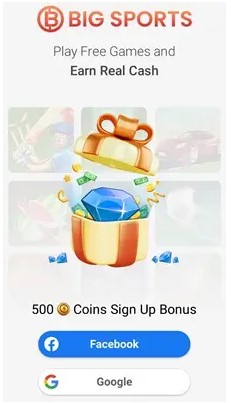 Upon completing this initial step, you will receive a welcome bonus of 500 coins. Consider this bonus as your initial boost to help you get started on earning rewards within the app.
See More:
SurveyKing Review – Earn from Surveys & Completing 3 Easy Tasks
Miles App Review – 100% Easy Earning By Sharing Travel Data
GoNovel Review – 4 Easy Ways To Earn Money