Introduction
SweetStudy is a platform that suggests earning additional income by answering student questions. If you're considering this avenue for boosting your finances and are intrigued by SweetStudy, please peruse this comprehensive SweetStudy review beforehand.
This review will provide you with all the essential information about SweetStudy, enabling you to clearly understand what to anticipate before embarking on your journey as a tutor on this platform. Armed with this knowledge, you can make an informed assessment to determine if this opportunity aligns with your needs and aspirations.
What is sweetstudy?
SweetStudy is an established online platform that serves as a bridge between tutors and students. Here, students can present their academic work to experienced tutors who can provide valuable guidance and answers to their questions. This platform has a rich history, having previously operated under the "homework market" before rebranding as SweetStudy – a notably more charming name.
SweetStudy boasts a solid reputation and ranks high in academic-related services. It offers reliable assistance with various educational tasks, making it a trusted resource for students seeking academic support. Through SweetStudy, you can connect with students from around the world, allowing you to provide tutoring and assistance globally.
How to join SweetStudy?
Signing up as a tutor on SweetStudy is straightforward, comprising just three simple steps. Depending on your availability and preferences, you can select tasks that align with your capabilities and the associated deadlines. Here's a detailed breakdown of the steps to follow when applying to become a teacher on Sweet Study: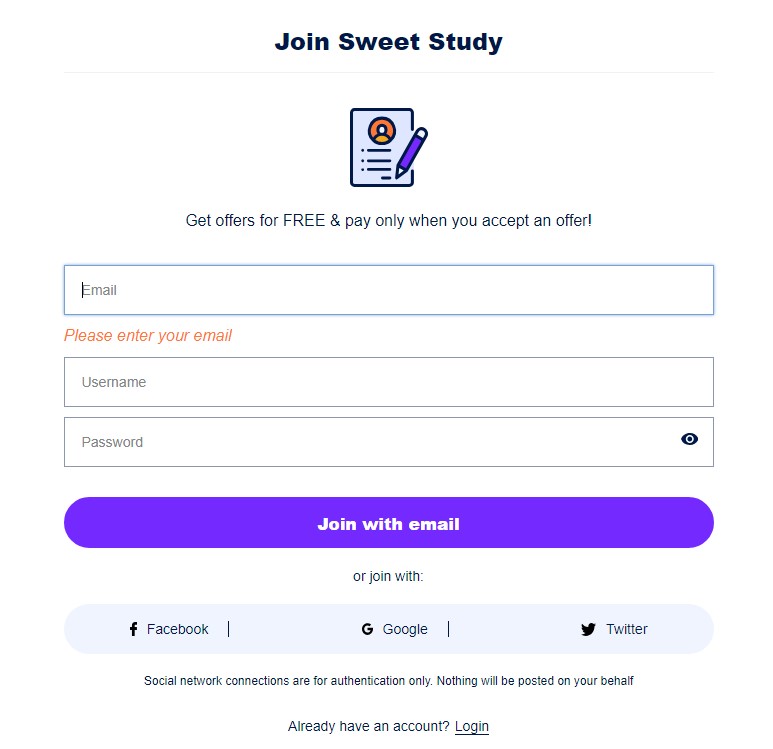 Begin by visiting Sweet Study's application landing page for tutors, which can be accessed through the provided link. Upon reaching the page, you can sign up using your social media account or by providing your email address.
Next, you'll need to fill out the application form. This involves selecting a preferred username and setting up a secure password for your account. Be sure to enter a valid email address and complete the email verification process. Additionally, it's essential to upload your identification (ID) and complete the KYC (Know Your Customer) requirements. Ensure that your uploaded images meet the specified size criteria, as indicated by the red markers or guidelines.
After submitting your application, SweetStudy's team will review it within a week, excluding weekends and holidays. They will then notify you of their decision, either accepting or declining your application.
By following these straightforward steps, you can initiate your journey as a tutor on Sweet Study and help students worldwide with their academic needs.
Make money by answering student questions on SweetStudy.
Once you've been accepted as a tutor on SweetStudy, you'll gain access to the member dashboard, where you can view and choose questions to answer and earn from. However, before you can start answering questions, there are several steps you need to follow: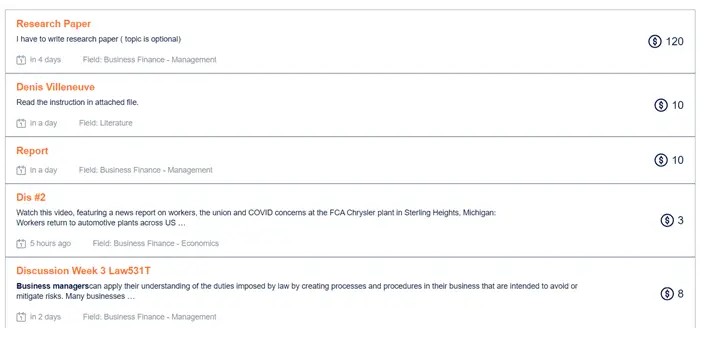 When you see a question you're interested in, click on it to view the complete details. It's crucial to understand the student's requirements carefully because this information will be essential for your response.
After comprehending the question's scope and requirements, you must place a bid. This bid specifies how much you'd like to be paid for providing an answer to the question. This part can be tricky because you need to strike a balance – avoid undervaluing your expertise while not overpricing your bid. Often, the amount you bid can be a deciding factor in whether your proposal is chosen. You can reference the student's suggested payment when setting your bid.
If the student selects your bid, you'll receive a notification on your member dashboard. You'll also receive an email notification, so be sure to check your inbox regularly if you've placed bids on SweetStudy.
Once your bid is accepted, you submit a quality answer to the question before the specified deadline. Failure to do so will result in non-payment and a negative rating from the student. Quality is paramount when submitting answers, so ensure you meet all the student's requirements to avoid receiving a poor rating, which can impact your future earnings on the platform.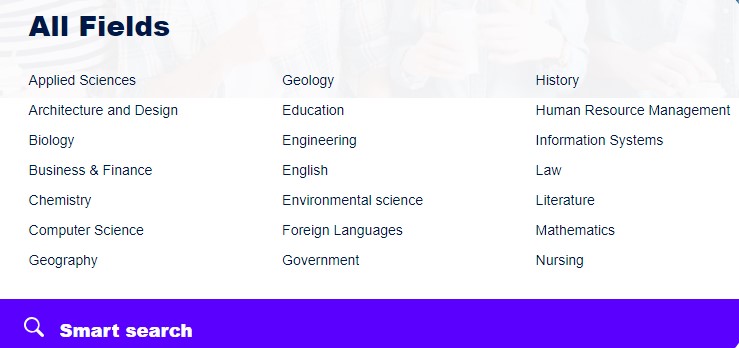 SweetStudy questions typically fall into categories, which are displayed on the platform. You'll most often be asked to write papers on topics related to these categories. It's important to be prepared for writing tasks when engaging with questions on SweetStudy.
The questions available will relate to the expertise categories you selected during registration. These categories represent your areas of expertise, so choose them wisely.
While browsing the site, you'll find many questions available. Remember that your earning potential on SweetStudy is closely tied to your ability to provide high-quality answers and maintain a positive rating, so approach each task with care and dedication.
How do you get paid From SweetStudy?
When you successfully answer a question on SweetStudy, you will earn a specific amount. However, it's important to note that you will receive only 70% of the total amount paid by the student. The remaining 30% serves as SweetStudy's commission for facilitating the platform.
It can process payment for your services through either PayPal or Payoneer, depending on your preference. If you choose PayPal, we will apply a $1 service fee to your payment, regardless of the amount. If you opt for Payoneer, the complete list of service fees will be provided to you during the registration process.
There will be a handling fee of $0.90 for every payment you receive. While the payment system on SweetStudy is relatively straightforward, one aspect to consider is that the service fees can significantly reduce your earnings. Therefore, it's essential to remember that you won't receive the total amount earned when you are paid.
SweetStudy deducts a portion of your earnings as commission and applies service fees depending on your chosen payment method. Be aware of these deductions when estimating your potential earnings on the platform.
See More:
Big Sports App Review – Earn 100% Real Cash By Playing Games
SurveyKing Review – Earn from Surveys & Completing 3 Easy Tasks
Miles App Review – 100% Easy Earning By Sharing Travel Data