Introduction.
Making money from your mobile device can be a very convenient way to earn a few extra bucks. Today, There are a lot of mobile apps available you can download and install to make extra money. There's an app called Cashzine app that claims to pay you for reading articles. Yes, you read that right. All you have to do is read online content. This app doesn't offer a lot for your time.
What is Cashzine App?
Cashzine app is a content-reading app where you can earn rewards by reading articles.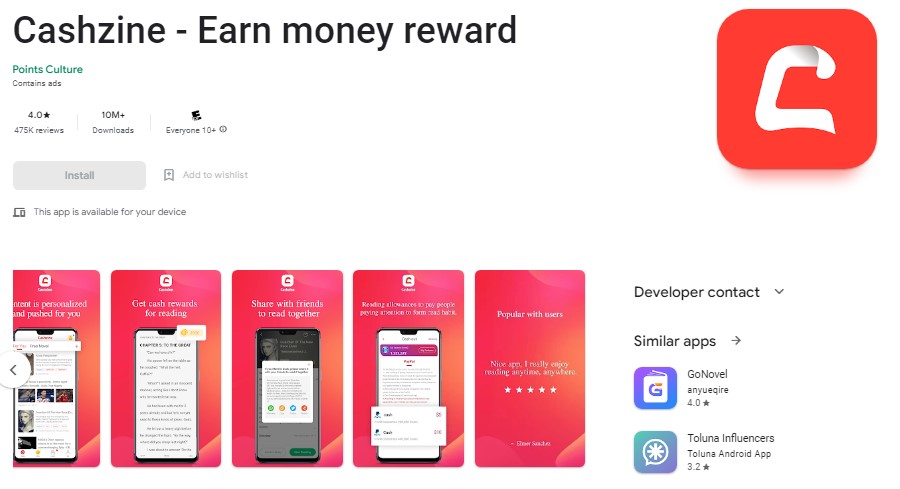 This mobile-only platform checks content to your interests and inspires you to create a good reading habit.
Make Money by Reading Articles From Cashzine App.

As said above, you can make money by reading articles From Cashzine App. When you log in to the app, you will instantly see all the articles you can read. Tap on an article that you want to read. Then, it will open the Article; all you have to do is read it.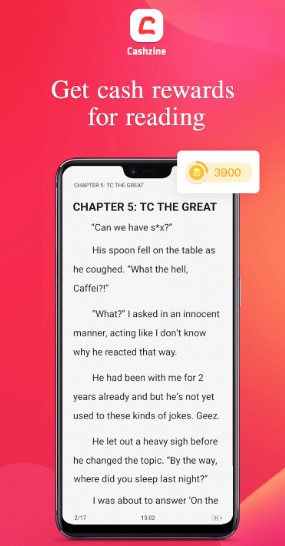 You will see an icon with a coin logo in the lower left corner. This will be your timer. When you first scroll down the page, the timer will start. It will finally stop after a few seconds.
To make the timer run again, scroll down again. Once the timer goes one rotation, you will make 50 coins. If you have been using BuzzBreak, it is like the app's system.
You don't require reading the Article. All you have to do is keep scrolling to complete the timer run.
That will work for a while, but they designed their system to detect users that don't read the articles and vice versa. And when they do, they will deduct a certain number of coins from what you earn for reading articles. But there will be a penalty for cheating their system.
This is their way of making sure you read the articles. Also, this is how they ensure you develop a good reading habit, which is quite nice.
Make money with Daily offers From Cashzine App.
You can earn more coins for completing their daily offers. These offers are more like rewards for doing something specific in the app.
You can earn a daily login bonus or do other things like testing a new app or answering a quiz. You can get the bonus once you've finished what it will ask you to do. You can get rewards only once every day. You will earn a few coins from this opportunity, but it's nice to have as an additional source of coins.
Make money by using the Referral Program From Cashzine App.
You can also make money by inviting others to join the site through their referral program. All you have to do is share your invite link with the person you want to ask. When they download and install the app, they will become your referral.
Before you receive your referral bonuses, your referral must meet the requirements needed. You will get 6,400 coins once your downline reads an article for the first time.
You will receive an additional 4,800 coins if your downline earns at least 2000 coins for three consecutive days. You will then receive an extra 9,600 coins if your downline earns 5,000 coins for seven days.
So, it would help if you ensured the person you invite is interested in using this app to maximize your earnings. But if they don't meet the requirements, you will still earn a 15% commission from the number of coins that all your downlines made for the day.
You will receive this commission the next day.
You can make money in a lot of ways from their referral program. It incentivizes members who work hard to invite people to join the app.
And obviously, the more people you invite, the more you earn. However, even though it might seem like you can make a lot from this, you will see later that the value of the coins you get is not impressive.
How do you get paid From Cashzine App?
As you already know, you will get coins for everything you do in the Cashzine app.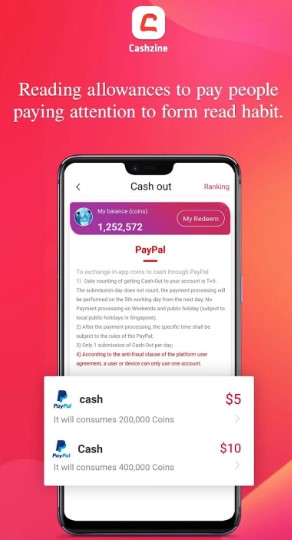 You can then convert the currencies you've earned into cash via PayPal or a different payment gateway, depending on your country. The threshold and the amount you can withdraw will also vary depending on the country where you live in. But to give you an idea, it will be around the $8-$10 mark. You will see how much your coins are worth when you go to your profile and check your coin balance.
FAQs
Is Cashzine a legit App?

Cashzine is a legit app that will pay you for reading articles and doing a few other things.

Can you use it on a desktop?

Cashzine is a mobile-only platform. So, you can't read the articles while sitting in front of a computer.

Who can join Cashzine?

Cashzine is available in Southeast Asia, China, India, Europe, and South America. The problem is that they need to specify their available countries. You also have to be at least 18 years of age to join.
See More:
CliqueBook Review – 7 Best Ways To Make Money Online
GameTame – Make Money Doing 5 Best Simple Task
Gaintplay – 4 Best Ways To Make Money From Online
Gamekit – Earn Easy Cash by Playing Games, Paid Surveys, and More