Introduction.
You might have had of CliqueBook.net and wondering if it's a fraud waste of time site or a legit and authentic way to earn extra earnings, right? If you're reading this review, trust me, you'll get exposed to accurate information you might have missed out.CliqueBook.net is a PTC site that will pay you for clicking on ads and other activities. It has plenty of earning opportunities.
What is CliqueBook.net
CliqueBook.net is a PTC site that will pay you for completing offers and clicking ads. It was launched in November 2015. It is free to join the site. In the world of PTC business. CliqueBook.net claims members are paid to view, paid to play, and paid to refer. There are several ways to make extra cash and income.
How to join CliqueBook.net
Their registration process is pretty straightforward. All you have to do is fill out the sign-up form and submit it.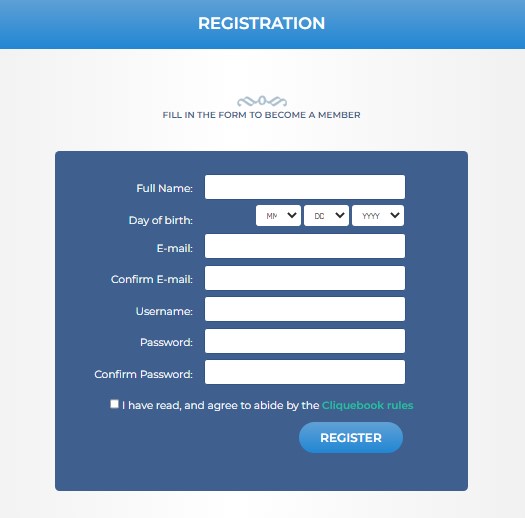 Even You don't have to verify your registration via email. Once the registration is done, you can log in to the member dashboard, click ads, and complete offers.
How To Make Money from CliqueBook.
7 Best Ways To Earn Money From CliqueBook.net
1. Make money by Answering quizzes from CliqueBook.
One way for you to make money from CliqueBook.net is by answering quizzes. The process is simple, click a quiz offer and answer all the questions. Once you complete the quiz, you will receive the promised reward.
The only downside to this method of earning is that it is only sometimes available. If there is a quiz you can answer, please complete it as soon as you can.
2. Make money by Paid surveys from CliqueBook.
Most PTC sites also offer paid surveys as a way for you to earn rewards. CliqueBook.net is no different. The difference between a PTC and a survey site's paid survey is that the survey you can complete on PTC sites will come from other sites.
PTC sites only work as survey mediators. The offers will arrive from other GPT or survey sites. But, answering a survey will always be the same. When you click a survey offer on CliqueBook.net, you will be shifted to the site that hosts the survey.
You will then have to answer several qualifying questions to ensure it include you in the demographic the survey targets. If you qualify for the survey, you get to answer the actual survey.
Once you finish the survey, you will receive the promised reward for the survey offer.
3. Make money by Click ads from CliqueBook.
Clicking on ads is the main thing on the PTC site. This is where most of you will spend your time.
On CliqueBook.net, there are six types of ads you can click on. The types are Fixed Ads, Bonus Ads, Standard Ads, Micro Ads, Mini Ads, and Tiny Ads.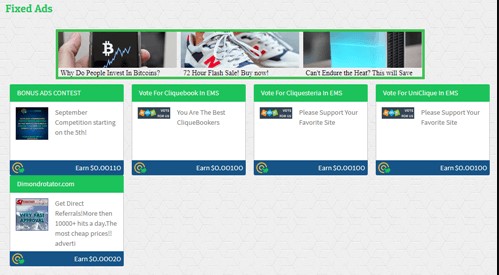 Among the six types, the one that pays the most is Standard Ads. But you will be disappointed if you expect to earn a lot from clicking ads. The most you can earn from clicking an ad is $0.0025.
When you click an ad offer, It will take you to a new window where you have to wait and view the ad for several seconds before earning the reward. The good thing about ad offers is that they will always be available.
4. Make money by Paid offers from CliqueBook.
You will also be able to make money by completing offers.

Like paid surveys, the paid offers you can complete on CliqueBook.net will arrive from different places. Completing offers is like paid surveys.
It will take you to the site hosting the offer when you click an offer. You will then have to complete the conditions of the offer to get the reward.
Most offers will ask you to answer surveys and quizzes, play games, sign up for websites, and more.
5. Make money by Pop-Up games from CliqueBook.
You can also make money from CliqueBook.net by Pop-Up Game. To play this game, you must click the Play button, and a pop-up window will appear. Wait for the pop-up window to verify that you've met the pop-up viewing window.

A message will say "Success." That's your signal to close the window.
You can play this game as often as you like, and you will win something each time. Wait 5 minutes before clicking the Play button again. You also must make sure you disable the pop-up blockers on your browser to play the game.
6. Make money by Referral program from CliqueBook.
You can refer friends and earn a percentage of their earnings in return.
You will make a reward percentage each time your referral clicks an ad. To get the commission from your referral clicks, you must log in daily and click the minimum required ads.
You can also rent referrals to increase your earnings. This can be an amazing way to boost your earnings because you can use your account balance to pay for the rental.
7. Make money by Sign Up from CliqueBook.
Paid To Sign Up is another way to make rewards on CliqueBook.net.you can make rewards for signing up to specific websites. Each offer will ask you to register on a particular website and then complete several tasks to achieve the bonus. Most offers will invite you to sign up for other PTC sites.
How do you get paid from CliqueBook.?
Once you've accumulated $2 in your account balance, you can request payment. But before you can do that, you must also accumulate 2000 cashout points to withdraw your earnings. This is if you are a legal member of the site. If you upgrade your membership level, you won't need to accumulate cashout points to withdraw your earnings.


You can withdraw your earnings via Payza, Solidtrustpay, Perfect Money, Skrill, and Payeer. These are the payment gateways available on the site.
FAQs
Is CliqueBook.net legit?

Yes, CliqueBook.net is a legit PTC site. It does pay you for clicking ads and completing offers.

Who can join CliqueBook.net?

CliqueBook.net is available to anyone with a computer and an internet connection, regardless of where you live.

Can you use it on mobile?

You can log in to their site from a mobile device using a mobile web browser.
See More:
GameTame – Make Money Doing 5 Best Simple Task
Gaintplay – 4 Best Ways To Make Money From Online
Gamekit – Earn Easy Cash by Playing Games, Paid Surveys, and More