Introduction
If you are familiar with GPT sites, GetPaidTo might be a great addition to the family to give you another earnings stream. This website promises to help you make money by completing simple online tasks.
What is GetPaidTo?
Getpaidto.com is a GPT (Get paid to) site that pays you a small amount of cash for every short task that you have met on the site. Get Paid To enables you to make money via playing games, watching videos, surveys, and making referrals; hence it's worth it. Apart from offering multiple options to make money, GetPaidTo offers suitable payment methods, including PayPal, Skrill, and Bank Wire.
How to Sign Up with GetPaidTo?
To become a member, Go to getpaidto.com and click on join free today.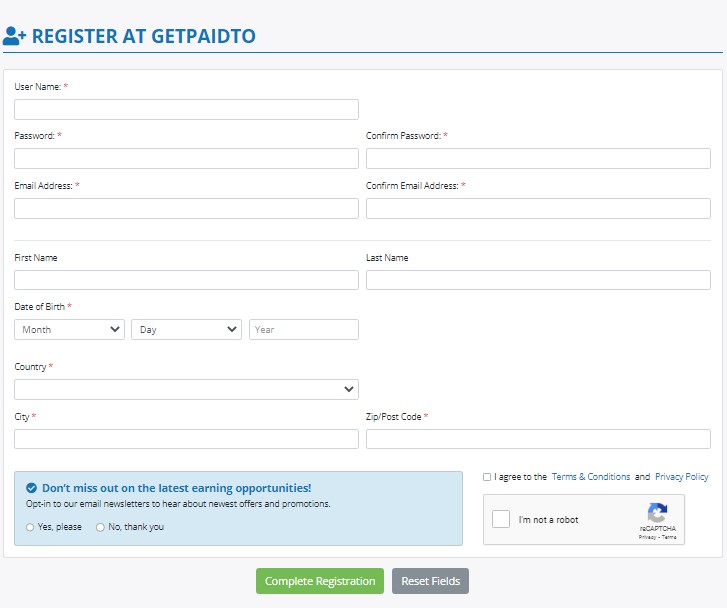 You have to fill up their sign-up form. Check you are not a robot and complete the registration. Once you finish the form, you will get an email with the activation link. Click the activation link to finish the registration. Once you accomplish that, you can log in to the site and start making money.
How can you make money from GetPaidTo?
Now, to understand how this site works, here's how you can earn from GetPaidTo.com.
1. Make money by Paid surveys from GetPaidTo.
One way to make money from GetPaidTo.com is by answering paid surveys. This money-making option is naturally presented on survey sites, but most GPT sites offer them. The only difference is GPT sites don't have their surveys. They usually depend on survey routers to supply their members with surveys to answer.

You can also get the surveys via third-party survey panels. Surveys often bring you more points than other tasks.
It is easy as you need to answer the questions based on your opinion, or sometimes you might have to research a little bit.
2. Make money by Offer Walls from GetPaidTo.
You can also earn by completing the offers. The offers include joining the websites, watching videos, getting cashback, and many other routes.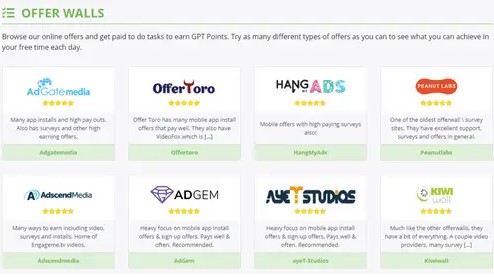 The earnings will depend largely on the difficulty of the task you will need to complete.
3. Make money by Watching Videos from GetPaidTo.
One of the fun ways to make money on GetPaidTo is by watching short 5 minutes videos, including the ads. Since you can only make 200 points, you'll need to earn points to make that additional cash. Here are the main video opportunities HyperMX and Hideout.tv, Engaged Hits, Night Fall News.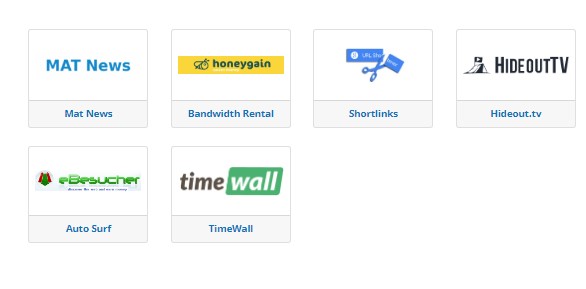 However, videos have a limit. Some demand you to view the entire video, while others only instruct you to watch the video for 5 to 40 minutes. Once you complete the video, the company will add 200 points to your account.
See More: 85 Best Platform To Get Paid To Watch Videos Online in 2023
4. Make money by playing games from GetPaidTo.
GetPaidTo has several games you can play to earn rewards. These games don't require to be installed since they are available on-site, which is excellent.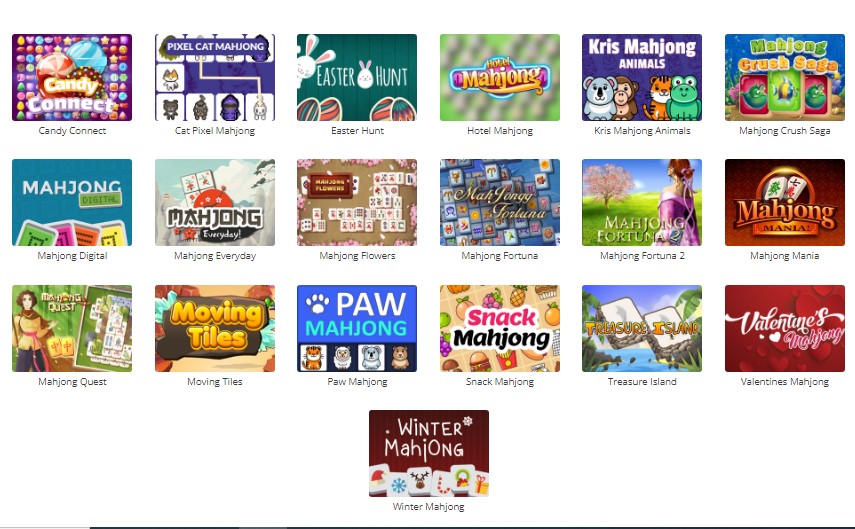 Just select which game you want to play and click it. You can choose from a ton of games, and they are managed per game type. Select the game you want and choose a match from the list.
When you click on the game you like, it will get you a new window. It would help if you watched a couple of video ads before the game loads. When the game loads, play it for at least 30 seconds to earn the reward.
5. Make money through Daily Prize Draws from GetPaidTo.
There is also a gamification of their site where you participate in Sweepstakes, Daily Prize Draws poker and other activities where your earnings are based on luck.
6. Make money through a Daily raffle from GetPaidTo.
GetPaidTo.com also has a daily raffle you can join to win the jackpot prize. Technically, this isn't an earning prospect, since earning rewards from it will be established on chance. However, if you get lucky and win the jackpot, you stand to make a lot of points.
7. Make money in the Leaderboard contest from GetPaidTo.
Lastly, you can get extra points if you are one of the highest earners for the week. The site will list all the leading earners from their offerwalls and quick points weekly. Each earning option has a detailed list. So, there will be two leaderboards.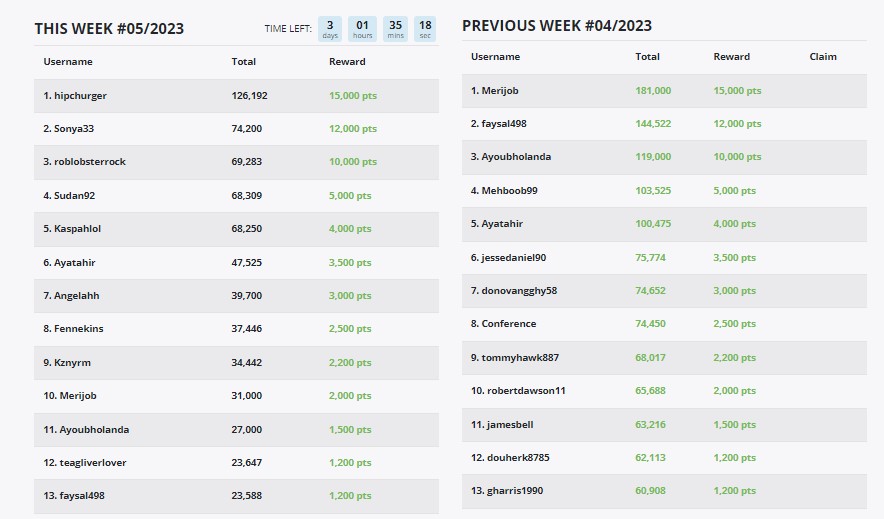 You will get extra points if you are among the leading 20 earners at the end of the week (Sunday at 00:00 EST). The leading earner will earn 5,000 points, while the 20th place will receive 600 points.
It's not much, but it's a nice goal to target, which is just the purpose of this contest, in my opinion. It can serve as a motivation to stay active on the site.
8. Make money by Referral Program from GetPaidTo.
GetPaidTo.com also has a referral program, from which you can make money by inviting people to join and try out their platform. They pay a 15% commission on the profits of your referrals. So basically, it's a form of passive earnings. You have to confirm the person you ask is interested in making money from the site. Otherwise, you'll just be wasting your time.
How do you get paid from GetPaidTo?
GetPaidTo.com uses a point system. For every earning possibility you finish, you will get a certain number of points credited to your account balance.

You can redeem your points to cash via direct bank transfer, Skrill, or PayPal. Or you can redeem your points to cryptocurrency or Amazon gift cards. The points needed to redeem a reward will depend on your chosen reward. The lowest payout threshold is US$5 for PayPal and Bank transfers. The other option has the lowest payout of US$1.00.
FAQs
How Much are GetPaidTo Points Worth?

5000 GetPaidTo points are worth $1.

Who can join GetPaidTo?

GetPaidTo is available worldwide. That means you can register as a member anyway of where you live. You must be at least 13 years old to join their site.

Can you use it on mobile?

GetPaidTo.com doesn't have a mobile app you can download, but you can access their site from a mobile device using a mobile web browser.
See More:
Is GPT Planet Legit – 5 Easy Ways To Earn Money
Big Time Cash – Make Money by Playing Games & 3 More Easy Tasks.
GCLoot Review – Earn by Watching Videos, Playing Games With 2 Easy Tasks
GamerMine – Make Money by Watching Videos, Playing Games, & 3 more Easy tasks